Our Award Winning Design Team
They say a picture is worth a thousand words – let us show you what your potential project will look like. Homeowners work with Lakeside Renovation & Design's employees to create the perfect outcome for their home, fit for the cover of a magazine.
Listed below is a typical process of how projects come to life.
We meet with you, the homeowner, and listen to what your needs and goals are for the project.
Our Design Specialist meets with the Design Manager to come up with a detailed plan for the project.
A group meeting takes place with you, which includes the Design Specialist and Design Manager. All aspects of the project are reviewed at this point, including a structural evaluation of the home to determine the best design options for the property. This meeting allows you to work with the designer to develop ideas for what you envision as the look of your home.
The Design Manager digitally designs what the home will look like after the project is complete. This is reviewed with you and changes are made, if necessary. Lakeside Renovation & Design makes sure everything about the project is outlined and explained.
Lakeside Renovation & Design meets with architects and gathers permits as needed.
The Production Manager meets with the team and Design Manager to go over the project. Our own in-house carpenters, painters, and installers will do the actual work on the project to ensure it is done to Lakeside's standards of excellence.
Once the project is complete, the Production Manager and Design Specialist will perform a final walk-through of the job with you to ensure you are 100% satisfied with the outcome.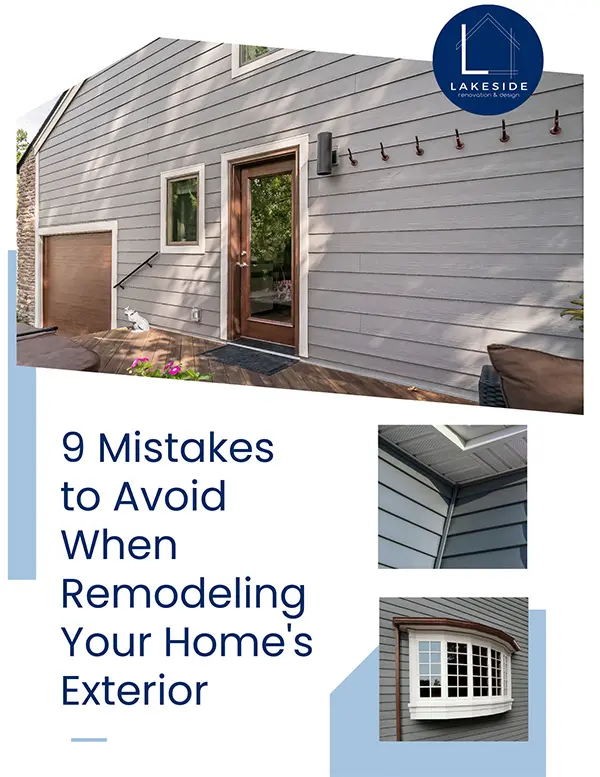 9 Mistakes to Avoid When Remodeling Your Home's Exterior
Free PDF Download
We understand how overwhelming remodeling your home can be. Get our free ebook to learn about 9 things that will help you start your project the right way.