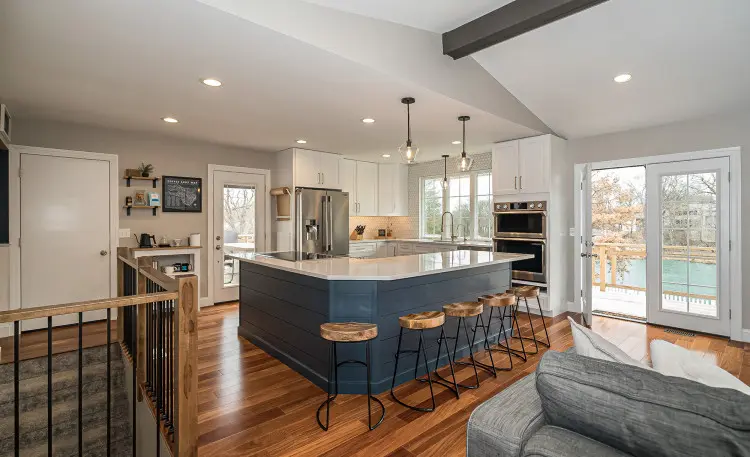 Customization — for a home, this word is priceless. Having a house that is tailored to your specific needs, wants, and style makes coming home feel exactly like that, coming home. Garnering the level of customization that can transform a house into the home of your dreams means undergoing a cohesive professional renovation.
Some homeowners perform separate room-by-room renovations, but the most effective way to customize your space is through a multi-room, full property remodel. 
As a professional interior remodeling contractor, we highly recommend that when you take the plunge into renovating your home, you do it the best and most cost-effective way possible, which is why we offer multi-room remodeling services.
Here are the benefits of multi-room remodels, which is why they far surpass a room-by-room renovation process.
Saves You Money  
One of the most noteworthy advantages that a whole home renovation has over room-by-room remodels is its cost-effectiveness. We understand that up-front, you are paying more because you are having more work completed, but overall, the entire cost of the renovations will likely be less.
Your contractor can buy materials for your home in bulk, and it takes them less time to prepare and tear down for the project, providing increased incentive for a contractor to discount your project.
Better Design Integration
When you renovate a single room, you can reinvent the space into your exact dream. The same can happen when you choose a multi-room renovation. In fact, it is much easier to create a cohesive design for the entirety of your home when you work on multiple rooms at one time rather than stopping and restarting various projects. 
Working with a design-focused contractor can help you create the perfect design plan. You'll know exactly how you need and want each room to flow into one another. You'll be able to pinpoint which walls need to come down or where walls need to be put up. And you can carry the material selections throughout your home far more easily when you design and buy for each room at once.
A team like ours, which has both a contracting team and in-house designers on staff, makes it easy to undergo this process. By having our various teams working together, we can help you achieve a more cohesive design for the entirety of your home. See our interior remodeling services for more information.
Better Structural Changes
As you work with your designer to plan the perfect remodel, you may realize that certain spaces need to be expanded, walls need to be opened up or closed in, lighting needs to be moved around, or many other major changes need to be made. You can more easily and cost-effectively make these changes when working in multiple rooms. In fact, you can replace entire sections of plumbing, electrical, insulation, and more.
Restructuring major portions of your home is yet another reason to hire a design-build contractor for your project. When undergoing structural changes, it's important to make sure they are done properly and up to code.
Less Inconvenience
Any renovation comes with a level of inconvenience, whether that be moving out furniture, laying drop cloths, prepping workspaces, sealing off other rooms, or a plethora of other things. Doing a multi-room renovation means undergoing this inconvenience all at once rather than multiple times. It's also more efficient for your contractor. They only need to do prep work one time rather than over multiple periods.
Cohesion in Contractor and Materials
Scheduling a contractor and sourcing the materials needed for your project takes time. Opting to work on the entirety of your home or even multiple rooms at one time makes this process more efficient. You don't have to reschedule contractors to get a project completed, and you're less likely to run into the issue of materials you've selected going out of stock or becoming unsourceable altogether. 
Getting the Home of Your Dreams
Don't procrastinate getting the home of your dreams. Undergoing a multi-room or whole home remodel will get you what you desire faster, more cost-effectively, and more efficiently, so it really is the best way to go.
As we mentioned, working with a team like ours, which has a construction and design team on the same staff, makes the process even that much better. If you're ready to begin the process of transforming your space into the house of your dreams, schedule a consultation with Lakeside Renovation & Design today.