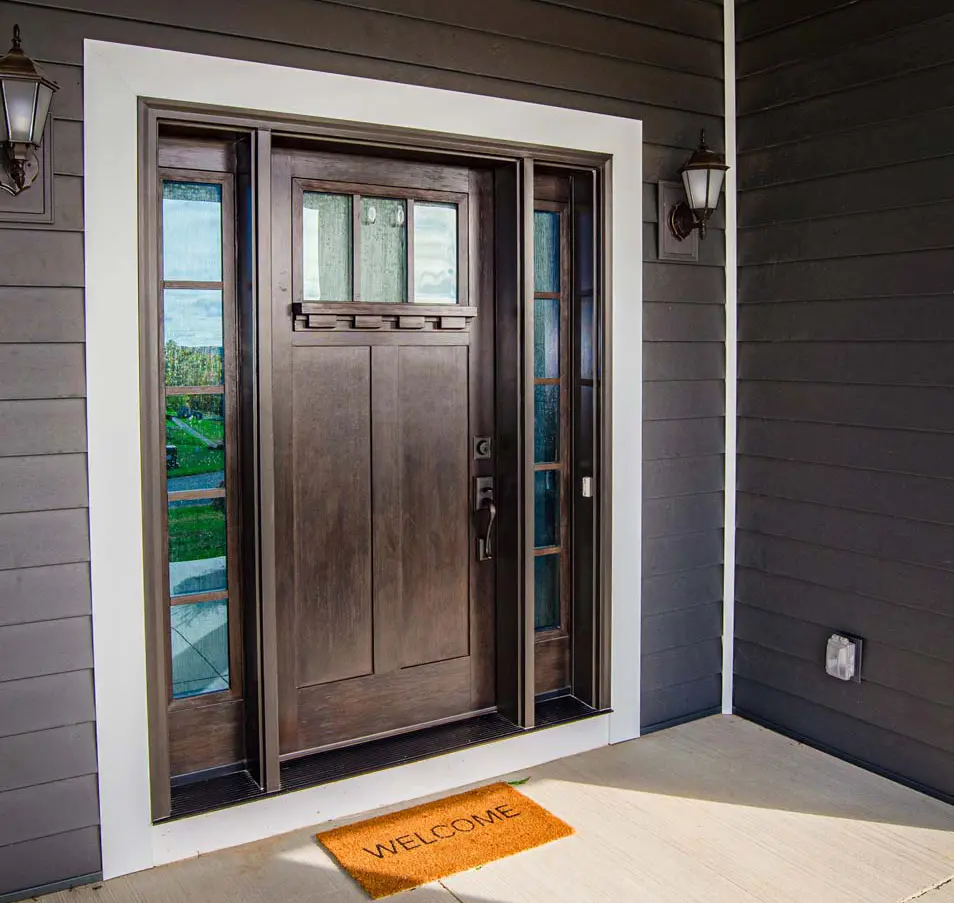 When looking for the perfect entry door for your home, you can add character and charm with a Craftsman-style door with a dentil shelf. This door delivers nostalgic appeal that is key in Craftsman homes yet works perfectly with a variety of other home architectures. 
Read on to discover how the beauty of a Craftsman-style entry door with a dentil shelf may be just what your home needs to take its curb appeal up to the next level.
Get the Personality and Appeal of a Craftsman-Style Entry Door 
What are the characteristics of a Craftsman-style entry door?
These artsy entry doors first showed up back in 19th-century England. This entry door style was initially made of wood, but today can also be made of 20-gauge stained steel or durable fiberglass. 
Craftsman-style entry doors use rectangular windows and vertical panels to create depth. This attractive door style is famous for tasteful glass inserts and dentil shelves, made popular during the Arts and Crafts movement. The glass panels are located on the upper one-third portion of the door, and the remainder is made of two or more vertical panels in a pleasant pattern.
The glass portion can be separated into three or more sections with grilles. It can be found with a beveled design around the edges, use stained glass in its design, or be opaque.
A thin shelf with small blocks under it separates the upper and lower parts of the door. This decorative touch is called a dentil shelf and adds beauty to the door. All of this is encased by a solid trim (made of the same material as the door) around the outside of the design.
Craftsman-style doors were originally hand-made by experienced woodworkers. They were initially popular in cottages, cabins, and other quaint homes. Today they are used in a variety of home styles.
Which house styles work best with a Craftsman-style entry door? 
Craftsman-style entry doors aren't just for Craftsman homes. This versatile door perfectly complements a host of home types, including Classic Farmhouse, Modern Farmhouse, Rustic, Prairie, American Foursquare, Cottagecore, Mission, Bungalow, or Transitional-style architecture. Note: This door style isn't recommended for Modern, Contemporary, Victorian, or Tudor homes.
What is a dentil shelf? 
Right under the glass opening of a Craftsman-style door sits a dentil shelf. It adds artistic character to the door by creating an attractive accent with depth and interest. The shelf is made of the same material as the door and juts out slightly. A dentil shelf creates a distinct look that makes Craftsman-style entry doors appealing.
Are sidelites part of the Craftsman-style entry door?
Yes. Sidelites are common additions to these attractive doors. In case you're wondering, sidelites are the strips on both sides of a door that are detached from it. They have narrow windows that are almost as long as the door, and are often bordered by the same material the door is made of.
Can a Craftsman-style entry door be used as a double door?
These artsy entry doors can be used alone or as double doors. They are warm and welcoming as single doors, and dignified and elegant as double doors.
Will a Craftsman-style entry door provide reliable security for my home?
The glass portion of a Craftsman door gives you the opportunity to see who is at the door, adding security to your home. The glass makes up the upper portion of it, delivering natural light into your interior.
Does a Craftsman-style entry door offer the energy efficiency of other doors?
Yes. Our ProVia entry doors are ENERGY STAR® rated and deliver energy savings and superior thermal efficiency. That means less energy loss and reduced home heating and cooling bills month after month.
What materials do I have to choose from for my Craftsman-style entry door?
ProVia's entry doors are made from: 
Real wood — Enjoy the warm, classic look of natural wood.
Fiberglass — Get the look of woodgrain without wood's maintenance needs or vulnerabilities to moisture. Fiberglass is known for its longevity and is maintenance-free.
20-gauge steel — This robust and sturdy option delivers outstanding security and comes in smooth or woodgrain texture.
Why is it so important that I get the right entry door for my home? 
Your entry door makes a significant statement about you and your home. It is a vital part of your house's first impression on family and friends. Having the right aesthetic when it comes to your entry door is essential. A Craftsman-style door will work perfectly, particularly if your home's style is inspired by the Arts and Crafts movement.
Examples of Craftsman-style Entry Doors
Craftsman-style entry doors are popular. Take a look at our new Signet mahogany fiberglass door with a dentil shelf, Toffee stain, a transom, two sidelites, and SDL grids. Also, look at a door replacement our team did, including a Craftsman-style door with a dentil shelf, Laurence decorative glass, and Pecan stain.
Beautify Your St. Louis Home with a New Entry Door
A new entry door is one of the easiest and most cost-effective upgrades you can give your home exterior. It delivers a welcoming warmth to your home that you and your family will love.
At Lakeside Renovation & Design, we only install premium and durable products such as ProVia doors. Through the years, we have built a great relationship with our vendors, and this partnership is passed on to homeowners.
Learn more about our premium door services and how they can transform your home with added beauty, energy savings, and security.