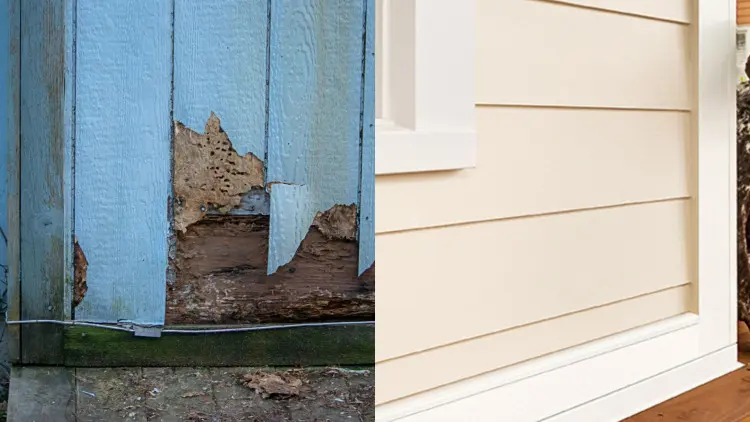 Termites cause over $5 billion in property damage annually in the U.S., but homeowners' insurance doesn't usually cover the repairs. Ouch! Your home's siding is one of your first lines of defense against termite infestation. Some siding materials crack, rot, peel, and expand, giving pests an avenue into your home. Wood siding attracts pests, and if you've ever dealt with an infestation, you understand how expensive the extermination and repairs can be that follow. 
Read on to discover how to avoid termite damage with a siding that resists insects. 
Termite-Proof Your Home with Fiber Cement Siding
You can avoid the costly trouble insects cause by installing James Hardie fiber cement siding. Hardie siding is made of cement, sand, and cellulose, and it is inedible to pests. Fiber cement is termite-resistant and moisture-resistant, and both of these are important if you want your home safeguarded from infestation. 
If water infiltrates your siding, it becomes vulnerable to rot, mold, and pest infestation. Keep the water out of your home's protective layer, and you'll keep the bugs out too! That's why when it's time to replace your siding, it's best to choose a pest-resistant and water-resistant material like fiber cement.
The Hardie company created the HardieZone system to safeguard your home from the specific weather in your area. The result? Your home is protected from water intrusion, and you can rest at ease in the midst of rain, snow, hail, and severe storms in the area. When your home is covered in durable fiber cement, moisture stays out—and therefore, pests stay out! 
Why choose termite-resistant siding to protect your home?
Termites can cause costly structural damage to your biggest investment, and once they infiltrate, it's hard to get rid of them and repair all the trouble they created. It's best to take precautions to safeguard your home from them. 
Warning signs that you may have termites
Infestation usually goes unnoticed because people don't know the warning signs that they have termites. The result? By the time infestation is visible, the problem is usually huge. You can inspect your property for problems, and if you see any of the following, have it professionally inspected by an exterminator. 
Signs of wood damage 
Moisture damage to your home exterior
Drainage problems like clogged gutters and downspouts, and water pooling around your home's perimeter
A host of discarded wings visible inside your home
Cracked or peeling paint
Mud tubes forming on your exterior walls
How to Keep James Hardie Siding Free from Termite Damage
While Hardie siding is made to be inedible and therefore resist pests, if you don't take care of your siding, it could decline and put your home at risk of pest damage.
Here are some simple ways to maintain your fiber cement siding, so your home remains termite free. 
1. Wash your siding twice a year
Use a garden hose, mild soap, and a medium-bristle nylon brush to clean dirt and debris from your siding every spring and fall. Thoroughly rinse your exterior to remove all the soap and dirt. Avoid using a power washer, as it could damage your siding. 
2. Regularly inspect your caulking and replace it as needed
Termites are attracted to moisture, so it's vital that your siding stay moisture free. What's your part in that? Keep your siding's caulking in good shape. Caulking can wear out over time, and it's easy to replace. Keep an eye on the caulking on your flashings and siding plank and trim connections. Replace your caulking to reseal your siding and keep termites at bay. 
3. Keep your gutters and downspouts free of debris
Gutters are little, but they have a big job: they channel water away from your home and provide drainage for your roof. It's vital that you keep your gutters and downspouts clear. You can clean them yourself or have gutter guards installed on them to prevent them from getting filled with debris in the first place. 
If you don't have gutters, install some to protect your foundation from damage and your home from pests like termites. 
4. Point your sprinklers away from your home
Keep your siding as dry as possible by aiming your sprinklers toward your yard rather than your home. By doing so, you'll prevent water infiltration, mold, and pest infestation. 
5. Trim your trees
You'll contribute to the longevity of your siding by keeping your trees and shrubs trimmed—particularly if they are located adjacent to your home. 
6. Remove wood from near your home
If you have wood piles and other debris near your siding, you can attract termites to your home's perimeter. Remove wood piles from near your home to keep pests at a distance.
Get Termite-Resistant Hardie Siding Installed by Our Trusted Team
When you replace your home's protective layer with James Hardie siding, you won't have to struggle with a termite infestation. Pest-resistant Hardie siding keeps your home well-fortified against critters. 
At Lakeside Renovation & Design, we were privileged to be awarded as the most experienced James Hardie Elite Preferred contractor in the St. Louis area. As a Hardie Elite Preferred contractor, we ensure you get the best siding installation available, so your 30-year non-prorated transferable warranty will be honored. 
Learn more about James Hardie siding.