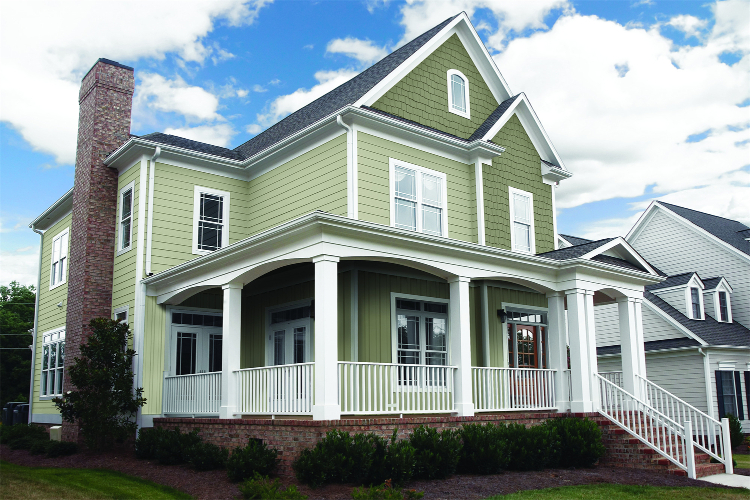 Take a moment to think about what features the dream siding material for your home would have.
If a siding that looks beautiful and lasts for years while not requiring heavy amounts of maintenance is what came to mind, then it may seem like your dream siding is out of reach— that is, unless you know about the amazing benefits that James Hardie fiber cement has to offer a home.
As an exterior home contractor, we know what homeowners are looking for in a siding, and we know what fiber cement siding has to offer, especially James Hardie® siding. Before you pick a siding and hire a contractor for a siding replacement, take some time to learn what fiber cement siding can offer your home.
The Makeup of Fiber Cement
Fiber cement is a heavy, durable plank form of siding designed to mimic some of the most common siding styles while providing the benefits of low maintenance and durability. The siding is comprised of Portland cement, silica sand, cellulose fibers, and water, creating a thick, long-lasting siding that outperforms competitors like vinyl and Masonite. It has been around for decades and was created to last for years.
Why Fiber Cement Is Worth the Installation
As we mentioned, fiber cement outperforms its competitors while delivering benefits that the many siding materials it seeks to emulate do not have.
Fire Resistance
One of the biggest benefits of fiber cement is its lack of combustible material. Wood siding is highly flammable, and materials like vinyl will melt under the extreme heat of fire. Not only will fiber cement not ignite when exposed to fire, but it also does not contribute flammable material to an existing fire.
Resistance to the Elements
The sturdy composition of fiber cement makes the material resistant to hail, wind, moisture, and other elements that would otherwise cause damage to the siding. James Hardie fiber cement is particularly strong in this arena as its siding has been Engineered for Climate®. With fiber cement, you won't experience the cracking, warping, and denting that many other sidings experience during harsh storms.
Impervious to Pests and Insects
Pests are major concerns for siding materials, termites, carpenter bees, wasps, and many other bugs will eat, destroy, and create their nests in your wood siding. Fiber cement is not appealing or appetizing to these pests, so you don't have to worry about insect damage.
Low Maintenance
While we've said fiber cement is low-maintenance, it does not mean the material is no maintenance— no siding is. However, unlike the headache that most forms of siding can create due to the maintenance of cleaning, upkeep, painting, staining, inspections, repairs, warping, cracking, etc., fiber cement simply needs to be inspected and cleaned once or twice a year.
Beautiful Appearance and Large Selection
Fiber cement, especially James Hardie fiber cement, comes in a wide range of siding styles and colors. It can be designed to mimic wood plank siding, vertical planks, shakes, shingles, even stucco. And you'll have no shortage of color selections to choose from when curating the ideal exterior for your home.
What Is James Hardie Fiber Cement Siding?
James Hardie leads the fiber cement siding industry. Not only does the brand produce one of the highest quality fiber cements available on the market today, but James Hardie siding is the most popular siding in America.
Engineered for Climate®
Beyond the ability to withstand the impact of hail and resist rot, James Hardie specifically designed its siding for various regions of the country, which means your home will gain a material that is specifically designed for the climatic needs of your region. No matter where you live or what climatic needs you feel your home has, James Hardie fiber cement has a tailor-made siding for you.
ColorPlus® Technology
When you want your fiber cement to have a lasting paint color, you can rely on James Hardie's patented ColorPlus technology. This baked-on paint comes with many benefits including that it resists fading, chipping, and cracking.
What Does a Fiber Cement Installation Cost?
The official price tag of siding a home plays a significant role in the selection of a siding material. Every fiber cement installation will run a different cost based on size of home, location, and other circumstances. However, fiber cement typically falls towards mid-range pricing for siding. While it's more expensive to install than a vinyl or Masonite siding, it is also far less costly than brick or stucco.
A major portion of the cost is due to installation. Fiber cement is a heavy material that also requires a specific skill set and tools for proper installation. But when installed correctly by trained professionals, the material lasts for decades without the need for excessive repairs and replacements.
The Importance of a James Hardie Elite Contractor
Bringing the best of what James Hardie siding has to offer to your home is only possible with the right installation. James Hardie certifies only the top contractors in the nation. They are specifically trained to install James Hardie materials in compliance with the warranty and have a proven track record of immaculate work.
To ensure your siding is done the right way, look for a James Hardie Preferred Contractor to do your installation. This will keep the fiber cement performing at its best.
Get the Siding That Has It All
Your home deserves the best, and you as a homeowner should not have to stress about excessive maintenance and whether or not your siding will last. Fiber cement can bring peace of mind when you're in need of a siding replacement— especially James Hardie fiber cement. And our Lakeside Renovation and Design team can provide the perfect installation.
But before you make the investment in this siding, learn more about what James Hardie products have to offer.