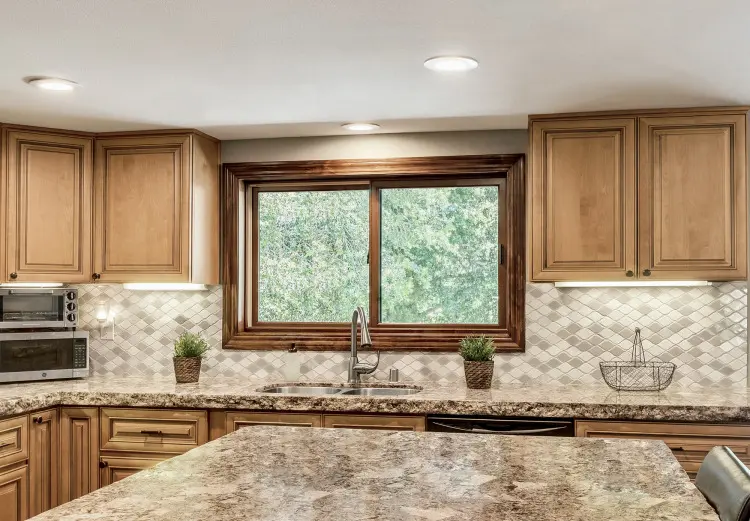 For decades, homeowners have enjoyed the rich look of wood windows. The warmth they add to a room is tough to beat, and their insulation qualities keep the heat indoors each winter and the cool air inside each summer, making your home comfortable year-round. But, despite their positive qualities, wood windows come with a predictable list of problems that many homeowners dread.
Genuine wood is prone to swelling, rotting, warping, and discoloration due to moisture damage. Mold, mildew, and algae can also appear on wood. They are prone to pest infestation from termites, woodpeckers, and more. And they require high maintenance: They must be sanded, stained, and properly maintained regularly to prevent costly damage from water intrusion.
If you love the historic look of wood windows but you don't want to perform their tedious maintenance over and over again, there is good news just ahead!
Get Wood Windows Without High Maintenance
You can enjoy the look of wood windows minus wood's high maintenance (and the costly damage that occurs if you don't maintain your wood windows) with EverWood window finishes from Infinity from Marvin Windows that deliver beauty without hassle.
EverWood is an engineered wood-grain interior window finish by Infinity from Marvin, made for their fiberglass windows. Here are some of its many benefits St. Louis homeowners appreciate:
1. Exceptional Beauty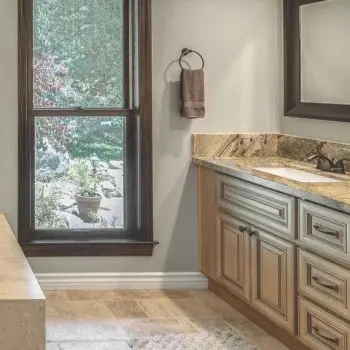 One of the best things about engineered wood windows is the fact that when you look at them, you can't tell the difference between real wood and engineered wood. EverWood can complement your home interior perfectly adding the genuine warmth of wood to your decor. Their pine texture mimics wood windows, giving you the look you crave.
2. Reliable Durability
You can depend on the strength of EverWood windows to withstand St. Louis' rain, sleet, humidity, and harsh weather. The good news is that they won't warp, swell, expand, contract or rot over time like wood windows typically do.
3. Low Maintenance
Due to their makeup, EverWood windows require little upkeep. There is no need to treat these wood-like windows over and over (as wood requires). Now you can have all the benefits of wood windows in a proven, easy maintenance replacement window from Marvin—a widely respected leader in the window industry.
4. Trustworthy Pest Resistance
Because EverWood is inorganic, it doesn't attract insect infestation as wood does. You can rest at ease that your windows will stay intact.
5. Long-Lasting Warranty
The EverWood finish adheres to the Ultrex® Fiberglass window frame permanently, so your wood-like frames will last a lifetime, giving you peace of mind.
6. Diverse Customization
EverWood can be stained to complement your home's interior. Match your existing woodwork or take your interior design in a new direction. Some popular stain options include Maple, Cherry, Mahogany, and Walnut.
7. Multiple Styles
EverWood windows come in a variety of window styles and shapes with the custom features you need to bring out the best in your home.
8. Moisture Resistance
EverWood resists costly moisture intrusion. As a result, it won't decay over time and rot (like wood). Enjoy its reliable performance and enduring attractiveness.
9. Sturdy Makeup
Ultra-durable EverWood finish is combined with Marvin's reliable Ultrex fiberglass frame material to offer the strongest window on today's market. You can rely on the unmatched strength and beauty of EverWood.
Get Gorgeous Wood-Like Windows for Your Home
Tired of old, worn-out windows? Transform your home with EverWood by Infinity from Marvin.
At Lakeside Renovation & Design, we are an "Infinity from Marvin Gold Partner" (a partnership obtained by invitation only). And we're the only Infinity from Marvin authorized contractor in the St. Louis area, so you can trust that your windows will be installed in the most precise way. We have met their installation requirements for their warranty, so you can rest at ease.
Take a moment to picture your home with new windows, and learn more about our Infinity from Marvin windows services.