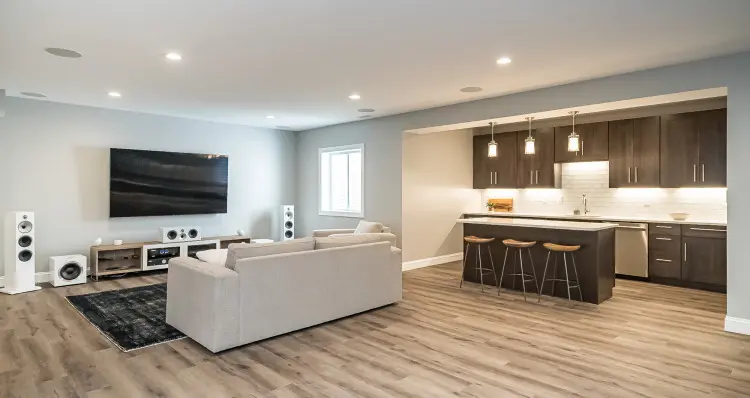 Your basement houses the potential to be a value-adding, multi-functional space for your home. You can transform it into the perfect family retreat or fill it with extra bedrooms or guest spaces. No matter what you desire in a basement remodel, you can curate the perfect design for your space with the help of a professional.
As an experienced home contractor, we've seen our fair share of basement remodels and know what homeowners love and regret about their spaces. 
One beneficial item that is sometimes overlooked in a basement is a kitchenette.
The Benefits of a Basement Kitchenette
Incorporating a kitchen space into your basement can really enhance the function and look of your renovation. Here are some ways it can add value to your space.
Convenience
Basements are often multi-use spaces, but a large number of homeowners choose to incorporate a family room, game space, or home gym. A kitchenette is a great addition to any of these spaces. It provides a convenient place to get beverages or snacks without having to trek up and down the stairs. You can easily store goodies and entertain from a central location secluded in your basement.
Seclusion
Adding a kitchen to your basement provides a private option for guests to eat or prepare treats in your home. It might be part of an in-law suite or just a place for guests to stay without having to feel like they are intruding in your kitchen.
Value
While finishing out your basement can add immense value to your home, including a kitchenette in that renovation can increase the return value even more.
Increased Storage
More cabinetry, countertops, and shelving means more storage for your basement space. This can also be the perfect place to store extra appliances or serve ware that doesn't currently have a home in your kitchen.
Income Property Potential
Beyond just making a home more valuable, the additional benefits of a basement kitchenette can make room for a potential income property. A small yet well-equipped kitchenette can make your basement space perfect for a short-term rental, while adding a full-blown kitchen can create a long-term rental unit.
If you're still wondering how a basement remodel can be the perfect addition to your home, learn more about the benefits of updating your basement.
What to Consider During Your Basement Renovation
Whether you are redoing an existing basement, filling an empty space, or creating an addition, completing a basement is a big investment. And proper planning and assessment will help you create the perfect basement renovation.
So, what should you take into consideration when installing a kitchenette in conjunction with your basement renovation?
Kitchenette Vs. Kitchen
The level of kitchen addition you need will depend on how you want to use your overall basement space. Kitchenettes are condensed versions of a kitchen, utilizing only the essential appliances and minimal countertop space. They typically house a mini-fridge and microwave, while full-blown kitchens contain all the bells and whistles.
Appliances
Choosing the right appliances is what will provide the proper utility for your kitchenette. Take into consideration how you want your basement to function and select appliances accordingly. If your basement focuses on gym space, choose a beverage fridge where you can stock your waters and Gatorades. If your space functions as a family area, consider adding a microwave and mini-freezer to house and prepare snacks.
Layout
Your kitchenette needs to be incorporated seamlessly into the design of your basement. Creating the perfect layout is the forefront of a value-adding space. Working with a professional interior design team is the best way to achieve a functional kitchenette that perfectly integrates into the overall basement design.
Color Scheme
Choose materials that fit into the aesthetic of the rest of your basement. From cabinets to countertops to faucets, your kitchenette needs to enhance and complement your renovation. This is yet another reason to work with a professional who can help you combine your function with a look that you'll love.
Safety and Efficiency
Your entire basement should be properly insulated, plumbed, and vented. But adding a kitchenette means considerations for fire safety and electrical efficiency also need to be kept in the forefront of your mind.
Creating a Functional and Beautiful Basement
Working with our Lakeside Renovation & Design team means achieving a basement that adds value to your home and life while seamlessly integrating with the rest of your home.
Our team is comprised of an in-house design staff and our expert craftsmen. We listen to your goals for the space, and our design and construction teams work together to achieve a renovation that is well-constructed and mixes style and function perfectly.
If you're looking to create a basement that fits your practical needs, is built to last, and looks beautiful, schedule a consultation with our team.