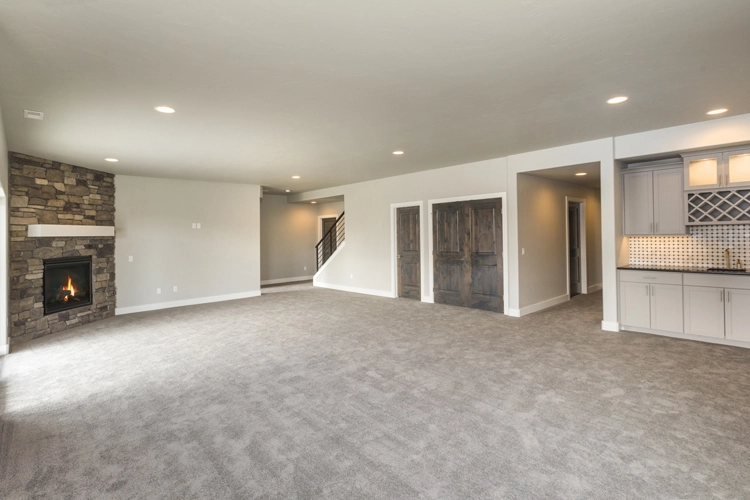 Are you looking to make a big change in your St. Louis home? Whether you need space or a new design, eventually your home will need an update. Lakeside Renovation and Design's interior remodeling contractor team knows that updates should add practicality to your lifestyle as well as increase the value of your home.
A great space to achieve both of these goals lies beneath your feet — the basement.
An unfinished basement is simply a waste of space. And too often, this valuable real estate is utilized for storage rather than its full potential. So, completing a basement remodel can be a worthwhile investment that will improve your life.
Why a Professional Basement Renovation?
With so many home renovation projects that can be completed on your home, you may be wondering why a professional basement renovation should be a priority. Here are a few of the main reasons why.
1. Increased Usable Square Footage
One of the main reasons for an interior remodel is a lack of space. Expanding downwards is a great way to increase the livable square footage of a home. Basements are great places to add additional bedrooms where needed, family spaces, or even entertainment areas like a theater room. Whatever additional space your home requires, a professional interior remodeling contractor can create the perfect layout and implement that renovation properly.
2. Added Home Value
Additional bedrooms, bathrooms, and living space instantly increase the value of a property. Turning the dead space in your basement into a functioning part of your home means adding value to your life and your pocketbook.
But for the investment in your basement to be worthwhile, the work must be done right. While fancy fixtures and designs are nice, they mean nothing without quality work backing them.
Hiring a professional interior remodeling contractor can make a difference in increasing your home's value significantly.
3. More Affordable than an Addition
Additions are a common way of creating needed additional space. But they are not always the most economical. When an addition is added to a home, a new foundation must be laid. New walls must be installed with insulation hopefully matching siding, and drywall. And new electrical, plumbing, and HVAC must be included. They can be costly ventures to undertake.
On the other hand, basements are currently unused space. No need for an additional foundation and siding. They are also great solutions for areas where zoning does not allow for home additions.
4. Energy Efficiency
Unfinished basements are prone to heat and air loss. They lack the proper insulation to regulate temperatures, and therefore, valuable heat can escape your home. By completing a full remodel, your basement will receive wall insulation as well as drywall. It will also mean caulking and sealing any potential exterior points of air loss, such as windows or vents.
5. Potential Income Property
From rental homes to the increasingly popular vacation rental properties, basements can be a great way to add an extra source of income to your home. You can create a separate space complete with a kitchen, living room, bedroom, and bathroom all separated from your own home. With a separate entrance, you can create a rental or vacation property that will bring in additional home income. Ensure you hire a professional to help you create a functional layout and garner the best rate for your space.
How Hiring a Professional Helps
Properly completing a basement renovation means properly insulating an entire portion of your home, installing electrical and plumbing to meet code, and create a cohesive design with expert craftsmanship for a lasting and beautiful space.
While you may be tempted to DIY, hiring a professional can make all the difference for a few reasons.
Basement renovations sometimes require permitting depending on the state and work being completed. A professional interior remodeling contractor can take care of acquiring the correct permitting for your project.
Your contractor will also have a better understanding of the codes that need to be met throughout your renovation. An expert remodeling contractor can meet those codes properly, leaving you with a safe and lasting basement renovation.
Contractors are trained in home renovation, so they can typically work through a renovation more quickly than when attempting a DIY renovation. When problems arise, a contractor has been trained to find a solution and keep the project moving to completion, especially when working alongside an in-house design team.
A basement renovation requires a great deal of work. From insulation and waterproofing to construction and final touches, hiring a professional will result in the renovation being completed properly.
Hiring a professional interior remodeling contractor with both a design team and construction team in-house results in a smooth and satisfactory renovation process. You will receive a professional home design with the highest level of construction work, meaning your basement renovation will not only look good but will last for years to come.
A Professional Transformation of a Blank Canvas
If it's time to renovate the dead space of your home into valuable square footage, the first step is finding the right professional to do the job. Our Lakeside Renovations and Design team is not only made up of well-equipped craftsmen and designers, but we listen to your needs and tailor a design plan around them to provide accurate time and cost estimates.
We execute your project with precision so that you'll love your renovation. Check out our interior design gallery for more inspiration on your interior remodel