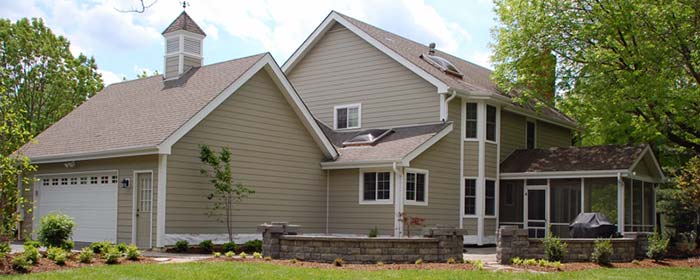 Chesterfield Siding and Window Contractor
Investing in new siding, replacement windows, or any home exterior project is a great way to improve your home. It's important that during this remodel, you work with an experienced Chesterfield contractor that manages your project smoothly, and that helps you through each step in the process.
Lakeside Renovation & Design has been working with Chesterfield homeowners for many years to create beautiful homes. Whether you are looking for super-durable fiber cement siding, an affordable vinyl siding, or energy efficient windows, our experienced team will help you make key decisions to create the best looking, highest functioning home possible.

Siding in Chesterfield MO with Lakeside Renovation & Design
Replacing the siding on your home is a big project, and at Lakeside Renovation & Design we want to make this process as easy as possible. Our siding experts can answer all of your questions about the different siding materials we offer, and we can help you visualize your siding options by imposing different siding and trim colors and styles onto an image of your home with our design software.
At Lakeside Renovation & Design, we offer two popular types of siding materials for Chesterfield homes.
Fiber-Cement Siding – James Hardie
Lakeside is proud to offer James Hardie fiber-cement siding to Chesterfield homeowners. Fiber-cement siding has consistently ranked as the highest remodeling return on investment you can make, and there is no other siding contractor more experienced with James Hardie siding in the nation, as Lakeside Renovation & Design!
Fiber cement siding is low maintenance as well as extremely protective. James Hardie© also offers siding that looks like wood without the potential problems of rotting and warping. With hundreds of possible color combinations, you can really create your dream home with fiber cement siding.
Vinyl Siding
Vinyl siding is one of our most affordable options, and it provides great insulation to help reduce your monthly heating and cooling costs. Another benefit of vinyl siding is it's available in many different styles and colors.
Chesterfield Replacement Windows with Lakeside
Replacing your out of date windows can make a huge different on the overall energy efficiency of your home, and can significantly reduce your heating and cooling costs.
Lakeside Renovation & Design has partnered with Infinity from Marvin to offer many different styles of windows. This means that you'll have plenty of options to fit your budget and your taste. You'll be able to get the replacement windows you've always wanted for your home whether you're looking for casement, awning, picture, or single and double hung windows.
When it comes to honesty, reliability and exceptional service, you can trust our experienced, reliable team for your new siding or windows in Chesterfield. We hold an A+ rating with the Better Business Bureau as well as have been awarded many awards for quality and customer service.
Contact us today to get an estimate for your Chesterfield exterior remodeling project, and start creating your dream home with Lakeside Renovation & Design.