Are you looking to give your home's exterior a new look? Or are you looking for some much-needed repairs to bring your home back to life? No matter the reason, Lakeside Renovation & Design is on your side. We offer a wide variety of exterior remodeling services to the Glencoe, MO community to ensure you get all the help you need. Services include:
Siding
Windows & Doors
Interior Remodeling
Outdoor Living (Decks, Porches, & Screened Rooms)
Fresh New Siding for Your Glencoe Home

Siding is a vital part of your home; it's responsible for a large amount of how your home looks and protects it from the elements. Our experts can help you choose the right siding for your home and budget. We offer vinyl siding and James Hardie fiber cement siding.
New Window Installation to Enjoy the View

If your windows are in need of replacement, we are here for you! No more drafty, inefficient windows causing you headaches and costing you money. We sell and install the best triple-pane thermal performance windows. We work with brands like Infinity from Marvin to ensure you are satisfied with your windows for years to come.
"From the sales-scheduling-install the entire process was seamless and actually enjoyable! The crew who installed were very professional and tidy. They finished all three doors in one day!! Next, windows!"
— Debbie A.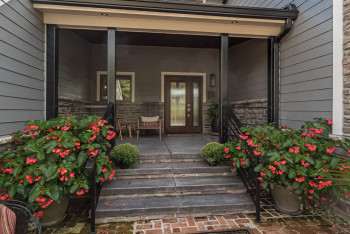 New Entry Doors Make a Difference
Doors keep a lot in and out; one important thing they should be keeping in is heat. Replacing your older doors with new energy-efficient ones will boost your home's overall energy efficiency and give it a fresh look. Newer doors will also bring an extra level of security to your home and give you peace of mind.
Enjoy a New Outdoor Living Space
Maximize your property by transforming part of your outdoor area into a new, usable space. At Lakeside Renovation & Design, we offer a variety of outdoor living spaces:
3 and 4 season rooms
Patio
Overhangs
Your outdoor space should be just as comfortable as your indoor space, and with the right exterior remodeling contractor and the right design, it can be!
Contact Lakeside Renovation & Design for Your Glencoe Home's Exterior Remodeling Needs
We are your preferred choice in Glencoe, MO when it comes to exterior services. Glencoe is known for its local pride and historic buildings. That's why it's important to us that locals have access to everything they need regarding exterior services and the ability to update their historic homes with an exterior remodeling contractor they trust. Contact us today for a free consultation.