1. We Make Sure the Measurements are Perfect
2. We Come Ready with Our Highly Experience Installers
3. Once Everything is Perfect, You'll Love Your New Energy Efficient Windows!
1. We Make Sure the Measurements are Perfect
The very first thing you need to do when replacing or installing new windows is getting the exact measurements because each window is custom ordered, also so that there are no complications with your windows down the road. We know how important it is to have more than a "close fit" for your new window. That is why our professional contractors will determine the exact size to 1/8th of an inch.
2. We Come Ready with Our Highly Experience Installers
At Lakeside Renovation & Design, we want your window installation process to be as easy as possible. We make this happen by sending out our highly experienced installers to make your home look exactly how you have been dreaming of it. We are proud to be certified distributors for Infinity from Marvin Windows allowing your warranty to remain active & your windows to look the best possible.
Don't look past the damage: If any damage is found while we are installing your windows we will inform the homeowner before we move forward with the replacement.
Install Your New Windows: After taking our time making sure all of our measurements are perfect & the windows are exactly how you want them we can now slide the windows right into place.
Air and Water Tight Seal: With each window installation, we add special sealants to ensure an air & water tight seal. This guarantees that you will have no leaks during a rainy or windy day, keeping your home safe & ready for any weather to come.
Polyurethane Non-Expanding Insulation Foam: We have seen some contractors use expanding foam. Over time the expanding foam will push & stress the windows frame. This will cause it to bow or even break the seal. At Lakeside Renovation & Design, we make sure we use only the best. Each new wall is prepared with polyurethane non-expansive insulation foam.
Finish Touches with Interior Trim: New framing & interior pre-finished trim may be just the thing your home needs after we install your new windows. We can use your old trim, if it is still in good shape, if you would like to maintain your existing look.
3. Love Your New Energy Efficient Windows!
Once your windows are perfectly installed, you'll start saving money on your energy bills, while having a beautiful looking home at the same time. Expensive energy bills, poor installation, and outdated windows are all things of the past.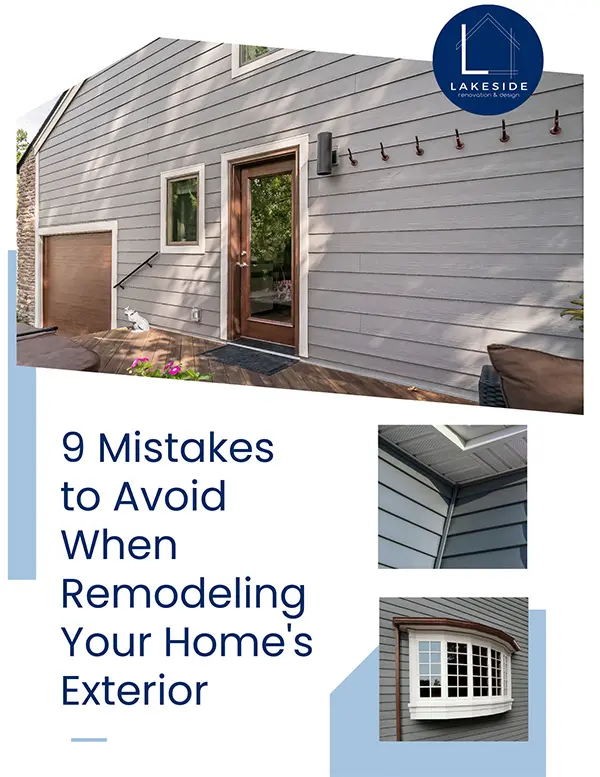 9 Mistakes to Avoid When Remodeling Your Home's Exterior
Free PDF Download
We understand how overwhelming remodeling your home can be. Get our free ebook to learn about 9 things that will help you start your project the right way.