Homeowners who need to replace their windows are increasingly choosing fiberglass for its many exceptional and unique qualities. Fiberglass windows, from Lakeside Renovation & Design, offer superior strength and durability, and they are designed to resist the wear and tear of the elements over many years.
What Are the Benefits of Fiberglass Windows in the St Louis region?
Fiberglass is the premier insulating material being used in windows today. It is made from a simple polymer that is reinforced with thin strands of pulled glass. Air is trapped inside, and it makes for the best insulation of any window type. It also will not conduct heat or cold, so that it will be impervious to extreme hot or cold temperatures. That translates to: fiberglass will give you the best protection from any weather conditions in the St Louis region.
In addition, your fiberglass windows will provide you with multiple benefits, including:
Superior acoustics due to the nature and structure of fiberglass as a sound insulator. With your fiberglass windows closed, loud noises outside your home will be significantly muffled.
Resistance to excess condensation due to the insulating properties of fiberglass. Because fiberglass windows remain neutral to temperature changes, it is more difficult for condensation to form.
Significant savings on energy bills. On average, your fiberglass replacement windows will reduce your energy costs by 20 to 40 percent over many other types of windows.
The beautiful aesthetics of a wood window accompanied by the durability of fiberglass. Your window contractor, Lakeside Renovation & Design, can paint your pultruded fiberglass windows to harmonize with your exterior paint, or your windows can be painted at the factory to include a peel-resistant finish.
Remarkable strength and resistance to the warping, cracking, rotting and bowing experienced with vinyl, wood and metal windows. Fiberglass windows resist chemicals, corrosion, UV rays, moisture and insects.
Low air leakage, quality fit and excellent stability across temperature extremes.
St Louis Fiberglass Windows Products
Infinity from Marvin Windows
Lakeside Renovation & Design also specializes in Infinity from Marvin. Infinity from Marvin replacement windows are designed to offer excellent performance at an affordable price point. Some of the features of Infinity from Marvin windows are:
Ultrex® Fiberglass frame is eight times stronger than vinyl
Low-E 3 Glass for higher efficiency with less heat lost
Argon Gas Insulation to reduce energy transfer
Tilt-In Convenience for easy cleaning, inside and out
Custom Fit means no gaps for cold air to enter
Rich Wood Finish delivers style and beauty that beats vinyl
Work with the Leading Fiberglass Window Contractors
For exceptional fiberglass windows that will serve you and your family for many years, choose St Louis' premier contractor, Lakeside Renovation & Design. For more information or to request a quote, please contact us today.

Why Fiberglass Is One of the Best Materials for Replacement Windows
When choosing to replace old, drafty windows St. Louis homeowners cannot make a better, more durable choice than Infinity by Marvin Windows from Lakeside Renovation & Design.
Infinity by Marvin Windows
All Infinity from Marvin replacement windows are designed to offer excellent performance at an affordable price point. Their Ultrex Fiberglass frame is 8x stronger than vinyl & their Low-E glass with Argon Gas makes them a very energy efficient option for St. Louis homeowners.
Advantages of Fiberglass Replacement Windows
Low maintenance
Base material is silica sand — an abundant natural resource
Intricate profiles replicate the look of traditional wood windows
Low expansion provides easy operation for the life of the window
Strength keeps windows square and true
Narrow profiles allow for more visible glass area and expanded views
Long-term stability reduces the risk of seal failures and air leakage through the window
Patented, mechanically bonded inline acrylic finish is up to 3x thicker than competitive finishes, providing superior resistance to discoloring, scratching, and denting
Fiberglass is 8x stronger than vinyl and one square inch can support 34,000 pounds!*
Fiberglass windows have a 38% longer useful life expectancy than vinyl.**
Infinity windows with LoĒ glazing can reduce your heating and cooling bills by up to 30%.***
* Stiffness of the material to perform as designed. This stiffness is the flexural modulus of the material and is expressed in pounds per square inch.
** Life cycle assessment of windows for the North American residential market: Case study" by the University of British Columbia. Scandinavian Journal of Forest Research, 2008.
*** Estimated savings are based on data set forth in the Window Selection Tool of the Efficient Windows Collaborative, available at http://www.efficientwindows.org. Actual savings will vary by product type, location, method of installation, individual home characteristics, local climates and conditions, utility rates, and other factors.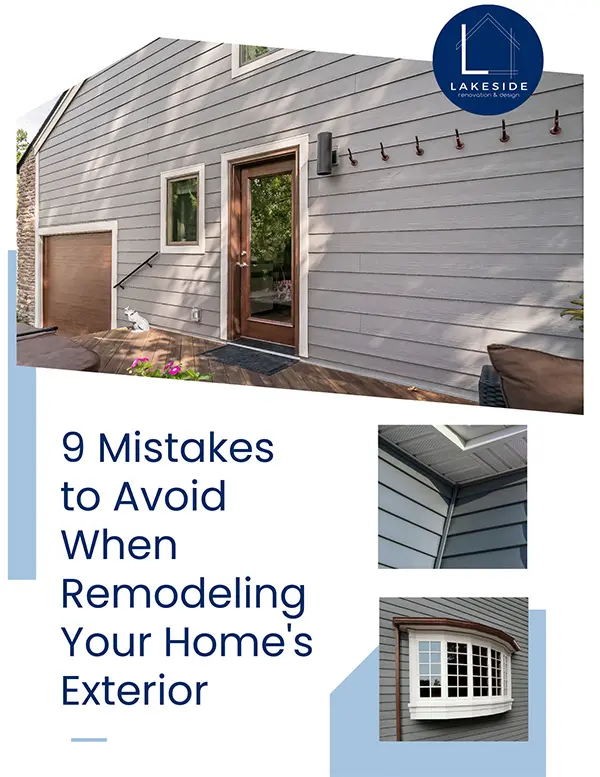 9 Mistakes to Avoid When Remodeling Your Home's Exterior
Free PDF Download
We understand how overwhelming remodeling your home can be. Get our free ebook to learn about 9 things that will help you start your project the right way.