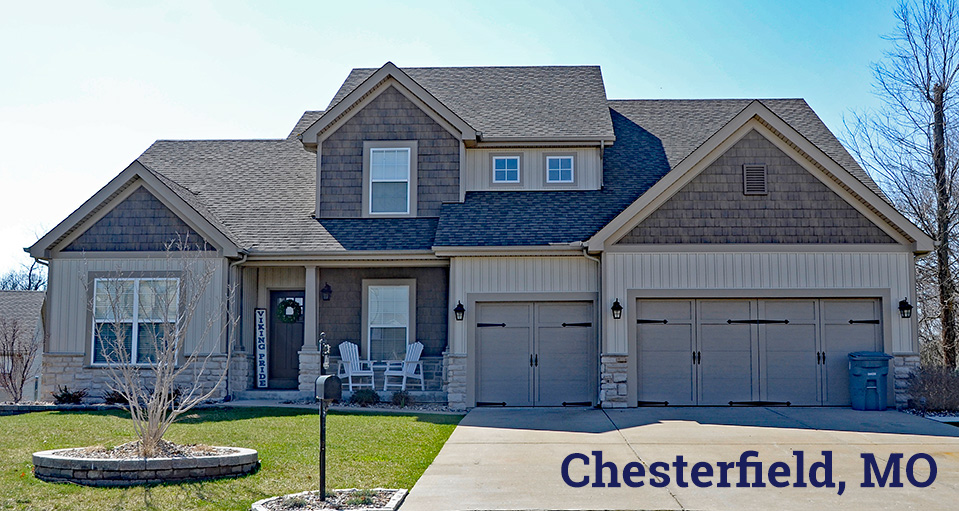 Superior St. Louis Vinyl Siding That Lasts!
Enhancing your home's attractiveness, stability, and durability doesn't have to be costly or complicated. One of the top ten home improvement projects that bring you a great return on investment is to install fresh, new, appealing vinyl siding—a choice St. Louis homeowners have long embraced.
Vinyl siding adds curb appeal, requires virtually no maintenance, and offers years of durable protection for your home. At Lakeside Renovation & Design, we're happy to guide you through the process of creating a stunning home exterior you can be proud of.

The Benefits of Vinyl Siding
When professionally installed by Lakeside Renovation & Design's factory-certified craftsmen, vinyl siding delivers significant advantages for your home:
Curb Appeal
Installing vinyl siding is a convenient, cost-effective way to enhance your home's exterior attractiveness. Vinyl siding looks great and is long-lasting. It's designed to maintain its color, though it can also be repainted to give your home a fresh look whenever you wish.
Structural Integrity
Like other forms of siding, vinyl siding provides a protective shell for your home, keeping at bay the effects of wind, hail, ice, storms, sun, rain, and other weather extremes.
Energy Efficiency
Vinyl siding increases your home's R-value, an important measure of a material's ability to resist heat flow. A higher R-value means your home is more insulated with vinyl siding, helping you save on energy usage.
Moisture Management
Properly vented siding ensures that moisture doesn't get trapped between the siding and your home's walls, thus preventing mold growth, wood rot, and other forms of moisture damage.
Noise Barrier
Siding provides an additional barrier between your home's walls and the outside world, dampening the intruding sounds of external noise and promoting a quiet, peaceful environment inside your home.
Easy Care, Low Maintenance
Vinyl siding is simple to care for. It doesn't require frequent paint jobs like wood does, or frequent repairs like brick and stone may need. Instead, vinyl can easily be cleaned once a year with a garden hose or a sponge and mild detergent.
The Advantages of Mastic Vinyl Siding
One of the best vinyl siding brands on the market today, Mastic has pioneered the development of vinyl siding since the 1950s and has continued to lead the way in creating high-quality materials for homes across America.
As a Mastic certified siding contractor, Lakeside Renovation & Design has undergone special training and certification from the manufacturer, assuring you of the most professional and reliable installation of Mastic siding on your home, along with the industry's best vinyl siding warranty.
We'll be happy to help you select vinyl siding you can be proud of—siding that beautifies your home, is simple to care for, and gives you peace of mind.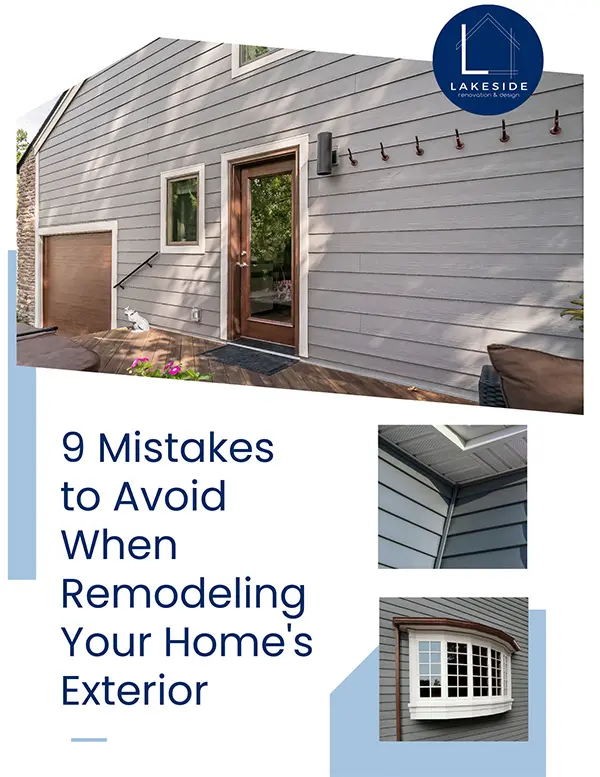 9 Mistakes to Avoid When Remodeling Your Home's Exterior
Free PDF Download
We understand how overwhelming remodeling your home can be. Get our free ebook to learn about 9 things that will help you start your project the right way.