Fiber Cement Siding Installation for St. Louis Homes
The siding you choose for your home exterior is vital to your long-term satisfaction with your home's appearance, safety, and ease of maintenance. It's important to choose siding that delivers the beauty, durability, savings, and simple care that will give you peace of mind and help you feel proud of your home for many years to come.
That's why fiber cement siding is a preferred choice among St. Louis homeowners. And it's why our experienced siding team at Lakeside Renovation & Design specializes in installing the most trusted fiber cement siding products, such as James Hardie siding, for all your home exterior improvement needs.
What Is Fiber Cement?
Simply put, fiber cement is a manmade product made from wood pulp, water, fly ash, and Portland cement. This mixture creates a siding product that offers durability, beauty, energy efficiency, and ease of maintenance. It can be designed to mimic the appearance of natural wood, stone, and trim. This makes it a great choice for enhancing your home's curb appeal without making your home difficult to care for.
Superior Installation—Enduring Results
New siding is a significant investment in your home's overall value and curb appeal. Fiber cement siding is a superb choice because it is so long-lasting and durable.
Lakeside Renovation & Design provides cost-effective solutions to your St. Louis home exterior remodeling and improvement needs. Our professional, well-trained team installs your fiber cement siding with care and expertise, so you can relax knowing the installation has been performed correctly. With proper maintenance, fiber cement siding can last from 25 years to a lifetime.

Why St. Louis Homeowners Prefer Fiber Cement
The advantages of fiber cement siding make it a popular choice for St. Louis homeowners. You can rely on this type of siding to be:
Highly durable, lasting longer than other forms of siding
Resistant to fire, termites, rotting, and weather damage
Available in sophisticated styles
Can mimic wood, shingles, clapboard, stone, and brick
Cost-effective in comparison to many other materials on the market
Simple to maintain—needs little or no repainting over its lifetime
Easy to keep clean—simply rinse it with a garden hose once or twice a year
James Hardie Fiber Cement Siding

One of the best fiber cement products on the market today is James Hardie® siding. This brand of superior siding products comes in a variety of styles, colors, and options to give you the precise look and feel you want. It offers a great return on your investment, and results in a beautiful, safe, long-lasting, low maintenance exterior you can proud of for many years to come.
Reliable, Affordable, Expert Installation
Lakeside Renovation & Design is the only James Hardie Elite Preferred siding installation provider in the St. Louis area. Our expert, well-trained, reliable teams give you excellent service and a perfect installation so you can have peace of mind. And we're happy to advise you on the best siding choices for your home.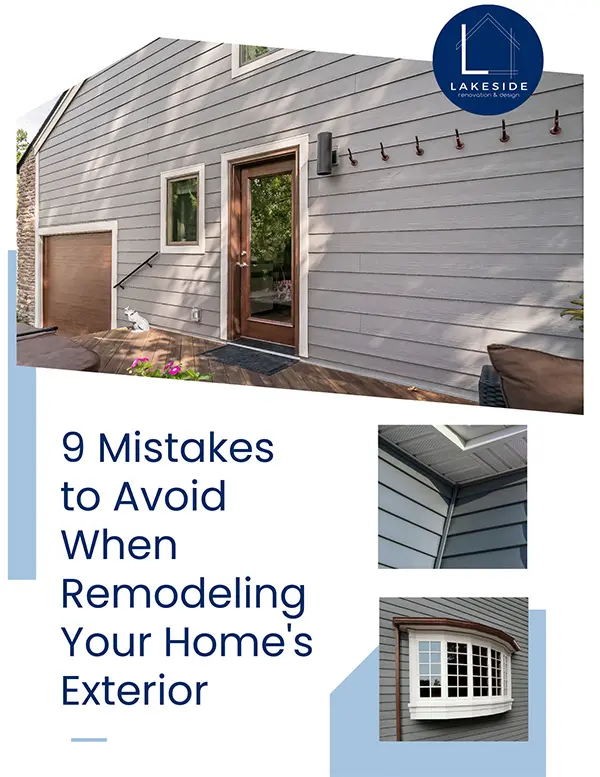 9 Mistakes to Avoid When Remodeling Your Home's Exterior
Free PDF Download
We understand how overwhelming remodeling your home can be. Get our free ebook to learn about 9 things that will help you start your project the right way.