Transform Your St. Louis Area Home with a New Season Room and Feel Like You are Always on Vacation
If you love nature and the outdoors, one of the hardest parts of the cold winter months is the lack of outdoor living. But you can have a room that functions for indoor/outdoor living all year long.
As both an interior and exterior remodeling contractor, our Lakeside team understands how much St. Louis homeowners love both areas of their homes. And because you deserve to love your home in every season, we bring the very best of our design skills and expert craftsmanship to our three-season and four-season room designs in a way that fits your budget.
Benefits of a Season Room
Whether you have an existing sunroom you'd like to upgrade, want to transform a back patio into a space you can utilize all year long, or desire to create a new weather-conscious addition, a season room will provide your St. Louis area home with many benefits.
Increased Home Value
A true seasons room provides additional square footage to your home, and square footage increases home value.
Personalized Level of Indoor/Outdoor Living
You can achieve the exact amount of outdoor living you desire or your budget allows— from a typical sunroom to a more elaborate, insulated all-season room.
An Indoor/Outdoor Flow
With the right design, you can create the perfect flow and transition from your yard to your home.
Additional Living Space
Sunrooms can be utilized in many ways to increase living space, entertainment areas, or functionality in your home. Some uses include:
Lounging/living room
Additional dining space
Entertainment/bar space
Bright, airy office
Craft room
Plant nursery
Lots of Natural Light
Season rooms are full of natural light from the surrounding windows. Even when the cold St. Louis winter hits, you can enjoy the sunshine and your home at the same time.

Lakeside Can Help St. Louis Homeowners Live Indoor AND Outdoor All Year Long
No matter the level of insulation and weatherproofing you desire for your home, our season room specialists will work with you to help make your season room renovation a reality.
Our goal is to connect with each homeowner and understand their dreams and desires, so we can offer multiple solutions for their budget.
Our season room contractors take the time to listen to your specific needs and create a professional design, working hard to provide accurate costs so you will know exactly what you are paying for and what to expect out of your season room. Let us help you create the perfect space to weather every season in your St. Louis home.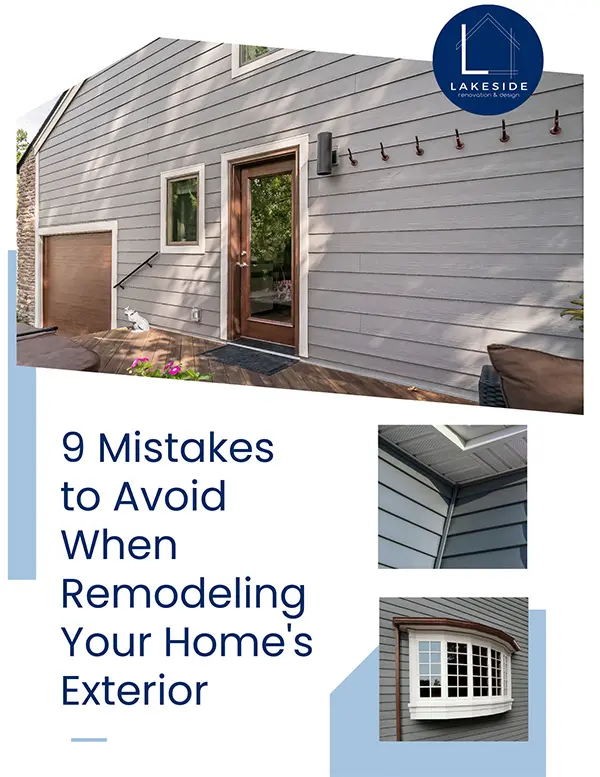 9 Mistakes to Avoid When Remodeling Your Home's Exterior
Free PDF Download
We understand how overwhelming remodeling your home can be. Get our free ebook to learn about 9 things that will help you start your project the right way.