If you are thinking about replacing your home's windows, ask these questions first:
Is your home too cold in the winter and too warm in the summer?
Did you pay too much to heat your home last year?
Do you get a chill every time you walk past your home's windows?
Are your windows difficult to open or close?
Does the glass in your windows rattle in the wind?
Do your curtains billow and blow in the breeze – even when your windows are closed?
If the answer to any of these questions is "YES," it is time to consider replacing your home's windows with new, more energy-efficient windows.
WHEN ITS TIME TO REPLACE YOUR WINDOWS.
New windows can provide a beautiful "makeover" to your home, increase it's value, and improve its "curb appeal". But more importantly, new windows provide these important benefits:
Modern windows make your life much easier. Modern day mechanical components mean windows don't stick or squeak. Materials like vinyl/thermal frames make window maintenance (like scraping, painting, caulking) a thing of the past. Better grade windows tilt-in for easy, inside cleaning of the outside glass. No more worrying about climbing up rickety ladders.
Modern windows are much safer than in years past. Superior locks are screwed down into the frame, making these locks some of the strongest ever manufactured. Innovative ideas like built-in safety latches allow the window to be opened for ventilation yet still remain locked for greater security.
Modern windows are much more cost effective. New insulated glass technology, low-e glass coatings, and improved frame construction cut energy costs dramatically. Your home is more comfortable while actually costing less to heat and cool.
They look great! Today's windows come in a variety of shapes, styles and colors – bay windows, large bow windows, sliding windows, traditional double hung windows (up and down movement), casement crank-out windows. All of these improve the looks, design and style of any home. You will be proud to show-off your new windows and never be embarrassed about them again.
GETTING THE BEST WINDOWS AT THE BEST PRICE.
We've all heard the old adage, "You get what you pay for." Before looking for windows based on the lowest estimate ask yourself, "What is being left out or what short-cut is being taken?"
Some contractors try to cut corners. Windows vary greatly in quality. Do not be content with a "Big Box" or "$189" replacement window. Often, these are "builder grade" quality, which is a standard lower than what you want in your home.
Here's what to look for:
We recommend you only consider purchasing an insulated window. This means that there are two or three panes of glass instead of just one. These windows offer the greatest savings on heating and cooling costs and dramatically reduce noise.
Some contractors try to save money (for themselves) by selling windows with inferior glass. This inexpensive glass is rolled over steel bars as it's manufactured. This causes a slight wavy distortion in the glass and creates small pores, pits, and other imperfections. To avoid these problems, choose a window made from floated glass. During manufacture, the glass is floated on a bed of liquid tin, creating a much smoother, clearer finish. In addition, we recommend having a special coating applied to the glass called "low-E," which stands for Low Emission. This clear coating reflects unwanted summer heat without affecting visibility (no tinting). This can dramatically decrease your energy costs. Low-E glass will also prevent fading of carpeting, fabrics, and drapes.
Some contractors will try to save a few pennies by installing standard sized windows and trying to make them fit into your window openings. These windows, purchased from a building supply or lumberyard, are not a good value. Since the window size is fixed the home has to be altered. This can result in windows with filler on the sides or tops. The best way to ensure a precise fit and airtight installation is to custom make the window to the proper dimensions. You may think this sounds expensive. In actuality, it doesn't cost much more to have a custom made window than to have a standard sized one. Plus, you're assured of a perfect fit.
You can buy the best windows in the world, but they will not perform well if they are installed improperly. Windows need to be installed plumb (straight up and down) and square. The area around the window and the old weight boxes need to be filled with insulation, so cold air doesn't blow around your new windows. Insulation is only part of the job, the other part in sealant. Some contractors will use cheap latex caulking. The best way to seal is with construction grade Silicone on the exterior work and paintable Butyl for the interior work. It's OK if your contractor re-uses the interior moldings, it is the best way to match the style of you home, but requires extra time and care.
Some contractors shop around for windows and sell whatever brand has the best price this week. Look for a contractor with a long track record with a reliable manufacturer, and with installers who are factory certified. That way you know your manufacturer's warranty will be honored.
Finally, a good contractor will finish the job properly. The exterior trim around your windows should be finished with custom capping, leaving it clean and neat. And your home's interior and exterior should be left spotless.
HOW NEW WINDOWS CAN SAVE YOU MONEY.
Windows and doors are the single biggest source of home energy loss. Studies have shown that up to 40% of your home's energy loss occurs through convection, outside air infiltration, conduction and radiation through your windows and doors. At a time when energy costs are a major part of your home budget, becoming more energy efficient is important. Modern windows are designed to be more thermally efficient and can keep your home warmer in winter and cooler in summer.
LOOK FOR THE NFRC LABEL
Every replacement window comes with an energy rating label from the National Fenestration Rating Council (NFRC), an independent testing laboratory. This label is your way of knowing that the window you are buying has been tested and rated for energy efficiency. The NFRC runs laboratory tests to measure several key factors that affect a window's performance.
U-Factor
U-factor measures how well a product prevents heat from escaping. The rate of heat loss is indicated in terms of the U-factor (U-value) of a window assembly. U-Factor ratings generally fall between 0.20 and 1.20. The insulating value is indicated by the R-value which is the inverse of the U-value. The lower the U-value, the greater a window's resistance to heat flow and the better its insulating value.
Solar Heat Gain Coefficient
Solar Heat Gain Coefficient (SHGC) measures how well a product blocks heat caused by sunlight. The SHGC is the fraction of incident solar radiation admitted through a window and absorbed and subsequently released inward. SHGC is expressed as a number between 0 and 1. The lower a window's solar heat gain coefficient, the less solar heat it transmits.
Visible Transmittance
Visible Transmittance (VT) measures how much light comes through a product. The visible transmittance is an optical property that indicates the amount of visible light transmitted. VT is expressed as a number between 0 and 1. The higher the VT, the more light is transmitted.
*This rating is optional and manufacturers can choose not to include it.
KNOW THE TERMS.
When replacing the windows in your home you may be faced with a number of terms and phrases that are unfamiliar. Here are some terms with which you should be familiar…
Bay window: A composite of three or more windows, usually made up of a large center unit and two flanking units at 30°, 45° or 90° angles to the wall.
Bow window: A composite of four or more window units in a radial or bow formation.
Brick mould: Outside casing around window to cover jambs and through which nails are driven to install the window.
Casing: Inside casing is a flat, decorative moulding which covers the inside edge of the jambs and the rough openings between the window unit and the wall. Outside casing (or Brick Mould) served the same purpose, while it also is an installation device through which nails are driven to install the window unit to the wall.
Double glazing: Use of two panes of glass in a window to increase energy efficiency and provide other performance benefits.
Fenestration: An architectural term referring to the arrangement of windows in a wall.
Flashing: A metal or plastic strip attached to the outside of the head or side jambs to provide a weather barrier, preventing leakage between the frame and the wall.
Glazing: The glass panes or lights in a sash of a window.
Header: A heavy beam extended across the top of the rough opening to prevent the weight of the wall from resting on the window frame.
Lift: A handle or grip installed on the bottom of rail of the lower sash of a double-hung window to make it easier to raise or lower the sash.
Low-E glass: A common term used to refer to glass which has low emissivity due to a film or metallic coating on the glass or suspended between the two panes of glass to restrict the passage of radiant heat.
Mullion: The vertical or horizontal divisions or joints between single windows in a multiple window unit.
Rails: The horizontal members of a window sash or door panel.
Rough opening: The opening left in a frame wall to receive a window unit.
Sash balance: A system of weight, cords and/or coiled springs which assist in raising double-hung sash and tend to keep the sash in any placed position by counterbalancing the weight of the sash.
Sash cord: In double-hung windows, the rope or chain that attaches the sash to the counter balance.
Shims: Wood wedges (often wood shingles) used to secure the window unit in a rough or masonry opening in a square, level and plumb position during and after installation.
Side lights: Tall, narrow, fixed or operating sash on either or both sides of a door to light an entryway or vestibule.
Sill: Horizontal member that forms the bottom of a window frame.
Stud: Vertical wood framing members which form a frame wall. In normal construction these are 8 foot long 2″ x 4″s.
Transom: A smaller window above a door or another window. A transom joint is also the horizontal joining area between two window units which are stacked one on top of the other.
U-Factor: A measure of heat transmission through a wall or window. The lower the U-Factor, the better the insulating value.
Vapor barrier: A watertight material used to prevent the passage of moisture into or through floors, walls and ceilings.
Windowpane divider: A short bar used to separate glass in a sash into multiple lights. Also called a grille.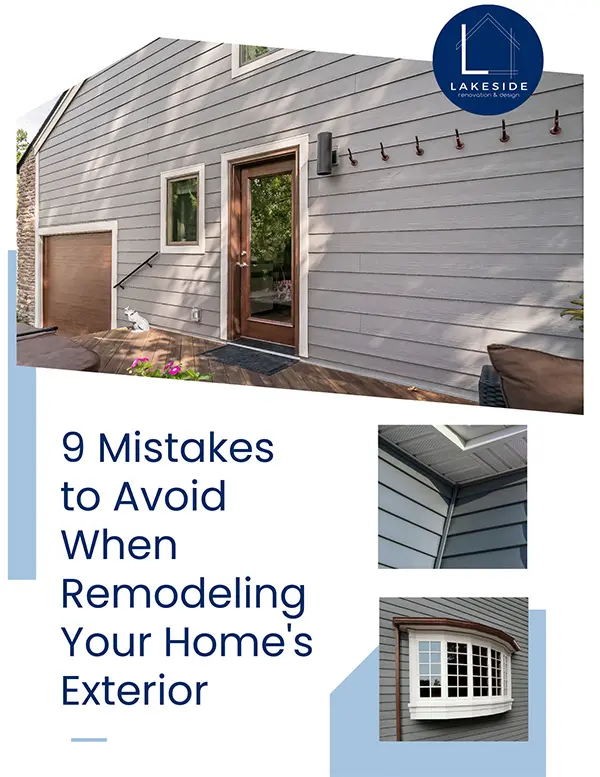 9 Mistakes to Avoid When Remodeling Your Home's Exterior
Free PDF Download
We understand how overwhelming remodeling your home can be. Get our free ebook to learn about 9 things that will help you start your project the right way.