For many years a homeowner's choice for siding was limited to wood, stucco, stone or brick. Then along came aluminum siding, then hardboard, which was followed by vinyl siding and, more recently, advanced composite materials. Now the array of choices can be dizzying!
Each and every siding material has both advantages and disadvantages. You have to weigh the pros and cons of each, before choosing the most appropriate option for your home. In order to help you make an informed decision, here are some of the basics to keep in mind about each type of siding available.
The following guidelines may be useful in selecting the right siding material for your house.
In addition to enhancing the look of your home, siding also serves the purpose of protecting the inner structure.
One of the important points to consider is the architectural style of your home. The siding must suit the particular style and should not stand out like a sore thumb in the neighborhood.
Check whether the material you choose is suitable for the climatic conditions of your location. It must withstand weather extremes that include heat, wind, cold, snow, rain and sun.
If you want sound insulation, choose a siding material that offers soundproof qualities.
Be "green." Make sure that you are selecting a material that causes the least amount of environmental impact.
Get an estimate of the cost of installation of the siding to make sure it fits your budget.
Brick and Stone
Bricks have been used as a siding material for centuries. Bricks are available in different hues, are very durable and require little maintenance. The only disadvantage is the high cost. If you cannot afford the expense of bricks, then you can opt for brick veneer.
Stone is another durable siding material that can protect your home from the elements better than thinner materials. Depending on the style of your home, stone can enhance the looks of your house and the maintenance cost is also less. But, like bricks, stones can be very expensive.
Wood Shingles
Wood is one of the oldest siding materials used by mankind. It is available in a variety of styles, textures and finishes. Wood clapboard or beveled siding is fitted in a horizontal manner with overlapping joints, whereas, wood plank or board siding has a vertical fit.
The advantages of wood siding are its good looks and the relative ease with which it can be installed and repaired. It is also biodegradable, with minimal environmental impact.
On the negative side, wood is costly and it can be damaged by weather changes. It can also house termites and is prone to mold growth. Another option is cedar shingles and shakes. They come in gray, brown or earthy shades, which attributes a natural look.
Vinyl
Vinyl is among the most popular siding materials. It is very cost-effective and is available in various shades and a limited number of finishes. Vinyl siding is very low-maintenance, it can be easily washed and never needs painting.
On the negative side, unless backed by additional insulating materials, vinyl does not offer any insulation value. Vinyl can be damaged by strong heat and storms. Because vinyl siding is made of petroleum-based PVC plastic, it has a negative impact on the environment. In addition, the color you choose for vinyl siding is the color you must live with for the life of the siding – no painting! Vinyl is very susceptible to the growth of mold and easily fades with the U.V. rays from the sun.
Aluminum
Aluminum siding became popular in the 1950s. It is inexpensive, fireproof, durable and environment-friendly. However, aluminum is easily dented and has poor insulation quality. Aluminum is a poor siding choice in areas where hailstorms occur.
Hardboard
Hardboard siding is an inexpensively-made wood composite that was popular in the 1960s and 1970s as a low cost alternative. However, recurring problems with hardboard have dimmed is value. Hardboard can warp, is subject to rot and mold, and provides little or no insulation value.
Stucco
Stucco is a type of cement that comes in a variety of colors and textures. It is durable, long lasting, and easy to maintain since it never needs to be painted. Installation must be done by a professional, and the materials can be fairly expensive to purchase. Stucco is also limited in its appropriateness for many architectural styles.
Fiber Cement
If you like the appearance and character of wood with a variety of colors, but without the problems created by insects and woodpeckers and the general maintenance that wood often needs, fiber cement may be the best choice for you.
Fiber cement looks similar to wood but has none of the hassles connected with wood. It offers the texture and beauty of real wood without the maintenance associated with wood-based siding. It resists rotting, buckling, and damage from insects and woodpeckers. You can paint fiber cement with a color of your choice, although it does not require as frequent a painting as any other wood siding.
The most popular brand of fiber cement siding (with over 5.5 million installations in the U.S.!) is James Hardie® siding. James Hardie siding is available in many different colors and styles including HardiePlank® Lap Siding, HardieShingle® Siding, and HardiePanel® Vertical Siding. The lap siding and the vertical siding can easily be painted and are already protected with a sealer and a primer. James Hardie Siding can withstand hail, rain, snow, and wind. These products come with a 30-year non-prorated transferable limited warranty.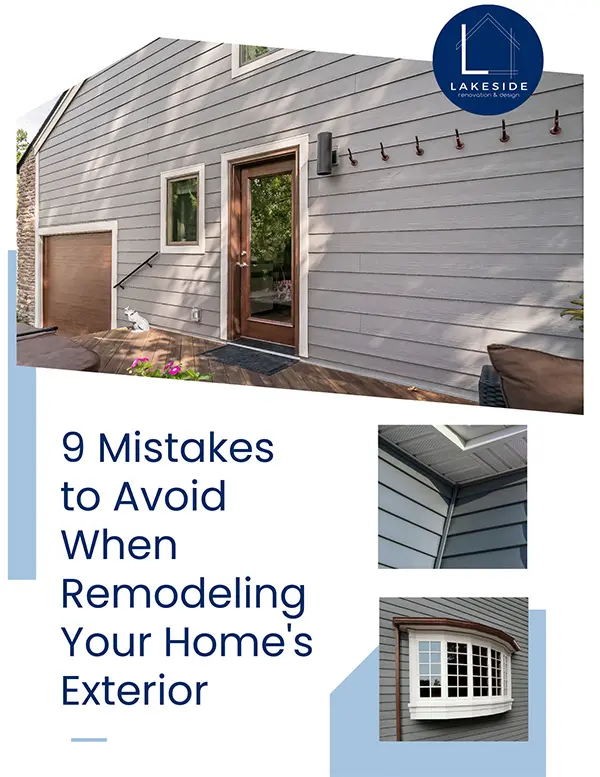 9 Mistakes to Avoid When Remodeling Your Home's Exterior
Free PDF Download
We understand how overwhelming remodeling your home can be. Get our free ebook to learn about 9 things that will help you start your project the right way.