Replacing your home's entry door is an important consideration for both the look and functionality of your home. Before shopping for a new door and a contractor to install it, it is important to learn as much as you can about doors.
Homeowners across the country have discovered that adding new doors can improve energy efficiency, protect from the elements and add security to their home and family. Even adding the latest designs in French doors, sliding glass and patio doors can increase the value of your home while bolstering security.
Types of Doors
Doors today are made of many different materials, each with its own benefits and drawbacks.
Solid Wood Doors
A solid wood door looks great but can be expensive. In addition to their beauty, solid wood doors are sturdy and durable. Custom built solid wood doors can take up to 10 weeks to be delivered. Wood doors require maintenance including scraping and painting every few years.
Stock Wood Doors
These doors look similar to solid wood, but their outer layers are actually a wood veneer over an engineered wood core. Stock wood doors cost less than a solid wood door and provide good insulation. They are also readily available if your home has a standard size door opening. For maximum durability, make sure you choose a stock wood door with the thickest veneer available.
Fiberglass-Composite Doors
Although made of fiberglass, these doors are designed to look just like wood doors, and they do! Fiberglass-composite doors require no maintenance and can stand up to the harshest weather. And, they're reasonably priced. A great alternative to wood doors.
Steel Doors
A steel door is a good choice if security is your priority. The doors themselves are the least expensive of the various types of doors, although the cost of the frame and hardware can cancel out most or all of the savings. Steel doors are also extremely durable, but aesthetically they lag behind the other materials.
Do Your Doors Need to Be Replaced?
There are three primary ways to tell if you need to replace a door:
Function – Does the door open properly? Does it stick? Does the latch not catch properly?
Condition – An exterior door is subject to all weather conditions. Wind, rain, cold, snow and ice all take a toll. Not to mention everyday wear and tear. If your doors are simply tired and worn it may be time for a new one.
Style – If you have made home renovations like new siding, windows or paint color, your old door may no longer look "right" and needs to be replaced.
Parts of a Door
When looking for a replacement door it helps to know the terms you may encounter.
bottom rail – level piece of wood or steel at the bottom of the door
cornice – protruding molding that rests horizontally across the very top of the door opening, often decorative
hanging stile – vertical part of the door to which the hinges are attached
header – level frame part surrounding the upper part of the door opening
hinge – cylindrical metal flange that joins the door to the frame and allows the door to swing open and closed
jamb – protruding part of the door frame on each side of the opening
lock – device mounted inside the door allowing it to be locked using a key or deadbolt
lock rail – level piece of wood or steel in the middle of the door
middle panel – long, narrow panel placed horizontally across door
mullion – vertical piece of wood or steel joining the top and lock rails
panel – flat surface on the door that is often recessed
shutting stile – vertical part of the door where the lock and doorknob are mounted
threshold – the surface forming the bottom part of the opening
top rail – level piece of wood or steel at the top of the door
weather strip – sloped strip of wood or aluminum, usually located at the top of the door, that channels water away from the door
Don't Forget the Frame
In many cases, the door frame must be replaced with the door. The frame, also called the casing or jamb, is the encasement for the door opening, onto which the door is hung. Often you can purchase a new door and casing as a unit. The door frame is exposed to the same elements as the door, so make sure your frame is strong enough to provide the support and durability you need.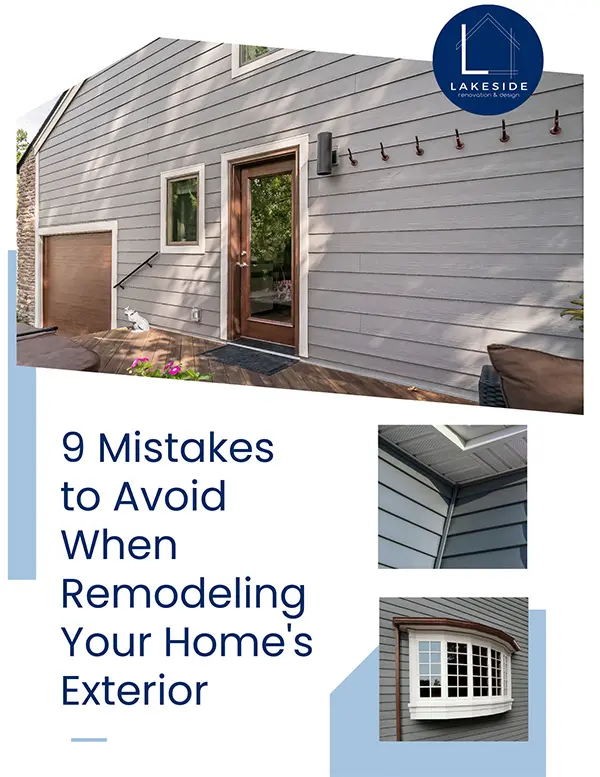 9 Mistakes to Avoid When Remodeling Your Home's Exterior
Free PDF Download
We understand how overwhelming remodeling your home can be. Get our free ebook to learn about 9 things that will help you start your project the right way.