Remodeling Magazine, a top nationally recognized trade magazine releases a Remodeling Cost vs. Value Report every year that compares how much homeowners spend on the most 35 popular remodeling projects and the value each adds to one's home upon resale.
Click here to view the 2015 Cost vs Value Report >>
Purpose of the Report
This particular report has a purpose and that is to be a tool to any homeowner considering any kind of remodeling. Lakeside Renovation & Design has worked hard to build the solid reputation given to us by the locals as a go-to source for everything regarding home remodeling. We are professionals and we believe that homeowners should have options. This report is a handy tool that homeowners can view and better understand the different options they face based on the type of remodeling they plan to do. This helps ensure you are making the 'right' investment for your situation.
Which Remodeling Project Has the Best Value?
The costs that you see in the report are based on itemized estimates so the actual costs in our local, St Louis area may vary. It all depends on the many involved factors of your particular remodeling project. Our experts will help you better understand the actual costs once you've reviewed the annual report.
The Cost vs. Value Report published by the respected Remodeling Magazine can help homeowners identify which remodeling options are the best to pursue. The data in this report is based on a wide range of criteria including, of course, ROI (Return on Investment).
The return on investment is basically how much you can expect your home's value to increase if you choose to do (and finish) the remodeling project. Each project will have its own ROI.
Fiber Cement Siding
Well for the 11th consecutive year, siding your home with James Hardie® Fiber Cement siding is the #1 Return on Investment for upscale remodeling projects.
There are many other projects you can take on as a homeowner, but only re-siding your home with fiber cement siding will give you the best return on your investment.
The Right St Louis Remodeling Contractor
Now that you have an idea of what you might expect your ROI to be based on the project you have chosen, the next and one of the most important steps is going to be choosing the right exterior remodeling contractor. After all, the experience and results of your remodeling project will play a large role in deciding if the project was actually worth the cost. So why not erase any doubts beforehand? Lakeside Renovation & Design is ready to help you make your remodeling project come to life and our experts are experienced and qualified to handle your remodeling projects; big or small.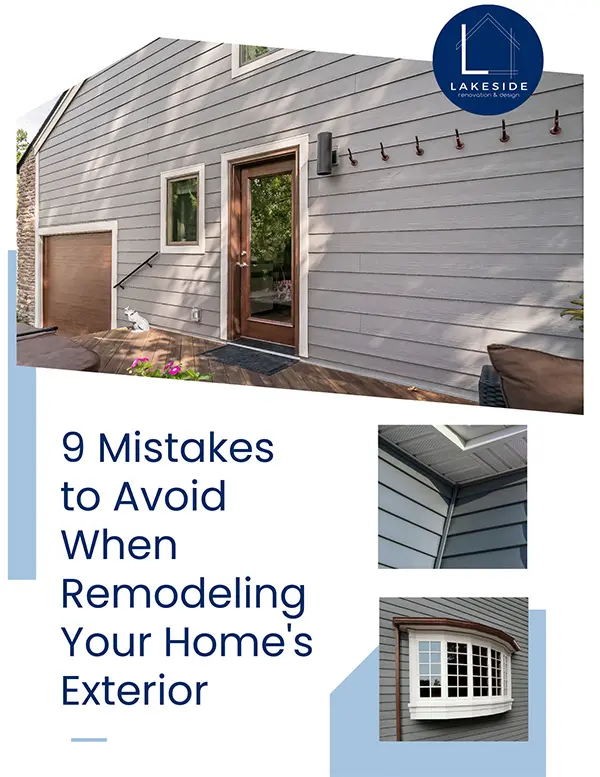 9 Mistakes to Avoid When Remodeling Your Home's Exterior
Free PDF Download
We understand how overwhelming remodeling your home can be. Get our free ebook to learn about 9 things that will help you start your project the right way.