Beautiful, Energy-Efficient Replacement Windows for Your St. Louis Home
If someone told you that you could save money on your energy bills and make your home more beautiful all at the same time, would you believe them? The fact is that energy efficient replacement windows do just that.
Your windows don't have to cause you a headache. Expensive energy bills, poor installation, and outdated windows are all things of the past. That's why Lakeside Renovation & Design is proud to install Infinity® from Marvin windows. And with our 25 years of experience and lifetime workmanship warranty, you can trust that your window will be installed correctly.
We Specialize in the Best

Performing Replacement Windows
We specialize in Infinity from Marvin windows. Infinity from Marvin replacement windows are designed to offer excellent performance at an affordable price point. Fiberglass windows offer superior strength and durability, and they are designed to resist the wear and tear of the elements over many years.
The Benefits of a New Window Replacement
Replacing your old windows with new, energy-efficient windows from Lakeside Renovation & Design is a great way to improve the appearance of your home while saving you money by lowering your monthly energy bills.
The U.S. Department of Energy tests show that 30% or more of the energy used to heat or cool your home can be lost through poorly insulated doors and windows. This can be caused by:
Poorly fitted frames
Inefficient glass
Porous wood or vinyl frame materials
Lack of proper insulation
Improper sealing
However, when Lakeside Renovation & Design installs Infinity from Marvin replacement windows, St. Louis homeowners can see their monthly heating and cooling costs drop!

Replacement Window Styles and Options
In addition to the double hung window style, we offer replacement windows in other styles and features to suit your needs— from casement windows, slider windows, bay windows, bow windows, picture windows, and many other specialty windows.
Whatever style you choose, Lakeside Renovation & Design will make your home the envy of the neighborhood with windows that beautifully complement the look of your home.
Visit our window styles page for more details.
Why Choose Lakeside Renovation & Design for Your St. Louis Area Replacement Windows?
The perfect window will do you no good unless it is properly installed and sealed. Peace of mind come with hiring a contractor you know you can trust to properly install your windows.
We aren't just re-sellers of Infinity from Marvin. Each window is installed by our own factory-trained and certified team of craftsmen. We don't hire sub-contractors that bear no responsibility for the final outcome. By trusting our own people, you'll know that your St. Louis replacement window installation will be done by someone who knows you and knows the scope of your project.
We have helped St. Louis Homeowners upgrade to beautiful, energy efficient windows for the past 21 years. We want your home to look and perform at its best. Let us show you what a difference Marvin Infinity windows can make in your St. Louis area home's appearance, and in your monthly heating and cooling bills.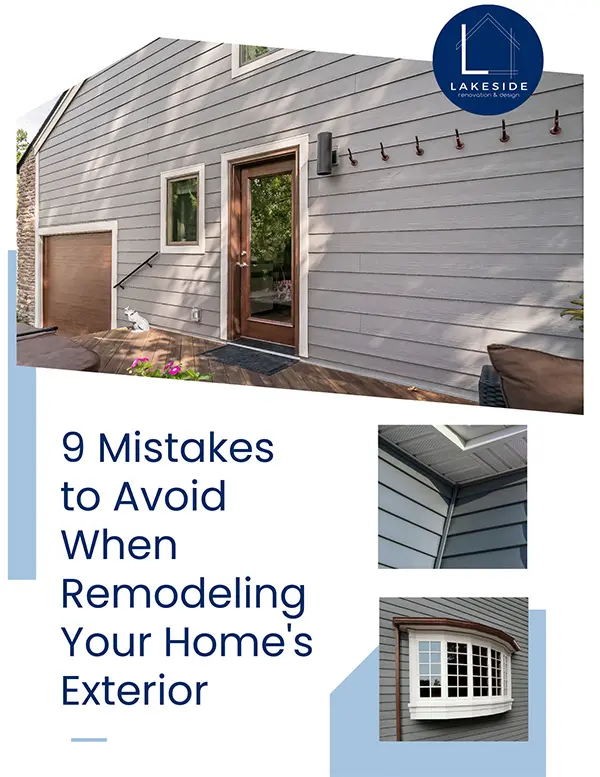 9 Mistakes to Avoid When Remodeling Your Home's Exterior
Free PDF Download
We understand how overwhelming remodeling your home can be. Get our free ebook to learn about 9 things that will help you start your project the right way.