Upgrade Your Home with Quality James Hardie Siding


When you're looking for excellent home exterior siding, look no further than James Hardie siding. The expert in fiber cement siding products, James Hardie offers great variety in styles, gorgeous color options, and superb durability guaranteed with one of the best warranties in the home remodeling industry.
At Lakeside Renovation & Design, we believe your home deserves an exterior remodel that you can be proud of and rely on for years to come. That's why we provide James Hardie siding. In fact, we are the top James Hardie Elite Preferred Remodeler in the St. Louis region, and we are also ranked top 3 James Hardie Installer in the nation. This means we offer superior service, a dedication to transparency and communication, and expert installation that gives your home years of low-maintenance, high-value beauty, protection, and peace of mind.

The Advantages of James Hardie Siding
The James Hardie company has been perfecting fiber cement products for over a century, offering homeowners reliable, time-tested siding that is long-lasting and beautiful. Fiber cement is a mix of cement, natural cellulose, and finely ground sand, and is safe for the environment. It offers many benefits to St. Louis homeowners.

Attractive Appearance
Homeowners love James Hardie siding because it enhances a home's exterior look and feel, adding great curb appeal for years to come. It mimics the look of true wood grains while being much more durable than wood. James Hardie fiber cement siding is available in a variety of styles and options, offering you flexible design choices that fit your personal tastes and your home's unique architecture. And it comes in many pre-painted color options or can be painted after installation for a highly customized look.
Long-Lasting Nature
Wood rots, suffers scrapes, and gets eaten by insects. Brick and stone erode from the effects of wind, rain, and other weather. Vinyl can be dented and damaged by hail. But fiber cement is highly durable. Engineered to last, James Hardie siding retains its gorgeous appearance despite rough climates, the elements, and the wear and tear of time.
Easy Maintenance
James Hardie fiber cement siding is one of the home remodeling industry's simplest siding options to maintain. Its unique ColorPlus technology resists fading, so there's no need to repaint. And cleaning it is as easy as rinsing it with a garden hose once or twice a year.
Resistance to the Elements
James Hardie siding is Engineered for Climate, meaning it is supremely resistant to all forms of wear and tear, including:
Warping
Rot and other moisture damage
Droughts, hail, blizzards, and other weather extremes
Insects and other pests
Flames and damaging heat
We Install the Siding St. Louis Homeowners Prefer!

For the best home improvement investment you can make, contact the experienced, detail-oriented James Hardie siding installation experts at Lakeside Renovation & Design. We'll make your James Hardie siding installation process easy, fast, and affordable, so you have peace of mind and pride in your home's beautiful look and enduring nature.
Why Choose Lakeside Renovation & Design?
We know you appreciate transparency, so we provide homeowners a portal to login and see their project progress and pictures on a daily basis.
We are the most experienced James Hardie Elite Preferred Contractor in the St. Louis area. We are proud to have been awarded this prestigious certification which means you get the best siding installation available, including a 30-year non-prorated warranty.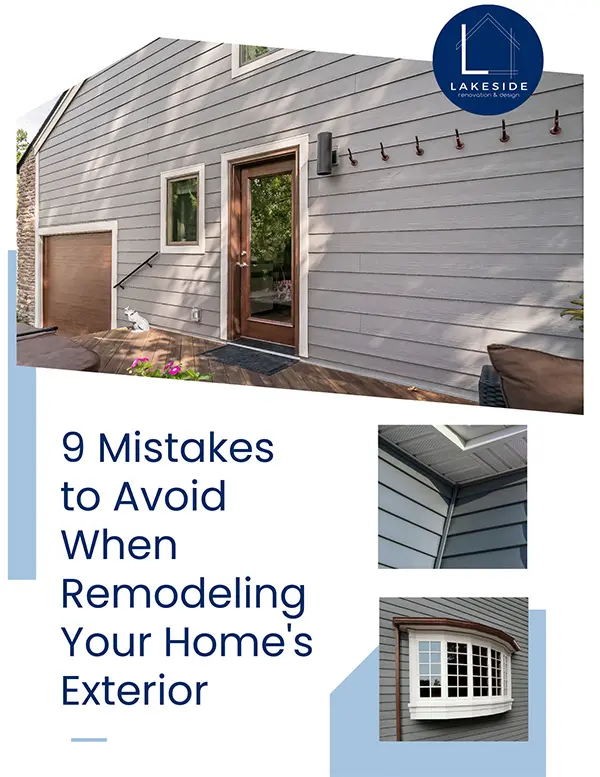 9 Mistakes to Avoid When Remodeling Your Home's Exterior
Free PDF Download
We understand how overwhelming remodeling your home can be. Get our free ebook to learn about 9 things that will help you start your project the right way.