Lakeside Renovation & Design is the most experienced James Hardie Elite Preferred Remodeler in St Louis!
Why should choosing a James Hardie Elite Preferred Remodeler be a big deal to homeowners thinking about re-siding their home? Because when it comes to your home, it pays to have the professionals do it. Why would you trust one of your biggest, most important home investments to anyone but the best? Lakeside Renovation & Design not only introduced James Hardie siding to the St. Louis area, we are also the most experienced James Hardie contractor in the nation!
We are proud to have earned this prestigious certification from James Hardie. When you work with a James Hardie Elite Preferred Remodeler, you know that you're working with the best and most qualified siding contractors in the industry and St Louis.
Over the years we have installed James Hardie products on hundreds of homes in the St Louis area, and are proud to have over 250 excellent reviews on our James Hardie remodeler page with a 98% "Likely to Recommend" rating.


What does it take to be a James Hardie Elite Preferred Remodeler?
James Hardie Elite Preferred Remodelers are professional siding contractors who are trained and certified to help you meet your specific needs for James Hardie siding repair and replacement.
In order to deliver the very best level of service, customer satisfaction surveys are initiated on every James Hardie project installed using GuildQuality, which is an independent 3rd party customer satisfaction surveying service.
As a James Hardie Preferred Remodeler, Lakeside Renovation & Design strictly follows these requirements:
Compliance with Installation Best Practices
Regular & Random Installation Audits by James Hardie
Professional Sales Approach
Satisfactory record with the BBB or other Accredited Agency
Satisfactory credit report
Licensed and Fully Bonded
Liability insurance $1,000,000 per occurrence
Workman's compensation Insurance
Satisfactory background check with at least 10 past clients
Get started on transforming your home with the best siding product and the best siding contractor in St. Louis.
Contact us to schedule your free James Hardie siding consultation, and allow us to show you what superior workmanship and customer service look like.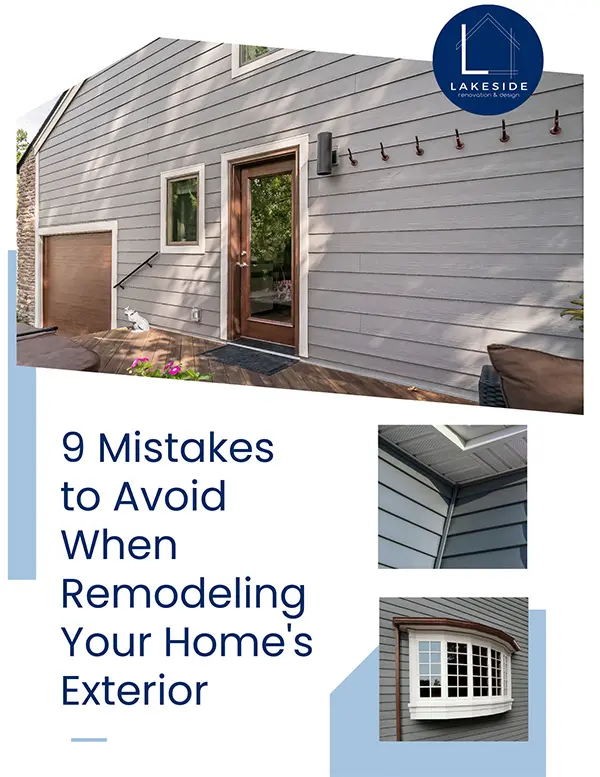 9 Mistakes to Avoid When Remodeling Your Home's Exterior
Free PDF Download
We understand how overwhelming remodeling your home can be. Get our free ebook to learn about 9 things that will help you start your project the right way.