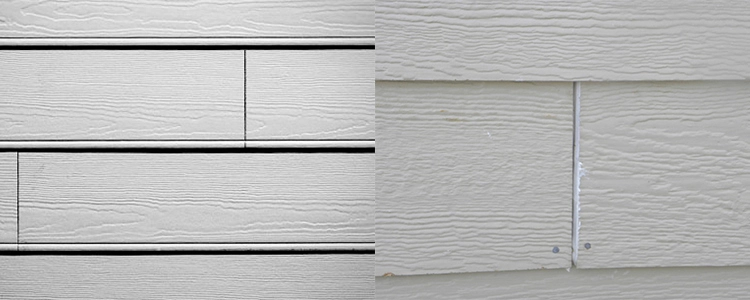 When choosing siding for your home's exterior, you need to choose a brand that is durable, can withstand wear and tear, and looks beautiful for you and your guests for years to come. Chances are, you are debating between two popular companies: James Hardie® Fiber Cement and LP SmartSide® Siding. When the time comes to start making home improvements, which company will benefit you and your home the most?
As a James Hardie Elite Preferred Contractor, Lakeside Renovation & Design team believes James Hardie fiber cement siding is most compatible for St. Louis homeowners due to its durability against the elements and overall reliability. However, before you commit, here is a comprehensive list of differences between James Hardie siding and LP SmartSide siding to help you make the best siding decision for your home!
What makes James Hardie and LP popular?
LP SmartSide siding has been on the market for roughly 20 years. LP siding is gaining popularity for its ease of installation, lightweight material, and variation of styles and colors.
James Hardie has been in business since 1888, and its siding is loved by customers for not only its beauty, but also for its durability against damage caused by fire, mold, moisture, freezing temperatures, and pests. Even better, James Hardie is the only company to offer products that are Engineered for Climate®, meaning the Hardie products we install on your home are guaranteed to the St. Louis weather fluctuations.
Materials
The primary difference between the materials used to make SmartSide siding and Hardie siding is that SmartSide uses a wood-based product, while Hardie uses a cement-based product.
SmartSide: SmartSide uses engineered wood that is coated with wax for moisture resistance. This siding is coated with a SmartGuard® solution, a zinc borate-phased process that adds strength to the product and helps to protect against pests and decay. One benefit to SmartSide is that the siding is lighter in weight and easier to install than other siding brands.
Hardie: James Hardie uses engineered fiber cement siding, which consists of cement, sand, and cellulose fibers. Fiber cement siding is designed to be durable and requires very little maintenance. One benefit to long-lasting fiber cement siding is that it can go several years without needing to be repainted. Unlike the wood siding used by LP, fiber cement siding is much more resistant to weather and pest damage.
Appearance
Both James Hardie fiber cement siding and LP SmartSide offer a variety of attractive siding options to meet your design style and preferences.
SmartSide: LP SmartSide offers five styles of lap siding: Cedar Texture, 12" Bold Profiles (Triple 4" and Double 5" profiles), 16" Bold Profiles (Quad 4", Triple 5", and Double 8"), Colonial Beaded, and Smooth Finish. LP SmartSide offers customers the choice of having their siding arrive prefinished in the factory, or the siding can be painted after the installation is complete.
Hardie: James Hardie siding offers six styles of lap siding: Cedarmill and Beaded Cedarmill, Smooth and Beaded Smooth, and Colonial Roughsawn and Colonial Smooth. The Cedarmill and Smooth siding styles are offered in the 15 most popular siding colors, a part of the James Hardie Statement Collection™. However, all six styles offer hundreds of color options from The Dream Collection™ with Hardie's baked-on ColorPlus® Technology. The average paint job in the Midwest lasts 5-7 years, but the James Hardie average paint lifespan is 12-14 years!
Warranties
The primary difference between SmartSide and Hardie siding warranties is that SmartSide offers a 50-year, prorated limited warranty, while Hardie offers a 30-year, non-prorated warranty. You'll want to not look at just the length of the warranty, but also at what it does and does not cover.
SmartSide: LP Smartside provides customers with a prorated 50-year limited warranty. The warranty covers 100% of defects only through the first 5 years. Through years 6-49, the warranty is reduced by 2.2% per year. This equates to only 34% coverage after 30 years, while at 30 years, a Hardie customer still has 100% coverage.
Hardie: James Hardie siding comes with a non-prorated, 30-year warranty. This is considered to be one of the best warranties in the home construction industry. All trim products also come with a non-prorated, 15-year warranty.
Choosing Your James Hardie Elite Preferred Contractor
At Lakeside Renovation & Design, we recognize that one of the most reliable, versatile and economically sound investments you can ever make for your home is to install fiber cement siding. This is why we are committed to providing the best for our customers with America's #1 cement siding brand, James Hardie. James Hardie fiber cement siding is appreciated by customers for its award-winning quality, customizable appearance, durability, and amazing warranties.
If you're thinking of replacing your siding, remember that there is a reason that James Hardie is the top rated siding company in the industry. Call Lakeside's team for a FREE consultation.