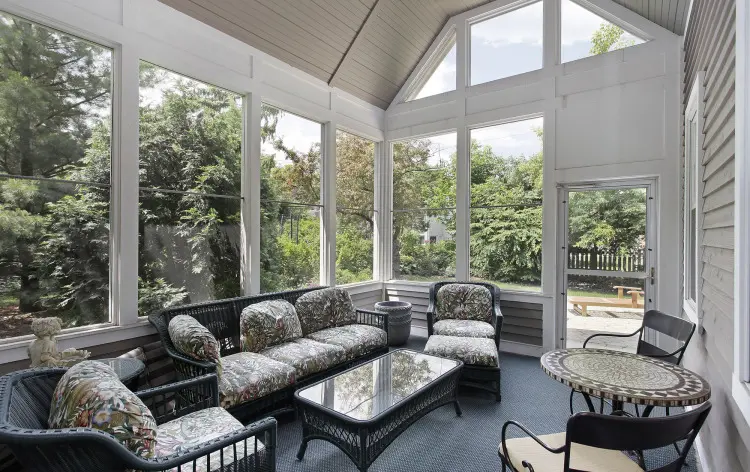 If you're the type of homeowner who loves the outdoors but finds yourself hiding inside due to insects, pests, bad weather, or an unbearable climate, then you really aren't experiencing every facet of your home to the fullest extent.
Adding an indoor/outdoor living structure, like a screened porch or season room, helps to maximize the use of your exterior space. But some climates and certain homeowner needs lend themselves better to different additions types. So, which addition is the right choice for your home?
As an experienced interior and exterior home contractor, our team wants to help break down which solution is the best fit for you.
Screened Porch vs. 3-Season or 4-Season Room
While screened porches and season rooms are similar in the location and function they serve for your home, they could not be more different. Screened porches are built just as they sound, with a roof and screens surrounding the existing structure, simply enclosing a space without sealing it.
On the other hand, season rooms have a higher level of enclosure. While both types of season rooms are enclosed with true windows, a four-season room utilizes higher-end products and a greater level of efficiency and insulation to create a space that can be enjoyed all year long, no matter the weather conditions.
However, both screened porches and season rooms are designed to maximize the natural light and outdoor feeling that surround them. So choosing what will work best for your home will depend on the level of performance you require. 
Get more detailed information about the differences between a 3-season and 4-season room.
Considerations for Your Home
Here are some pertinent questions to take into account before making your addition decision.
What is the space's purpose? This is the most important question to ask. Do you plan to use the space for entertaining, working, or fitness? As a playroom? Or are you looking to resell? Knowing the purpose will help you determine your seasonal needs. Four-season rooms tend to be the best for overall enjoyment and use of the space.
How often will the space be used? If you're unlikely to use it year-round, don't spend the extra money on a full-season addition. But if you desire an addition that continuously functions for your family, invest in the quality of a three- or four-season structure.
How much do I want to spend? Quality is better than quantity in any home renovation project. Once you've set your budget, don't overextend it. For a high budget, a four-season room will add immense home value. But smaller budgets will be best maximized on a quality screened porch.
What does my home currently have to build upon? If your home has a pre-existing deck or slab, you have a greater idea of what you will be working with. Simply screening a porch can still maximize a space.
Do I need/can I get permits for my project? You'll want to not only ensure that you have the proper permitting for your project, but that you can actually obtain a permit for the level of project you want to complete. Working with a professional can help you navigate through the permitting process with ease.
A Detailed Breakdown
Usage
In the St. Louis climate, each option will see a great deal of use. However, 4-season rooms are specifically designed to be usable all year long. Porches and 3-season rooms will still have to compete with the hot and humid summers as well as the cold winters, leaving the milder spring, early summer, and fall seasons to be the only time for usage.
4-season rooms— usable 12 months
3-season rooms— usable for up to 10 months
Screened porch— usable for 8 months or less depending on temperature swings
Protection
St. Louis homes face all levels of weather conditions from bolstering heat to heavy winds and hail to snow and cold. And like almost any region of the country, pests, pollen, and dust should also be a consideration.
4-season rooms— Protects against climate, weather, pests, pollen, and dust
3-season rooms— Protects against weather, pests, pollen, and dust
Screened porch— Protects against pests, certain weather conditions, and can minimize pollen and dust levels
Cost
Screening in your porch is the most affordable exterior "room" option available. A three-season room will fall in the middle, while a four-season room will be the most expensive option. Four-season rooms require high-level products with greater insulation and efficiency to keep the room at a comfortable temperature all year long.
Value
On the tail end of project cost is project value. By the nature of the structure, four-season rooms will add the greatest overall value to a home. Both screened porches and three-season rooms add extra usable space to your home, but only a four-season room can add actual square footage. However, to ensure your addition will have all the qualifications of additional square footage, hire a professional additions contractor.
The Importance of Hiring a Professional Remodeling Contractor
Curating the perfect indoor/outdoor space for your home comes down to cohesion and attention to detail. The Lakeside Renovation & Design team can understand your unique requirements as a homeowner and create the perfect plan for your dream space.
A screened porch or season room comes with the challenge of creating a usable space that fits in with both your home's interior and exterior, while also seamlessly flowing with your existing home—a tall order to successfully achieve.
A professional contractor's expertise can maximize the use of the space and create the most value for your home.
Take the enjoyment of your exterior to the next level with a beautifully designed and constructed indoor/outdoor space. If you're considering adding a season room to your home, check out our gallery for more inspiration.