Transform Your St. Louis Area Kitchen into a Stunning and Welcoming Space
If your St. Louis area home is plagued by an outdated, rundown kitchen, it can leave you feeling frustrated with your entire house. Kitchens are the hub of life in our homes. They are where we gather to eat and hangout. When they are short on space, function, or beauty, you are missing out on all the potential your home has to offer.
But you can elevate your home with a kitchen renovation. Our team of kitchen remodeling contractors is ready to listen to your needs and give you a kitchen that fits the needs of your family and makes you proud.
It's Time for the Kitchen You Deserve
Creating a new kitchen is a big investment, but it is well worth the money spent when your quality of life and overall home value increases. If you've been thinking about a new kitchen, you can be certain it's time for an upgrade when your current space:
Lacks room to move and gather
Is closed off from the rest of your home
Does not have enough storage or counter space
Is outdated and rundown
Makes you unhappy to work in
Benefits of a Lakeside Kitchen Remodel For Your St. Louis Home
Any kitchen renovation will add value—but with our Lakeside kitchen renovation contractors, you will experience a renovation process that is simple and stress-free. You'll gain a kitchen you are proud to own.
Choosing Lakeside means:
Creating an Open Concept Home
Many of our kitchen renovations are designed to connect the kitchens and family rooms, creating the perfect space for entertaining and gathering the whole family and beyond. Don't let a load-bearing wall stand in the way of your dream space. We are experts in complicated structural renovations.
Quick Project Turnaround
Everyone has heard the horror stories of 4-month kitchen remodels. We understand how pivotal kitchens are to life. Our standard timelines are 5 to 8 weeks, even with the most complicated kitchen renovations.
Customizable Options
Our in-house design team creates a custom design plan, while our expert kitchen remodeling contractors and carpenters implement the perfect and seamless layout.

The Lakeside Difference: Restore Life to Your St. Louis Area Kitchen
You don't have to settle for a dysfunctional and cramped space. When you schedule an appointment with our team of kitchen remodeling & renovation specialists, we will develop a design plan you'll love that fits your budget, and our team will see that plan through with precision. You'll enjoy a stress-free kitchen remodel and a beautiful space you can be proud of.
We provide a high level of listening and care for every homeowner. We want to understand your concerns and provide you solutions so that you can love your home again.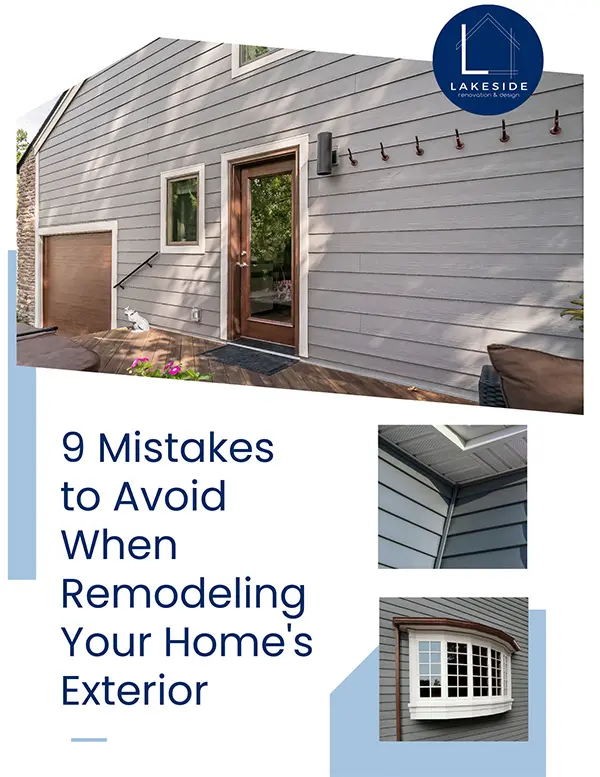 9 Mistakes to Avoid When Remodeling Your Home's Exterior
Free PDF Download
We understand how overwhelming remodeling your home can be. Get our free ebook to learn about 9 things that will help you start your project the right way.