Transform Your St. Louis Bedroom into a Peaceful Space
You begin and every day in your bedroom — why not make it your favorite space? When your bedroom needs remodeling to update aesthetics, or your bedroom would benefit from adding space, turn to Lakeside Renovation & Design. We have an expert interior design team that can turn your bedroom into a place you never want to leave!
Update Your Home With a Bedroom Renovation
Bedroom renovations can provide great value to any St. Louis home by adding style, comfort, and extra space! Customize your bedroom to fit your needs. Do you want more luxury features to help you relax and unwind? Do you need to offer a private space for guests or older children? Maybe you need to convert a bedroom into an office. Whatever your lifestyle needs, a bedroom remodel or addition will increase your home's value.
Remodeling Options to Make Your Bedroom a Retreat
When you focus on features that amplify a peaceful lifestyle, your bedroom becomes a wonderful place to relax after a long day.
Quiet Sitting Area
Create a private place away from the hustle and bustle of the day by adding a special sitting area. You can add a comfortable chair, cozy blankets, ottoman, and side table to create your ultimate place to unwind.
Luxurious Light Fixtures
Want to invoke a certain mood or brighten up the space? Have attractive light fixtures installed. A dimmer switch can add the perfect ambience! A unique light fixture can reflect your personal style well.
Enormous Walk-In Closet
It's annoying when you have to have separate closets to store your clothes and other bedroom items. Homeowners love having a roomy walk-in closet with plenty of shelving so they can have everything in one place.
Energy-efficient Windows
Installing large windows can bring mood-boosting natural light into your bedroom. We love fiberglass windows, as they offer superior durability, multiple styles, and high energy efficiency to lower your heating and cooling costs.

Choose Lakeside Renovation & Design for the Best Bedroom Remodeling Experience
Whether you're dreaming of renovating your bedroom with luxury features, or needing to create additional space, we would love to help. We believe your bedroom should be beautiful and function to fit your lifestyle. Since 1997, we've helped thousands of people in the St. Louis area turn their house into a home they truly enjoy.
Come home to a palace of solace. Schedule a free consultation to take a step closer to the bedroom of your dreams!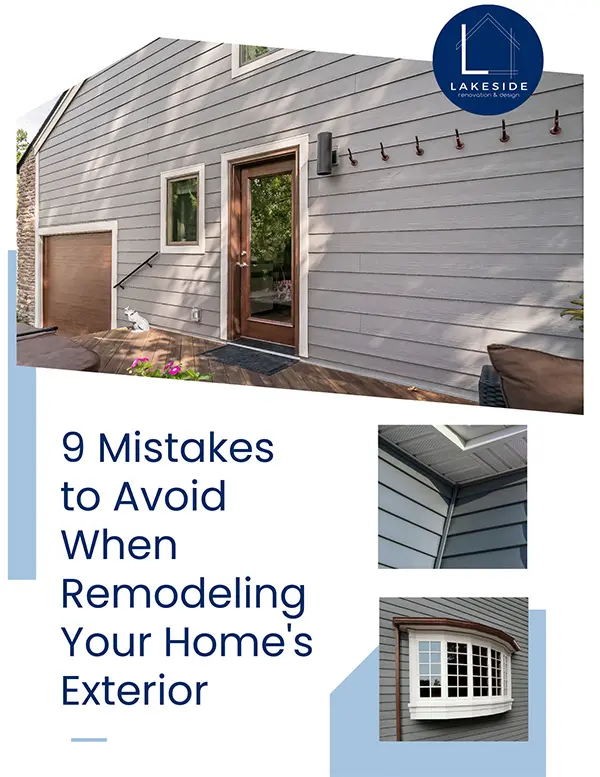 9 Mistakes to Avoid When Remodeling Your Home's Exterior
Free PDF Download
We understand how overwhelming remodeling your home can be. Get our free ebook to learn about 9 things that will help you start your project the right way.