Transform Your St. Louis Area Bathroom into a Beautiful, Spa-like Retreat
Bathrooms tend to be the last spaces renovated in a home. However, they are one of the most utilized rooms. And when a bathroom lacks function, space, or beauty, it can leave you frustrated and reluctant to have guests over.
We want to help you turn that lackluster room into a place of beauty and relaxation. With our collaborative process, we guide you through a bathroom renovation that fits your budget and adds value to your greater St. Louis area home.
A Bathroom Design that Won't Go Overlooked
Your bathrooms shouldn't be places you avoid. They should be rooms that wow visitors and allow you to retreat for much-needed rejuvenation. We can help elevate the style of your current bathrooms or create more space and function by transforming a half bath into a full bath, adding a bump-out addition, or reconfiguring a bathroom layout to make a space more versatile.
Benefits of a Bathroom Renovation
Increased home value
Though bathrooms are often overlooked, they are rooms that, when renovated, add great value to a home. A bathroom remodel can bring in over a 64% return on investment to St. Louis area homes.
Increased livability
As one of the areas of greatest foot traffic in a home, a well-designed bathroom will help create a livable space. There'll be no more fighting over sinks or countertop space. A new bathroom design can be tailored to exactly what your family needs.
Additional Space
By bumping out a half bath to create a full bath or expanding a master suite, bathroom renovations give your home much-needed space. Sometimes, space simply comes from reconfiguring the room and decreasing clutter.
Upgraded Features
Even in small bathrooms, you can pack a punch by upgrading the countertops, toilet, bathtub, or shower size. You can also add energy efficiency to your bathrooms with new appliances.

Why Choose Lakeside To Turn Your St. Louis Area Bathroom into a Luxurious Retreat?
You deserve a bathroom that takes your stress away, rather than adds to it. We want to be your expert guide and bring that dream to life. Our team walks you through the design and selection process step by step, keeping you in total control of your bathroom remodel while making the renovation process easy.
Our goal is to connect with each homeowner and understand their dreams and desires, so we can offer multiple solutions for their budget.
We are certified installers of many industry-leading products like Wedi and Schluter, so you can feel confident you are getting a seamless installation with products that will wow your family and guests.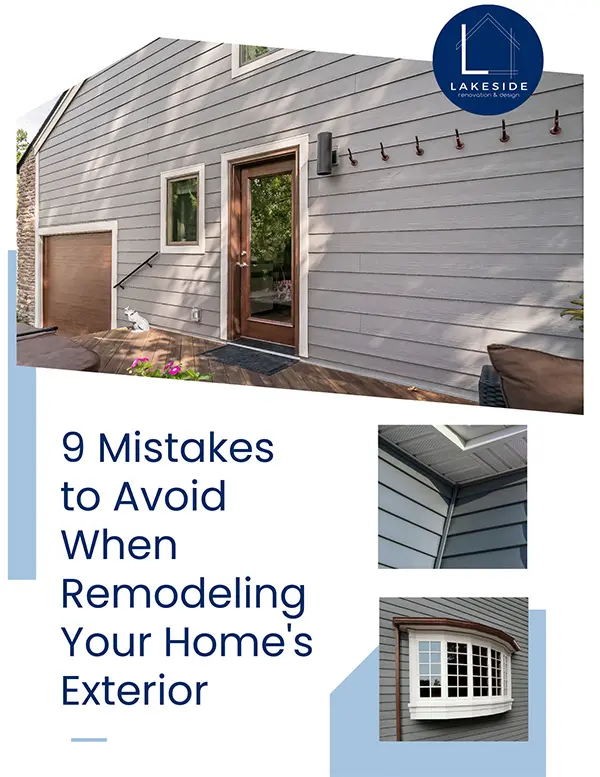 9 Mistakes to Avoid When Remodeling Your Home's Exterior
Free PDF Download
We understand how overwhelming remodeling your home can be. Get our free ebook to learn about 9 things that will help you start your project the right way.