Transform Your St. Louis Area Basement into the Hub for Family & Friends to Spend Time
Have you been considering expanding downward to give your St. Louis Area family the space it needs? Basements are a blank space that can seem overwhelming to design or dream about. We want to help.
A basement renovation does not have to be stressful. Our Lakeside Renovation & Design team is ready to help guide you through the renovation process so you can experience the benefits and joy that a finished basement has to offer.
Functionality that Fits Your Family
When your home requires more space to fit the needs of your entire family, basements are the perfect place to create additional room. Because a basement is preexisting space, it is far more affordable to complete than a brand-new addition, yet it recuperates an amazing return on the money you spend.
Add Value with a Basement Renovation
Transforming your basement into a livable space adds value to your St. Louis area home and boosts your family's lifestyle.
Additional Space
The greatest benefit of a basement renovation is the additional space it provides your entire household. You can turn that space into a number of rooms, including:
Bedrooms
Recreation room
Home theater
In-law suite
Investment property
Office
Increased Home Value
While livable square footage will always increase a home's value, but basement renovations are consistently one of the best remodeling projects to receive a high return on investment.
A Blank Canvas for Design
While basements are a part of the home, they are also their own separate entities, which gives you the perfect excuse to try a new design style.
Increased Efficiency
Unfinished, uninsulated basements are a place of great energy loss in any St. Louis Area home. Any heat or AC you pump into your home is likely making its way out through your basement walls. Finishing the basement means adding insulation in the walls, which will increase the efficiency of your entire home.

A Stress-Free Basement Renovation for Your St. Louis Home with Lakeside Renovation & Design
Transforming your St. Louis area basement does not have to be an overwhelming process. Our in-house design team is ready to create a stylish and functional renovation, and our basement renovation contractors will see your project through to completion with quality craftsmanship.
When you have a busy schedule, you don't have the time to deal with lack of communication. Your time is valuable to us, so we will always be available to follow up with you and answer all your questions.
Let us help you transform your basement today.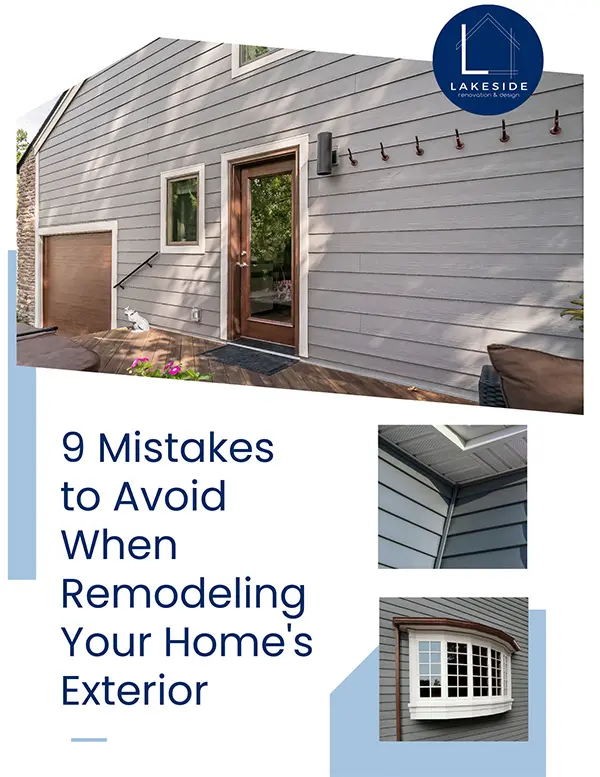 9 Mistakes to Avoid When Remodeling Your Home's Exterior
Free PDF Download
We understand how overwhelming remodeling your home can be. Get our free ebook to learn about 9 things that will help you start your project the right way.