Transform Your St. Louis Area Home with a New Addition
Increase Space & Improve Your Lifestyle
A lack of space is one of the greatest issues facing St. Louis homeowners. Owning a home that isn't roomy enough to meet your needs is a hassle. But you don't have to live frustrated in your own home.
A well-designed home addition can create all the space you need.
As one of the largest remodeling companies in St. Louis, we're set up to handle even the largest of home additions to take that house with great bones to the home of your dreams. With our in-house design staff and specialty contractors, see how we can bring new life to your space with a well-planned home addition.
Our Beneficial Design Process
For a home addition to be successful, it needs to be well thought out and constructed by expert craftsmen. Our team offers both. We staff an in-house design team to help guide the flow of the project while ensuring your home addition exceeds your expectations.
Consultations
We begin with a consultation that evaluates your current St. Louis area home and determines your needs, wants, and budget. Our design team will help keep our home addition contractors on task throughout the entire project.
Customized Plans
Our design team creates a custom plan for your space, keeping in mind the current style and design of your home while tailoring the new space to your wishes. We walk you through the selection process, making sure you have a say in every facet of your addition.
Your Approval Is Required to Start and Stop
We never begin a project until we have your final approval on our renderings. We proceed only when we know you are satisfied with the design presented, and we only finish when we get your seal of approval during your final walk-through. We keep in constant communication with you throughout the remodeling process, so you know exactly what progress is being made.

Lakeside Renovation & Design Can Create the Perfect Addition for Your St. Louis Area Home
Our goal at Lakeside is for you to feel proud of your home, both in its design and function. As a home additions contractor, we do this by creating additions that meet your lifestyle needs while matching your existing home so well they look as though they have always been a part of the design.
We know you appreciate transparency, so we provide homeowners a portal to login and see their project progress and pictures on a daily basis.
Our team is dedicated to excellence to ensure you have a personal and positive experience with your home addition. Our superior service is simply a phone call away.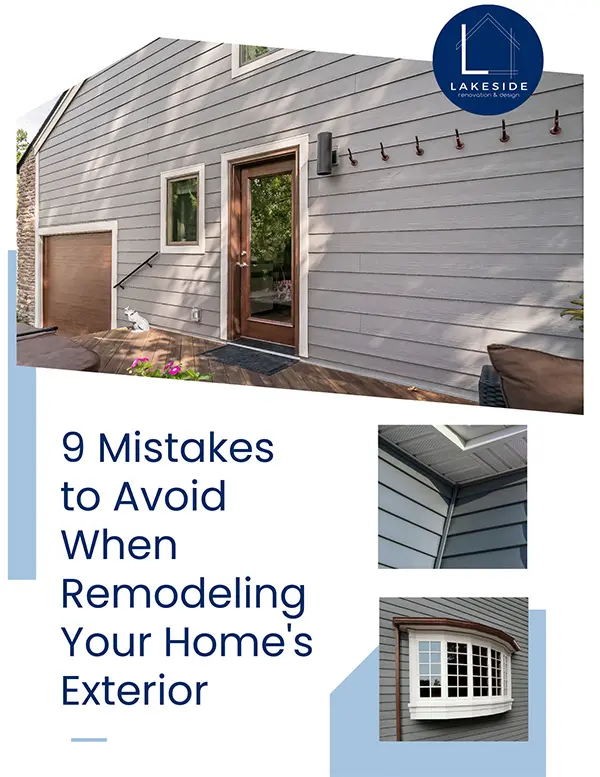 9 Mistakes to Avoid When Remodeling Your Home's Exterior
Free PDF Download
We understand how overwhelming remodeling your home can be. Get our free ebook to learn about 9 things that will help you start your project the right way.