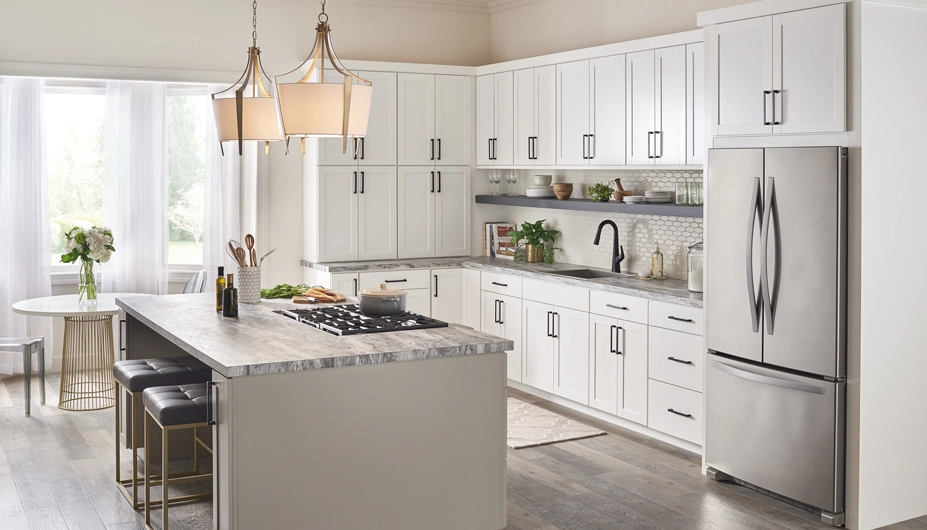 Transform Your Home with a New Interior Project
Every homeowner desires a functional and beautiful home interior, but that does not mean every interior lives up to this goal. If your home is not providing the space, function, or aesthetic you need and want, living in your home can become a hassle.
We understand how frustrating it is when you can't enjoy your own home. That's why our team of interior remodeling contractors is dedicated to providing you with immaculate home renovation services that fit your lifestyle and budget.
Interior Remodeling Services
Our interior remodeling services add value to your home while increasing the quality of your lifestyle. We offer a lifetime workmanship warranty on all of our interior remodeling services, giving you industry-leading peace of mind that we stand behind the work we do.
When your home no longer affords your family adequate space, you can transform your interior with a home addition. Our team of experts can turn the dream in your head into a home renovation reality.
With as much use and attention as your kitchen experiences, you deserve a kitchen that serves your family while also making you feel excited to prepare meals and entertain guests.
Bathrooms can often be overlooked during home remodeling. But with the help of our team, they transform into areas of relaxation and beauty.
You don't have to feel overwhelmed by your unfinished basement. Instead, you can feel ecstatic over the added value to lifestyle and home with a transformed space that functions for the whole family.
A season room will afford you an area to live outdoors all year long. Our team can create livable space that is well-insulated and comfortable in all seasons.
The Benefits of an In-House Interior Designer
At Lakeside, we are committed to your satisfaction, so we staff an interior design team. Having our designers in-house benefits your interior remodeling project in a couple of ways:
Faster Project Completions
Our contractors never get stuck on a design issue, having to wait for an outsourced design team to respond to inquiries. With our design/construction teams working toward the same goal, issues can be resolved smoothly and easily, keeping a project on track.

Saves You Money
An in-house design team knows your budget and works with your interior renovation contractor to get accurate estimates on your remodel, keeping the design cost-conscious. When issues arise, the designers can easily make changes without charging a fee.
Allows You a Say in the Finished Product
When you work with a communicative team of designers and contractors, you can reach out and adjust design details to your liking, keeping you in charge of your renovation.
Feel Confident and Satisfied with Your Interior Renovation Contractor
The key to a satisfactory renovation is the melding of an interior renovation contractor's expertise with the desires of the homeowner. At Lakeside Renovation & Design, our mission is to be your expert guide. We make a point to listen to your needs and wants and, based on our expertise in the field, develop a plan that fits your requirements and budget.
We focus on providing renderings before a contract or any money changes hands. We then execute the project with precision, keeping you updated throughout the entire process, so you can feel secure knowing your interior home remodel will be what you have always wanted.
9 Mistakes to Avoid When Remodeling Your Home
Free PDF Download
We understand how overwhelming remodeling your home can be. Get our free ebook to learn about 9 things that will help you start your project the right way.