Is your home's exterior feeling outdated? Then it might be time for an update. Your home's exterior should match your style as much as the interior, which means incorporating a modern or contemporary design into your exterior aesthetic.
No matter the current style of your home, there is a way to add modern or contemporary design elements with the right forethought. As an exterior remodeling contractor with an in-house design team, we've broken down the difference between these two styles and noted some ways you can incorporate modern exterior remodeling ideas into your St. Louis home.
Modern Vs. Contemporary Style
Many people think modern and contemporary designs are the same, but they're not. One of the biggest differences is that modern design can be pinpointed to a specific time period while contemporary homes cannot.
While some of their features may be similar, these designs are actually quite different and can work on your home in different ways.
Modern Style
Modern homes are known for simplicity. They derive from the modernist movement which started in the early 1900s and ran through the late '30s. They may also contain elements of the postmodernist movement of the '70s to '90s. Some of a modern home's most notable characteristics are:
Clean lines
Geometric/linear shapes
Simplistic design
Contemporary Style
Contemporary homes don't fall into a specific time frame (or really even a category). They refer to homes that follow the current (modern-day) style trends and mix a variety of styles together to create one-of-a-kind looks. Some of this style's most common characteristics are:
Sustainability (environmentally friendly options and recycled materials as well as natural elements)
Curved or rounded edges
Lots of windows
Mixing your home with the landscaping
I Want a Modern Design
If you're looking to achieve the sleekness of a modern exterior, here are some ways you can incorporate this design style on your St. Louis home.
Straight Lines and Sharp Edges
Modern homes lean heavily on clean lines. Squared windows, paneling, flat rooflines and more, all create a modern edge. Consider installing James Hardie fiber cement paneling to achieve the look without the maintenance and to keep your exterior looking impeccable for decades.
Traditional Materials
Ornate features are a no-go with modern exteriors, so they rely on heavy, simplistic-looking materials like steel and concrete. This could manifest in a new steel front door, steel window frames, or even utilizing steel as your fascia boards. Steer clear of detailed brick or stone pathways or front porches. Instead, use concrete for a simple yet bold statement.
Neutral Color Selections
When you choose a new siding or simply a new siding color, keep to a neutral color palette to achieve a modern look. You can work with contrasting or complementary colors, but make sure the palette works well together to create an effortless look rather than something too featureful.
Oftentimes, the best way to achieve a modern look is with darker neutrals that play against one another. However, there are instances where lighter shades (including white) can still provide that modern feel—such as modern farmhouses or modern coastal homes.
Brick Updates
If your St. Louis home is like most, you might be dealing with the original red brick facade–an automatic way to outdate your home. Have your brick and mortar restored (if needed), and then work with a contractor to have it painted to match the new style of your home and any new siding you might add.
Minimal Trim Usage
To maintain a clean and effortless look, keep your usage of trim to a minimum. As an essential part of home protection, utilize trim only in the areas it is needed. And do your best to minimize the look of it with matching paint.
I Want a Contemporary Design
If you want more of the unique look of a contemporary home, here are some ways to update your exterior.
Uniqueness/Customization
Contemporary homes are defined by their uniqueness. They mix a variety of shapes and architectural styles to create one-of-a-kind designs. Mix and match home styles, and have a skilled contractor customize your siding options, decking, and more to create a specifically tailored, customized home.
Sustainable Options
Modern generations are more environmentally conscious, which has led to an awareness of sustainability in relation to designing a home. Contemporary homes utilize materials that are environmentally friendly, recycled, or natural elements.
One of the best sustainable siding options is James Hardie's fiber cement. Our Lakeside Renovation & Design team is an Elite Preferred James Hardie contractor ready to give you a seamless Hardie installation.
Natural Materials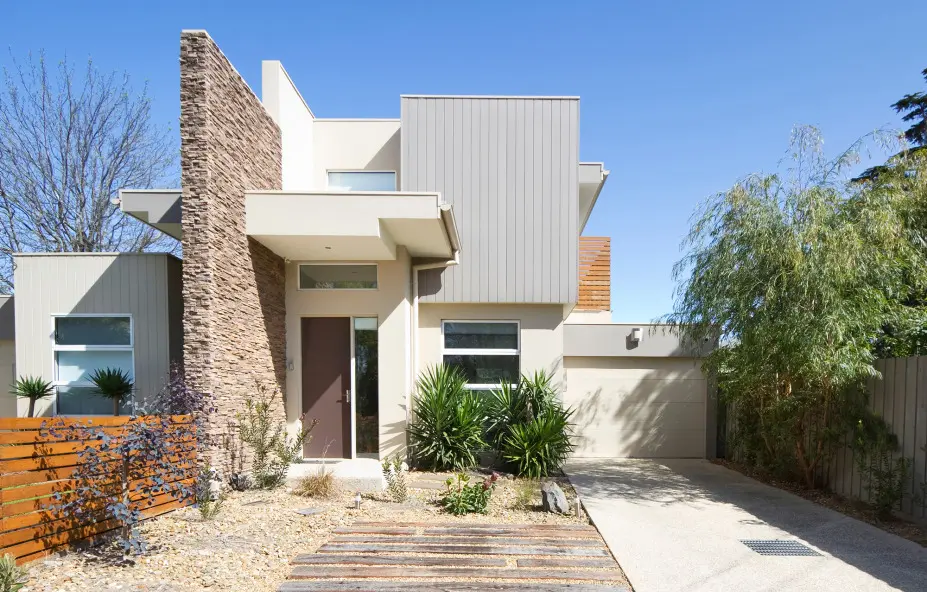 Contemporary homes tend to play off their surroundings. On top of sustainability, they utilize natural materials in their designs. Consider incorporating wood or stone accents. Have them flow with the home's surroundings.
Asymmetrical Design
Traditional homes rely on symmetry. So the unique nature of contemporary homes leans toward an asymmetrical appearance. Whether that means different roof lines, a non-centered front door, or varying types of siding materials in specifically chosen locations, look for ways to add asymmetry.
Lots of Windows
Natural light is an essential element in a contemporary home, which inevitably lends itself to an exterior with many large windows. Swap out traditional grid windows with picture windows whenever possible for a clean, effortless, and bright look. If you're completely renovating your exterior, find as many spaces to incorporate windows as possible. Floor-to-ceiling windows are even better!
It's Time for an Update
No matter which style suits your preferences, you can update your current exterior into an effortless modern space, especially when you work with a skilled contractor. Our Lakeside Renovation & Design's design team works closely with you to achieve the updates that you've always dreamed about, while curating an exterior design that mixes your current home with a contemporary or modern flair.
Contact us to get a quote for your exterior remodel today.