Not all James Hardie Lap (Hardieplank) siding is the same and some are textured while others are smooth. When it comes to determining which is right for you, a professional contractor can help. The different textures of siding can affect the appearance of your home, both up close and far away. The way natural or artificial light makes your siding appear will vary based on the texture.
James HardiePlank Lap Siding
James Hardie is one of the most known (and preferred) siding manufacturers in the industry. Their line of HardiePlank® siding is one of the best selling sidings available. James Hardie siding is made of fiber cement but provides a variety of textures for the homeowner to choose from. If you want narrower siding, the 5 ¼ inch siding might work best for you. However, if you prefer wider than that you could choose a larger width; up to 12 inches.
If you want your siding to have color, you should ask your contractor about ColorPlus® Technology. Your siding is primed in the color you choose in a baked-on process, helping the vibrant color to last much longer than traditional siding. You can also inquire about the styles designed for withstanding the climate. Certain siding styles are engineered to endure harmful temperature variations, resist extreme moisture and maintain vibrant color for a long time.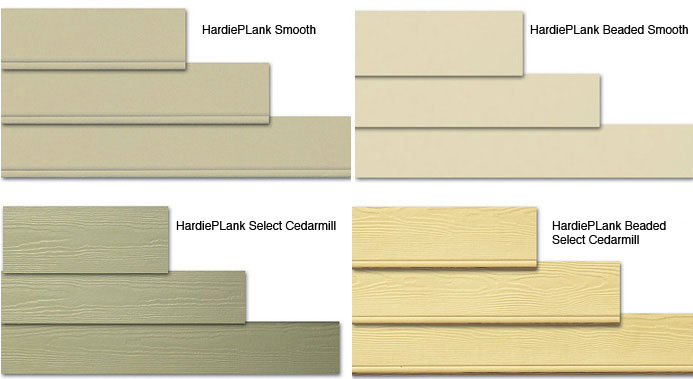 Texture Options for HardiePlank Siding
Cedarmill – Cedarmill siding is designed with a softer texture and looks just like natural, real wood. Many homes and structures that you often see with cedarmill siding installed are ranches, historic homes, woodsy cabins or retreats, and even mountain chalets. If you want the appearance of a wood home but without the cons of real wood (pests, etc) cedarmill siding is a great alternative.
Beaded Cedarmill – For those looking for a little something 'extra' for their wood siding, beaded cedarmill is a great choice. It looks great on any home but works well to add a little charm and sophistication to smaller, bungalow/cottage type homes.
Smooth – Smooth siding is just how it sounds; smooth. It's your basic, simple siding solution if your main priority is performance. Smooth siding works well for any kind of home or structure but is often installed on coastal and ranch style homes.
Beaded Smooth – Beaded smooth siding adds a little 'extra' to smooth siding. The edges are beaded giving them a more sophisticated finish. We often install siding with this particular texture on older homes or those wanting to add a modern flair to their property's exterior.
Whatever your needs may be, we're here to meet them. Call Lakeside Renovation & Design today to discover the many possibilities for siding your home to add curb appeal.