Giving Back 2007: The Tackett Family
On July 25, 2006, Robert Tackett was killed while on duty at Ameren UE. He was at the site of downed power lines at a Ladue home – the damage had been caused by a large summer storm, and he was trying to get power restored for the local residents. He stepped on a live wire which had been covered by bushes and brush and was killed.
Prior to his death, Mr. Tackett had expressed an interest in having their home sided and he wanted Hardiplank™. After his death, a friend of the family contacted Lakeside Renovation & Design, Inc and asked if they could help the family. Immediately, Lakeside assembled a team to provide the materials and labor to completely remodel the exterior of the Tackett home.
As a complete surprise, on Saturday, September 30th, 2006 at 11:00 am, Lakeside Renovation & Design, Inc. and James Hardie presented Mrs. Mary Tackett with a certificate for an exterior remodel for her home. Mrs. Tackett was overwhelmed. The package included materials and labor for a new roof, complete new siding, a new gutter system, and general painting.
Installation began on December 26, 2006 with the roof. Subsequently, the siding materials and paint were delivered to the Tackett home-site. At 7:00AM on January 6, 2007 a large volunteer contingent including Lakeside installation crews, friends of Mr. Tackett (including his co-workers and Ameren UE), and others converged on the Tackett home at 920 Claycrest Drive, St. Charles, MO and the party began.
Plentiful food and drink was provided for the volunteers. Mrs Tackett and daughters helped. Neighbors came by to offer kind words and provided food. Other folks drove by smiling and waving as gestures of support. By 4:30pm the following day 95% of the installation had been completed. The home had a brand new look. The area was cleaned up and final touch up and completion was completed the ensuing week.
The Tackett family was thrilled, gracious and appreciative. It was an honor for Lakeside to provide the service to such a fine family.
Many thanks to the companies who provided materials and services:
James Hardie Corporation
Handyman Lumber, Florissant
Elk Roofing
Construction Supply, O'Fallon
Tidy Bug Containers, St. Peters
Sherwin Williams, Wentzville
Pizza Hut, Country Club Plaza, St. Charles
Krispy Crème, O'Fallon
Fellow Employees of Ameren UE, St. Louis
Home Depot, Chesterfield, MO
Exterior Building Supply, Ballwin
C&T Guttering, Wentzville
Giving Back 2008: Beauchamp Makeover
Lakeside Renovation & Design, Inc. is excited to announce a Community Project completed in St. Peters, MO on Saturday, April 5, 2008.
In early 2007, Mr. Will Beauchamp of 103 S. Willow Grove Court, St. Peters, MO 63376 contacted Lakeside to give him a bid on siding. After our Design Specialist met with Mr. Beauchamp, he returned to Lakeside and discussed with the owner an opportunity for a Community Project. Mr. Beauchamp, paralyzed from the neck down, needed more than just siding, and Lakeside knew that this was the Community Project for 2008.
Lakeside contacted other area businesses to assist us on this project. The response was overwhelming:
James Hardie Corp. provided the materials for the siding, soffit and fascia
Handyman Lumber of Florissant provided the windows
C&T Guttering of Wentzville provided the materials and installation for the guttering
Sherwin Williams of Wentzville provided the paint
Extreme Signs of O'Fallon provided signage
Lansing Building Products of St. Louis provided trim coil, caulk, and vents
Construction Supply of O'Fallon
Food was provided to the volunteers by Krispy Kreme in O'Fallon and Pizza Hut in Country Club Plaza, St. Charles.
On April 5th, 2008 at 7am, approximately 20-25 volunteers from Lakeside Renovation & Design arrived at Mr. Beauchamp's home and work commenced at a steady, but controlled, pace. Windows were installed. Hardishingle™ and Hardiplank™ were installed on the front and Hardiplank was installed on the remaining 3 sides of the home. Except for some minor final touches, the project was completed at approximately 4pm on Sunday April 6, 2008.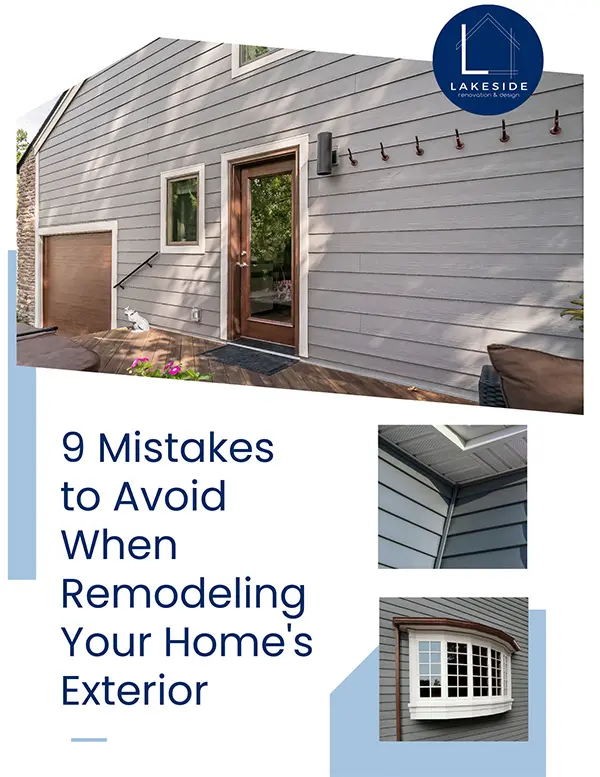 9 Mistakes to Avoid When Remodeling Your Home's Exterior
Free PDF Download
We understand how overwhelming remodeling your home can be. Get our free ebook to learn about 9 things that will help you start your project the right way.