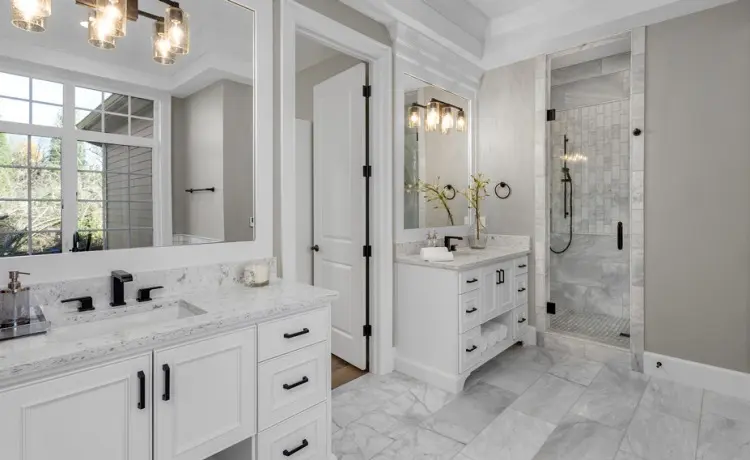 Deciding on the best sink for your bathroom can feel overwhelming. But it doesn't have to. Your design preferences, budget, space, and needs all weigh in when choosing to go with anything from a historic-looking pedestal sink to an under-mount sink for a sleek contemporary look. 
Bathroom sinks come in all shapes and sizes, with and without storage, from trendy and contemporary to traditional and practical. A new sink is a perfect bathroom update that adds value to your greater St. Louis area home. 
Read on for practical tips on finding picture-perfect sinks for your bathrooms. 
3 Questions to Ask When Shopping for a Bathroom Sink
When deciding which sink to buy, ask yourself which bathroom you are shopping for, who will use that bathroom, and how much space you have to work with.
1. Which bathroom needs a sink?
The bathrooms throughout your home have specific purposes. Your master bathroom is a place of rejuvenation where you can create a spa-like retreat to unwind from your busy days. The master bath sinks will be used by you or you and your spouse and should have a luxurious feel yet be practical enough to fit your daily routine—regardless of how efficient your mornings must be. 
Your family's bathroom sink should be practical and functional. Its sink or sinks must deliver an easy-to-clean feature and ample storage to minimize morning squabbles. 
Your powder room sink is used by you, your family, and your guests. It can make a design statement and can be minimalistic, as there is no need for storage in your half bath. 
2. How much space do I have to work with?
The type of sink you choose needs to fit into the available space in the bathroom you're buying for. Remember that you can reconfigure your current bathroom and make more space for your sink and other amenities. You can transform a half bath into a full bath, add a bump-out addition, or reconfigure a bathroom layout to make a space more versatile and comfortable. 
3. Who will use the bathroom I'm buying a sink for?
Shopping for your private master bath sink differs from shopping for your powder room sink because the powder room is visited by many, as it is used by anyone who comes to your home, including family and friends.
Narrowing the Bathroom Sink Options for Your Space 
Here are some popular sink options:
Under-mount sink
An under-mount sink sets under the countertop, usually on a vanity. It has no lip above the counter, so it offers a smooth surface and a sleek contemporary look. 
Best use: When you need a sink that is easy to clean, perhaps in your family bathrooms. 
Top-mount sink
While most sinks sit below the counter with their rim on top and visible above the counter, a top-mount or drop-in sink sits on top of the counter, as its name implies. Its rim can be slim or chunky, based on your preference. 
Best use: This sink can be used on wood or laminate. It works well in master bathrooms and minimalist schemes. 
Pedestal sink
A pedestal sink is a basin set on top of a pedestal. It adds a pleasant stylistic element to your bath. If you already have all the storage space you need in your bathroom, a pedestal sink works well and has a dramatic effect. 
Best use: Pedestal sinks make a strong style statement and are used in small bathrooms such as powder rooms. 
Vessel sink
Vessel sinks are a type of above-counter sink. They have a bowl-like appearance and sit above the countertop, joined only by a drain in their base. 
Best use: When you want to add a more artistic style to your contemporary décor or pair your sink with a wall faucet or extended faucet. Vessel sinks work well if you desire a smaller installation hole in your countertop than a drop-in or under-mount sink would need. They look great in powder rooms and master bathroom suites. 
Wall-mounted sink
This sink is attached directly to the wall and doesn't need a countertop to sit on. 
Best use: When you don't need cabinet space and want a minimalist look.
Corner sink
This is one of the best sinks for saving space. It fits in your bathroom without the need for countertop space. It's typically a wall-mounted sink or a pedestal sink. It fits only in a bathroom's corner and comes in small sizes, making them a stylish way to add a sink to a bathroom with limited space. 
Best use: A corner sink is primarily used for a half-bath/powder room with limited space. 
Console sink
This is a combination of the wall-mounted and pedestal sink. Two to four legs hold it up and the plumbing fittings and supply lines are exposed. Its legs are made of metal, ceramic, or porcelain. The faucets can be made of the same material as the legs for added elegance. 
Best use: A console sink makes a design statement, and it doesn't have any storage or counter space, so it is best used in a half-bath/powder room where your guests can enjoy it. 
Get the Perfect Bathroom Remodel for Your Home
Bathroom renovations are tailored to your family's needs and upgrade your lifestyle while increasing your St. Louis area home's value. 
At Lakeside Renovation & Design, our Dream Team's goal is to connect with you and understand your dreams and desires so that we can offer multiple solutions for your budget. 
We are certified installers of many industry-leading products like Wedi and Schluter, so you can feel confident you are getting a seamless installation with products that will wow you, your family, and your guests. 
Learn more about our bathroom remodeling services.