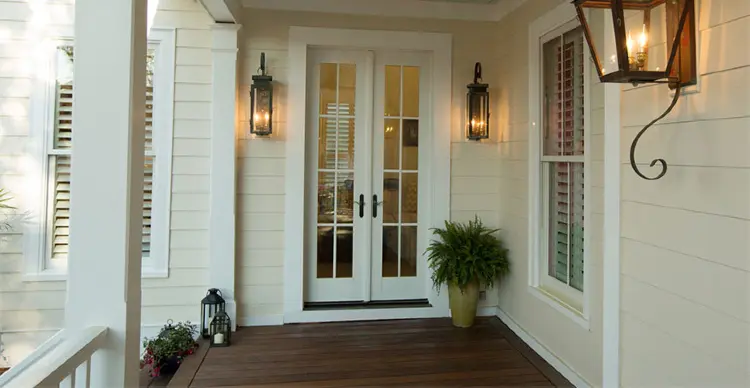 Have you noticed a need for new exterior siding? Whether you're looking for a siding replacement due to warping, rotting, cracking, or an outdated style, during the siding selection process, you have likely come across the James Hardie® brand.
Hardie Board® is the most popular siding in America, and for good reason. It packs many durability and beauty benefits into each board, resisting damage from weather, pest, and fire. However, St. Louis homeowners love it because it is beautiful. But when shopping James Hardie's products, it's important to have a clear understanding of what each product type is and how it can benefit your home.
As a James Hardie Elite Preferred Contractor, we have compiled a list of two distinct paint selections from the Hardie siding line.
The Many Hardie Siding Options
One incredible factor of Hardie siding is its range of products. James Hardie truly desired to provide ample protection and various benefits to the exterior of your home while offering many styles and colors of materials.
Hardie siding choices are numerous—from horizontal and vertical planks to shakes and shingles, with many textural options available for each style. You will be able to achieve any desired look for your home. But the options don't stop there. Each style of siding is available in two types of paint preferences: ColorPlus® Technology and Primed boards.
Which option will best fit your home's exterior depends on your specific needs. The great news is that each option still brings the durable, fire-resistant, pest-resistant, low maintenance, non-warping benefits of Hardie siding.
Benefits of ColorPlus Technology
ColorPlus siding is not your typically painted siding. It is specifically engineered to bring many color benefits to your exterior. The boards are tinted in the factory by machine to provide a smooth, seamless finish, and the color is then baked-on in multiple coats. Through this well-designed process, you garner intense opacity and a durable finish.
Resists Color Fading
The ColorPlus technology is designed to resist UV rays, which damage and lighten color over time. This keeps the rich pigment looking fresher for longer.
Resists Cracking, Chipping, or Peeling
The multiple baked–on coats of color provide a solid foundation for your siding that prevents the paint from cracking or peeling, which also equates to a lack of need for paint touch-ups.
Color Warranty
ColorPlus boards are backed by a 15-year limited warranty of labor and color. The Dream Collection™ colors come in over 700 ColorPlus finishes, all covered by warranty. (Ensure installation is completed by a James Hardie Elite Preferred contractor to protect the warranty.)
Non-VOC Option (More Environmentally Friendly)
Volatile organic compounds are bad for the environment and for your health. Yet many paints, especially exterior paints, contain them. With the already painted ColorPlus boards, you eliminate the usage of these harmful chemicals.
Faster Installation Process
ColorPlus boards are easy to install. They require no painting, which means no need to cover shrubs, decks, or other surfaces. It also means no battling the weather. Installers can put the boards without the worry of rain, snow, or wind washing away the paint.
Available in Matching Trim and Soffits
The ColorPlus technology extends to soffits and trims so you can easily curate a coordinating color palette that will have the same lasting pigmentation.
Benefits of Primed Hardie Siding
Primed Hardie siding is exactly what the name indicates— siding boards that have been pre-primed and are ready for installation and paint. ColorPlus technology was created to provide a lasting, rich pigment, but Primed boards come with their own share of benefits.
Unlimited Color Options
ColorPlus boards have a large selection, but this can still limit your color choice. Primed boards are ready to paint in any color of any brand you desire, giving you unlimited color options with the James Hardie quality.
Faster Order to Completion Date
While ColorPlus has the advantage of a quicker installation, that doesn't always mean a faster project completion date. Primed boards are always ready to go, while ColorPlus boards have to be special ordered if your contractor does not have them readily available.
Easier Retouch/Repair
If your siding does face a need for retouching or minimal repair, primed boards are far easier to match with paint. ColorPlus boards cannot be retouched to match perfectly and will have to be replaced in the event a retouch becomes necessary.
Easier to Blend Exterior Elements
Homeowners often try to mask the eyesores that can be created by electrical panels, gutters, caulking around doors, and more. They do this through paint. ColorPlus colors simply can't be matched perfectly. But with the option of selecting your own paint color, you can seamlessly mask any of these items.
Weigh your home's specific needs with the different benefits the two paint options provide, but know that you can't go wrong in siding quality when selecting either option.
The Importance of a James Hardie Certified Contractor
Do not overlook the importance of hiring the right contractor. Making the right siding selection can be a moot point when improperly installed. James Hardie Elite Preferred contractors must maintain ongoing triaging and are specifically educated to handle James Hardie products. Their installations protect product integrity and maintain all warranties.
Get the Right Siding Install for Your Home
As an Elite Preferred contractor, our team is ready to answer any questions you might have about which product can fit your home's needs, your project's budget, and your desired completion date. We strive to provide an outstanding, stress-free installation process and leave you with peace of mind when we leave your home.
See how our team of Elite Preferred contractors can provide a beautiful and secure James Hardie siding installation.