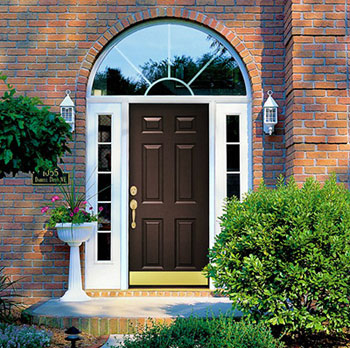 Exterior doors are a very important feature of your home. They provide visual appeal, insulation and security for your home. It's crucial that you remember this when choosing an exterior door for your home. In this blog we will cover the pros and cons of the different materials used in exterior doors.
Wood Doors
Many people prefer wood doors because they're appealing and sturdy, but also customizable. In addition, the variety of wood choices make it appealing to consumers; oak, maple, mahogany, pine and fir are just a few and that doesn't include the different finishes and colors you can choose to compliment your home's appeal even further. If your entryway is an unusual shape or size, wood might be the best choice because it can be cut to fit the entryway perfectly.
The cons for using wood doors include warping, sagging and peeling over time, even more so for the side exposed to harsh weather elements. For this reason, if you're choosing a wood door, make sure it's a covered area or has a storm door on the exterior side. You could also incorporate weather stripping which will increase the insulation and durability of the door. You will need to perform periodic maintenance on your wood door which includes repainting or refinishing from time to time.
If your budget doesn't allow a solid wood door, consider a solid-core, wood-veneer door. They're more affordable and less likely to warp while increasing the insulation of your door. No matter what kind of wood door you choose, it needs to be strong and durable so choose thick panels, stile and rails.
Steel Doors
People that have steel doors on their homes frequently compliment the security, durability and energy efficiency and there is a reason for that. Steel doors provide more insulating value than wood doors. In addition, they provide more security for the exterior and don't require a lot of maintenance. You can paint them whatever color you like (one reason they're a popular choice) and you can choose from a variety of styles. Steel doors work well with any budget and they're an affordable alternative to fiberglass or wood doors.
You won't experience any warping with your steel door, but you may notice rust or dents. Depending on the wood-grain finish, you might be required to repaint more frequently than other door finishes. They are also harder to customize for existing doorframes.
Fiberglass Doors
Composite materials make up insulated fiberglass doors and offer more security and energy-saving features than wood doors. Their strength and durability is also superior to wood doors without a lot of maintenance required. You have many options for staining and painting and their finishes mimic that of wood and have just as much appeal as wood doors, if not more at times. You also don't have the worry of it warping.
Fading can occur, however, that's about the only worry you'll really have. They are higher on the cost side but that's because they're one of the better options. The cost is similar to that of the higher-end wooden doors.
Aluminum Doors
Aluminum doors are similar to that of fiberglass and steel in that they're strong, sturdy and energy efficient. They don't require a lot of maintenance and come in smooth or grain finishes that resist rusting and chipping. You'll likely find an aluminum door used as a storm or patio door.
Vinyl Doors
One of the more affordable door options, vinyl doors are a popular patio door option. Vinyl won't require a lot of maintenance and is energy efficient; two features consumers prefer. Unfortunately, you will be limited to color and style choices in comparison to other door types.
The location of your door will play an important role in choosing the perfect exterior door. The climate of your locale will also need to be considered. If you're still undecided on what type of door would be right for you, consider consulting a door replacement professional who will be able to help you find the best option.
For personal help with buying the best exterior door to meet your needs; contact Lakeside Renovation & Design today!