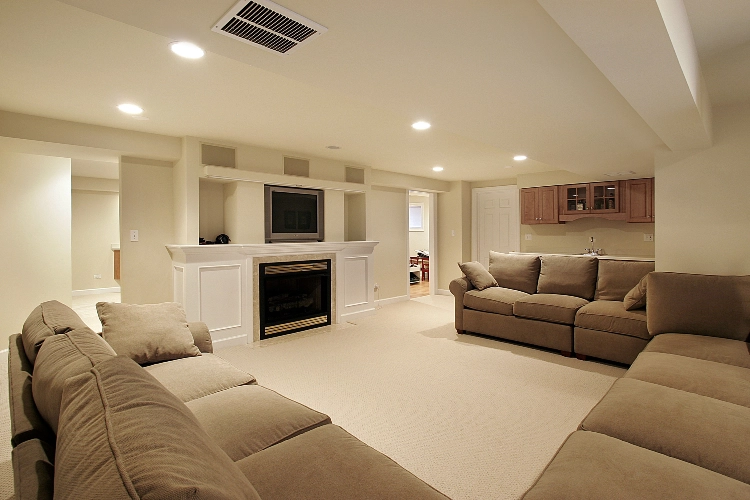 Design the Perfect Basement Space
When you think of your basement, what image comes to mind? Is it a light, bright, useful, and beautiful space? If the answer is no, the good news is that it can be.
Your basement should be an extension of your home, not just a lower-level area that feels dark, cramped, and cluttered with storage items. As a basement remodeling contractor, we understand that converting your current basement into an open and airy space may feel overwhelming, but it doesn't have to. A basement renovation can add value to your home, and with the right contractor and a well-thought-out layout and build, the process can be relatively seamless, giving you the space of your dreams.
When constructed properly, a basement renovation is a major upgrade to your home. Here are some of our top basement remodeling ideas to consider for additional living space.
Value-Adding Basement Ideas
1. Entertainment Space/Family Room
An additional family space for entertainment or simply gathering as a family is a great value-adding space. You can make this the kids' hangout area or add large, comfortable furniture for gatherings. If you will utilize the space to entertain, consider installing a bar. Just ensure your room is open and bright.
2. In-Law Suite
If you and your parents are considering having them age-in-place, then an in-law suite is exactly what they will need. Being in the basement will afford them a sense of privacy and independence. However, take into account their mobility needs before committing to this addition in the basement area.
3. Game Room
For a fun, family-hangout area, consider a game room. If you enjoy board games, foosball, pool, video games, or all of the above, you can create an open space filled with your favorite games and complete with built-in storage and comfortable seating to keep the room clean and add to the experience.
5. Home Theatre
Basements are the perfect place for a home theater. They are farther from the rest of your home, reducing noise transfer, and they are naturally darker, resulting in a better movie experience and fewer glares. Consider adding a large plush sofa or reclining seats.
4. Guest Space
Your guests need a place to stay when they come into town. While you can put them in the kids' rooms, it's a nice bonus if you are able to provide them with their own space secluded from the rest of the home. The basement is the perfect option for this. Consider adding a full bathroom into the basement space, even if it is not an en suite so guests have a bathroom to shower and get ready in without getting in the way of you and your family.
5. Office Space
A well-secluded home office can lead to a better work environment. And basements are certainly secluded from the rest of the home. If you currently lack office space, consider utilizing a portion of your basement to fulfill this need. Just ensure the design brings energy and joy to your workday.
5. Home Gym
If you like to stay active, then a home gym is the perfect addition to your basement renovation. Fill it with your favorite equipment and consider installing floor to ceiling mirrors for watching form and making the space feel even larger. You can cut your monthly gym membership fees and avoid that pesky drive to and from your gym.
6. The Perfect Combination
Your space likely has the room for a combination of the above basement ideas. You can take your current basement and utilize the space to gain any of the necessities your home is currently lacking. The key is creating a well-designed and functional space that flows with the rest of your home.
The Importance of a Basement Remodeling Contractor
Basements have the potential to bring a 70 percent return on investment when they are completed properly. They add value to your home as well as your lifestyle when they are designed well and expertly executed. A basement remodeling contractor will not only have the best renovation ideas, but they will also have the craftsmen to construct the project properly.
A good contractor will bring the added value of:
Apply for and ensuring all necessary permits.
Properly soundproofing the space.
Installing quality insulation.
Ensuring a well-structured space that will last and keep out moisture.
Take the Next Step in Giving Your Home What It Needs
If you love your home, then invest in it. A basement remodel designed to add functional living space for your family is a worthwhile investment that will bring you lasting joy.
Our Lakeside Renovation and Design team provides a consultation for your space to begin the process of turning your current basement into the space of your dreams. Our design department will devise a beautifully curated plan for the layout of the space while our construction team will provide the highest level of craftsmanship and professionalism.
When you are ready for additional living space you can be proud of, contact our team to learn more about our basement renovation services and get a consultation with our design team.