Be assured that when you hire Lakeside Renovation & Design, you are hiring a exterior remodeling company that has made a strong commitment to raise the standard of the siding, windows and exterior remodeling industries.
Exterior remodeling is not an easy process to you the customer, as there are many different aspects of planning, design and construction in which you will need professional guidance. There are hundreds of so called remodeling contractors in the St Louis area, but our team at Lakeside Renovation & Design are experts in design, construction, and management to make sure your exterior remodeling project is a success.

Are you contemplating an exterior home improvement project? Well, that's great news, because when done properly, a home renovation project will increase its value over time and help your home be the one you've always dreamed of. Unfortunately, there are many horror stories out there about home improvement gone bad–unfinished projects, shoddy workmanship, longer-than-expected project durations, final bills that come in higher than the quote, and more.
That's why it pays to do your research. Do you really want to hire the cheapest contractor out there? More often than not, you get what you pay for. While searching for a remodeler online or in a phone directory, you will come across hundreds of different companies and "promises". Yet, how can you tell the difference between the guy working out of the back of his truck and a professional remodeling company who does quality work without taking shortcuts?
Whether you want to replace your siding, install new windows or add a deck, the final result is what really matters. That's why you want to choose an exterior remodeling company that has the experience and expertise you deserve, as well as the reputation and awards to back it up.
At Lakeside Renovation & Design, we'd love to earn your trust and show you what a superior remodeling experience can look like, with top-quality products, professional workmanship ad exceptional customer service.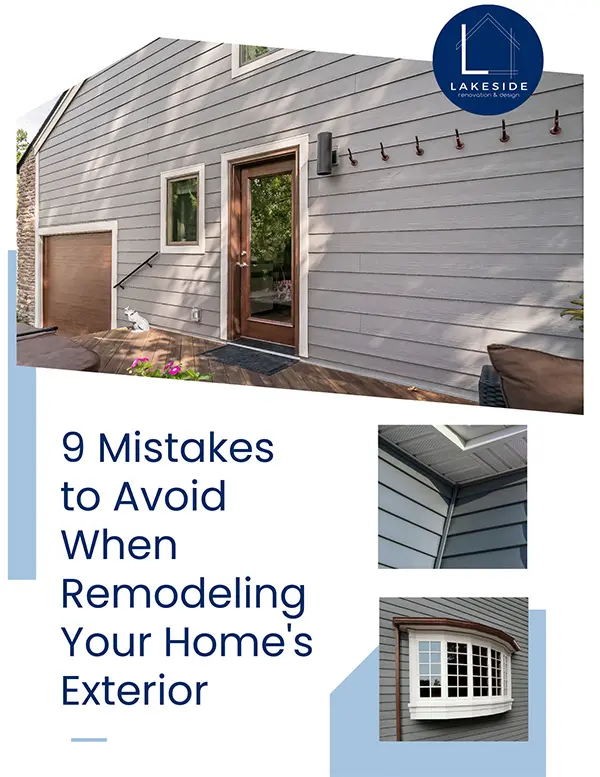 9 Mistakes to Avoid When Remodeling Your Home's Exterior
Free PDF Download
We understand how overwhelming remodeling your home can be. Get our free ebook to learn about 9 things that will help you start your project the right way.