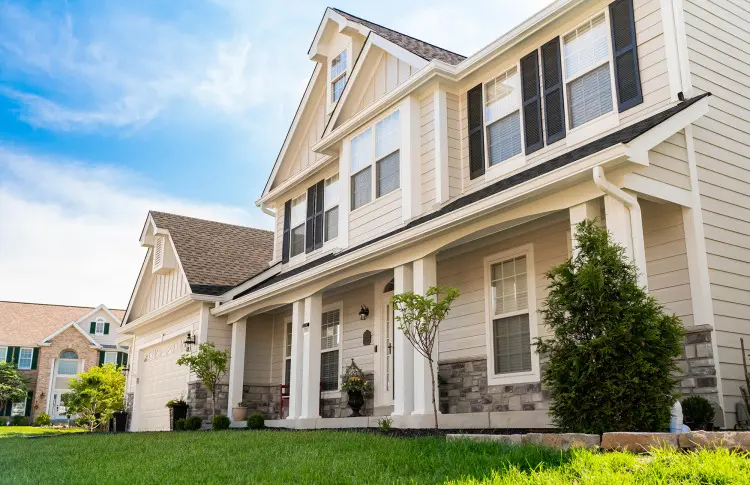 Looking to swap out your current siding to bring a beautiful new exterior to your home? Curating the perfect curb appeal can initially feel overwhelming. There are so many siding options to choose from—and an elevated exterior should have dimensions, which typically means combining siding materials and textures.
As a well-versed siding contractor for the St. Louis area, we know how much you desire the perfectly tailored exterior, and we know the value of lasting materials, which is why one of our favorite siding combinations is Hardie siding and stone veneer.
Create a Value-Adding Home Exterior
A flat exterior is a boring exterior. One of the greatest ways to add interest to your home is with varying textures. The simple, linear surface of Hardie siding is the perfect base for the more rugged and unpredictable texture of stone.
They work together to draw the eye to the features you want to be highlighted and add visual interest when properly coordinated.
A Little About James Hardie Siding
James Hardie fiber cement siding, also known as Hardie siding or Hardie Board, is the number one siding in America. It leads the industry for fiber cement options and is built to last and maintain its beauty. It is comprised of wood fibers, silica sand, and Portland cement.
A Little About Stone Veneer
Stone veneer is a manufactured material that is cast to look like real stone—but is more affordable, easier to install, more versatile, and nearly as durable. It is a far lighter material, which makes it easier to transport and install. And because it is made in a factory, you can customize your stone color selection to achieve not only the perfect variegation but also the perfect color for your home's exterior.
Learn more about how stone veneer siding can add incredible value to your home as one of the highest returns on investment in home improvement projects.
Why They Work Together So Well
As man-made, manufactured materials, fiber cement, and stone veneer are a match made in heaven. Both materials bring a level of:
Durability
Versatility
Beauty
Working together these materials will provide superior, long-term protection for your home while making your exterior a showstopper.
Popular Hardie Siding and Stone Combinations
Curating your home's dream exterior doesn't have to be difficult. But it is nice to utilize a trained eye to combine two varying materials and textures. Here are our top expert tips for combining Hardie siding and stone. 
Stone Base Trim with Plank Siding
A great way to add texture and detailing to your exterior is utilizing stone veneer as a skirting around the base of your home. Stone is sturdy and heavy, making it the perfect visual base for an exterior layout.
Stone Entry
Utilize the traditional look of Hardie siding, but make your entryway stand out by cladding it top to bottom in stone. The stone-to-plank combination can create a grand feel that highlights one of the most beautiful, welcoming parts of an exterior. 
Sturdy Stone Pillars
Another popular and cohesive combination is utilizing stone veneer around the pillars of your home. Combining this with plank siding will highlight your pillars and make them look more luxurious. 
Complementary Colors
Also known as contrasting colors, complementary shades sit directly opposite one another on the color wheel (such as black and white). Utilizing these colors together creates dimensional contrast and can really highlight the distinct features of the planks and stone. In essence, contrast is used to make your home pop and highlight distinguishable features.
It's common to layer a darker stone color as a base siding with a lighter plank on top. This provides visual appeal, as your brain easily processes the concept of heavier on the bottom, lighter on top. 
Deep blue/grey stone with a light cream plank siding
Rich blue pigment with an opaque brown stone
Analogous Colors
Analogous colors sit next to one another on the color chart. This creates a subtler contrast from siding to stone, and overall produces a much calmer visual appearance to a home.
Common color combinations in this style include:
Dark blue siding with a deep grey stone variegation
Light grey stone with stark white planks
Chocolate brown planks with a deep brown stone
Monochromatic Colors
Instead of searching around the color wheel, you can choose one color you particularly love and apply varying shades of that same color to get a monochromatic look.
In fact, it's not uncommon for homeowners to paint their stone or brick siding in the same color as their planks to achieve this cohesive look. However, there are many drawbacks to painting stone. Choosing the right combination off the bat is the best way to go.
Some of the most common monochromatic combinations are:
Variegated grey stone with light grey planks
Brown stone with tan planks
Cream stone and planking
Neutral Colors
Simplify the color selection process and move directly to the center of the color wheel. These neutral colors make for not only classic color selections, but will most certainly look beautiful no matter the combination you choose.
Consider combining:
A tan/brown stone and jet black vertical planks
Green planks and brown stone
Cream stone (like Austin stone) with a white siding
Your Perfectly Curated Home Color Awaits
Our team of experts at Lakeside Renovation & Design is here to help. You don't have to live with a flat, drab exterior. Through the combination of our design experts and construction team, we work with you to choose and curate the perfect product selection and layout. And with our expert installations, you can feel secure your beautiful new exterior will last.
To learn more about how our team can upgrade your exterior with beautiful and long-lasting products, check out our James Hardie siding and stone siding services.