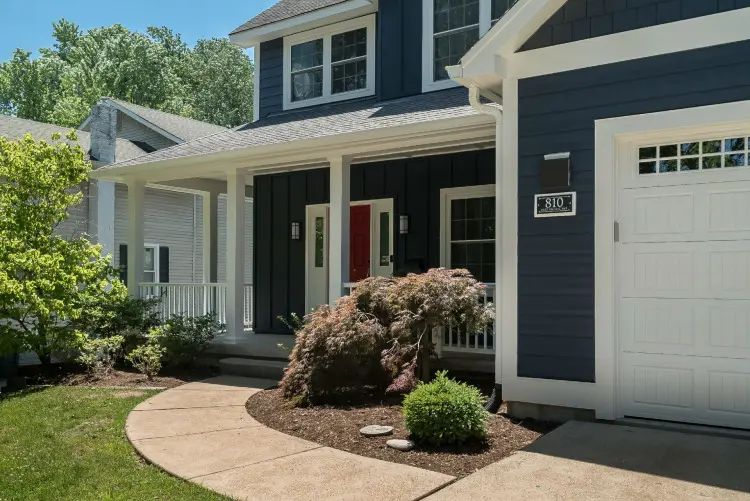 The material of your siding selection is what provides the level of protection, comfort, and durability of your exterior. But it is the color choice that speaks to your unique style and design.
If you're ready for a siding update, then it's important to get a siding that will showcase your home and personal style. James Hardie siding has the ability to do this and more. We've helped thousands of St. Louis homeowners love their exteriors, so let's take a dive into the incredibly large selections James Hardie offers your home and how to achieve the perfect color combination that will last.
The Home Exterior You've Always Wanted with James Hardie Siding Color Options
While James Hardie comes in siding options you can paint yourself, one of its greatest benefits lies in the boards coated with ColorPlus technology. This baked-on color process creates a color coating that will remain vibrant for years, resisting fading, damage from UV, and chipping.
You don't have to compromise color choices to gain this benefit. James Hardie offers two impeccable color lines—the Dream Collection and Statement Collection—which each bring a variety of beautiful color options for your home.
And the great news is, these collections are utilized on both Hardie Board siding and Hardie Trim to help achieve a lasting, beautiful color palette.
The Dream Collection
This collection is all about getting you the exterior of your dreams! You can achieve nearly any customized home color selection you desire with the Dream Collection. With a range of over 700 ColorPlus technology finishes to choose from, you're sure to find a combination that makes an amazing impact. These colors are made to order, with the lasting durability of Hardie Board. You'll find everything from calming neutrals to vibrant colors to beautiful pastels.
The Statement Collection
The Statement Collection was designed to make a big statement in your specific region of the country. James Hardie has put together a list of the most popular color combinations for the St. Louis area to aid in your selection process. These boards will be locally stocked and ready to install on your home.
Make the Right Color Choices for Your Home
James Hardie offers so many color selections because they want you to be happy with your finished siding installation. With ColorPlus technology, your siding's paint will be sure to last for years, so choosing the right color initially is essential.
To help you make sure you are selecting the right colors, here are some of our expert tips and tricks when it comes to these impeccable James Hardie lines.
Follow the Rule of Three
While rules can certainly be broken to fit your particular needs, the rule of three is a great way to begin selecting your home colors. Typical exteriors should have three various color choices, a primary and two complementary colors. In this situation, you're looking for a siding, trim, and accent shade.
Your siding will cover a large portion of your exterior, so it should be a color you love that really speaks to your style. From there, select trim and accent colors that complement your siding.
Use the color wheel to choose either analogous (similar) or complementary (opposite) colors depending on your taste.
Evaluate Siding Colors with Your Architecture
The style of your home can lend a hand in your color selection. Choose hues that match your home's specific architectural design to help maintain exterior cohesion. Opt for more earth tones on a colonial home or more neutral tones on a simple, modern home (and so on with various styles).
Work with What You Can't Change
Your siding needs to complement its surroundings, so assess what can't (or won't) be changed for a long time, and make your paint selection complement those items. Things like your region's natural landscaping, roof color, pathways or sidewalks, or complementary stone or brick siding, will likely remain the same. Work with them rather than around them.
Use Your Neighborhood as Inspiration
Pull inspiration from homes in your surrounding neighborhood. If you love a home's specific paint choices or you see similar color schemes appearing, take note. Keeping in line with your neighborhood helps your home remain cohesive with its surroundings.
Request Siding Color Samples
If you find a color (or a few) you like in the Dream Collection, you can request samples to be sent directly to your door. It is imperative to see these made-to-order colors in person, with one another, and in the various lightings of your home at different times of day before officially placing your order.
With the local availability of the Statement Collection, speak with your contractor about seeing a sample in person to get a true feeling for the color.
Use the Color Visualizer Tool
The best way to truly choose a color palette is to see it. With the James Hardie Exterior House Color Visualizer tool, you can try home color combinations on virtual homes of similar architectural design—even customizing roof, window, and door colors—to help you see the overall picture of what your home would look like with your siding color selection.
Achieve a Beautiful, Lasting Style with James Hardie Siding
Your home should be a place you love. And that starts with your exterior. You can have everything you want—a beautifully curated exterior with the most durable siding products on the market—by installing James Hardie siding.
Our team at Lakeside Renovation & Design is ready to help you select the right style and color options for your home. For more detailed information about this impeccable product, check out our James Hardie siding services.