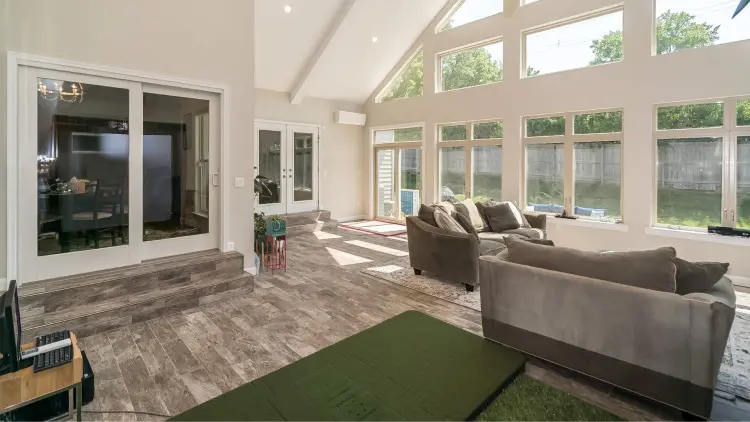 A home addition allows you to stay in the location you love, yet gain the lifestyle, function, and beauty you desire. Once you choose to move forward with an addition, which type is the first thing you must decide.
Building up means adding a second floor to your one-story home while building out includes adding square footage to your first floor. Building up or building out depends on several factors: your property's size, local zoning laws, and your budget. 
Here are some practical elements to help you select the type of home addition that will best meet your needs: 
The Advantages of Building Up 
Building up gives you the opportunity to redesign and separate the living vs. entertaining or gathering spaces in your home. With this home addition type, you can change the slope and design of your roof, and add features like cathedral ceilings or dormers along with additional living space.
1. You can literally double your square footage.  
Adding a second story on top of your existing home means you substantially increase your house's square footage. You can finish the rooms all at once or one at a time, giving you flexibility in managing your home addition. 
2. You preserve the size of your yard.
Building up means you don't need to decrease the size of your yard just to gain another room or two. If you have outdoor features you want to hold onto—like a prized garden, pool, or special landscaping elements—you can do so easily when you build up instead of out. 
3. You won't need to do foundation work. 
While you need to have your foundation checked by a structural engineer to verify it can support the added weight of building up, when you build vertically you don't need to do the foundation work that building out requires.
4. You can ultimately enjoy that master suite or home office you desire. 
Which way you build is mainly dependent on what you need to accomplish. If you want a master suite with all the spa-like luxuries included or a dedicated home office space for your business, building up may be your best solution.
Other popular second-story additions include extra bedrooms, a family bathroom, a laundry room near the bedrooms, a private family gathering space, or an over-the-garage addition. 
Benefits of Building Out
1. You can finally enjoy the kitchen and living space of your dreams.
When your family expands, your needs may change, and your daily lifestyle may be hindered by the current lack of square footage on your first floor. The solution is to build out and create the ideal floor plan for your most used space: the kitchen and living area. Imagine an open kitchen concept with all your desired features bordered by gorgeous patio doors to your backyard. 
Other popular ground-level additions include a sunroom, an in-law suite with a private entrance, a new laundry room next to the kitchen with an additional exit to the yard, and a mud room. 
2. You can add substantial square footage if you live on a large property. 
Explore the amount of square footage building out will give you compared to building up. If you're looking to add substantial space, your zoning laws allow it, and you live on a big enough lot, building out may deliver significant square footage for you to enjoy. 
3. You'll have minimal disruptions to your existing space and lifestyle during construction. 
While building up can require some homeowners to move out of their house for a period of time, building out doesn't. When you add to your first floor (as long as you don't mind a little dust), it's easy to live in your home during the construction and carry on your daily lifestyle as usual. 
Get the Home Addition You've Been Dreaming Of 
A home addition enhances your lifestyle, giving you the desired space and function you've been dreaming about. And at Lakeside Renovation & Design, our design team makes the process easy by carefully listening to your needs and desires, then coming up with a plan to help you achieve your vision on schedule and within your budget.
As you contemplate whether to build up or build out, take a minute to learn more about how our home addition services and skilled team can assist you in creating the perfect solution for your desires.