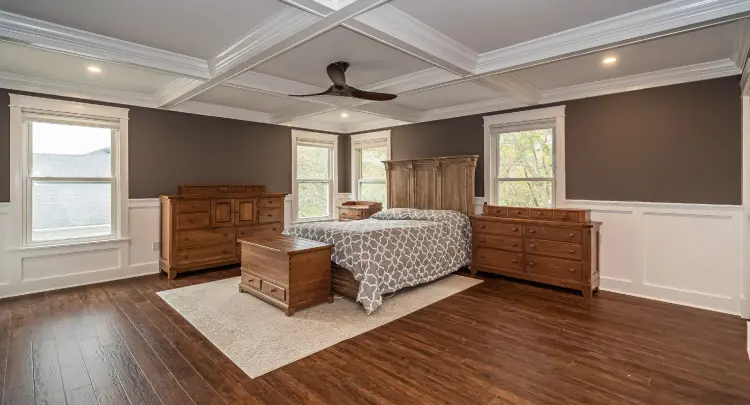 When adding a master suite to your home, location is key. The common dilemma? Should I build up or build out? Building up gives you a second floor to escape — while building out creates a convenient one-floor lifestyle. 
A master bedroom addition solves several problems with your home and gives you functional space that adds beauty and value to your biggest investment. 
Ready to add the master bedroom suite of your dreams to your current home but not sure where to locate it? Let's explore the benefits and considerations of both options. 
Weighing Your Options — First-Floor Master Bedroom Addition Benefits
The master bedroom is a haven where you spend a third of each day, so its location is important. Deciding between adding on to your first or second floor can be tough until you're armed with the benefits and considerations of each option. 
Here are some advantages of a first-floor master addition:
Enjoy convenient one-floor living
Adding your master to the first floor creates an ease of access that streamlines your day. 
A downstairs master addition works well for families with small children, particularly if the children's bedrooms are on the first floor.
Middle-aged adults enjoy a downstairs master addition because it gives them the flexibility to age in place if they choose to stay in their current home as a senior. If mobility ever becomes an issue, a master already located on the first floor means they can bypass the hassles of moving and staying in the area of town they love. 
Do you have aging parents who may need help at some point? A first-floor master suite may just create the ideal space for their relocation.
Gain more peace and quiet
If you add a master on the back of your home, you'll enjoy one of the quietest places in the home. The backyard surrounds your sanctuary of rest, and you'll be much less likely to hear street noise from there. You'll be far from the other bedrooms, giving you privacy and peace. And with a first-floor master addition, you can add French doors and create a private patio just outside your bedroom, giving you even more space to refresh and renew yourself each day. 
Increase your home's resale value
First-floor master bedrooms are desirable to homebuyers and will provide a return on your investment for the addition. 
Take advantage of a lower-cost addition 
While the size of the suite, the finishes you choose, and the amenities you desire factor into your total cost, adding a first-floor master bedroom costs less than a second-floor addition. 
Give older children their own private space
As your children grow up, having their bedrooms upstairs and your bedroom downstairs gives each of you some space you can call your own to unwind. 
Minimal disruption during the building process
Adding a first-floor master suite will be much less involved than a second-floor addition, requiring fewer disruptions in your daily routine during the building process. 
Lower your utility bills
Hot air rises, so it takes more energy to cool your second floor than it does your first. If you add a master on your first floor and no one is using the bedrooms on your second floor, you could opt for minimal heat and air upstairs, saving you on your monthly energy bills. 
Questions to consider about first-floor additions 
Is your yard large enough to accommodate a first-floor suite addition? 
How will a first-floor addition impact the outdoor play space for your children?
Do the homes in your neighborhood have second stories? If they don't, then the first-floor addition ensures you won't risk overbuilding for your area. 
Second-Floor Master Bedroom Addition Benefits
Perhaps you prefer to separate your living space from your bedrooms. Adding an upstairs bedroom suite can give you an oasis to escape to for relaxation and refreshment. 
Here's what homeowners love about second-story master bedroom additions:
Give your growing family more space
If your family is getting bigger, and your lot won't accommodate a first-floor addition, a second-floor master bedroom may be the perfect solution. 
Completely separate your private bedroom from your living areas
If you like to entertain, your guests can enjoy your first floor while you reserve your second floor for private bedrooms for you and your family. The separation ensures you won't have to be concerned that your guests may randomly wander into your home's private spaces. 
Increase your home's market value
A second-story addition can double your square footage without decreasing your backyard's space, driving up your home's value. And you won't need to install another foundation to build it. 
Create space for your overnight guests
The investment of adding a second-floor master bedroom requires an investment of 25% less than adding a guest house to your home. 
Questions to consider about second-floor additions 
Am I ready to take on the investment of adding a floor to my home? (Second-floor additions have a higher price tag than first-floor additions, yet they are an excellent investment.) 
Are there other homes in my neighborhood with a second story?
Am I ok with the disruption to my daily routine to add a second-floor master?
Get the Perfect Master Bedroom Addition for Your Home
Frustrated with your home's lack of space and functionality? A master bedroom addition may be the perfect solution for your greater St. Louis area home!
At Lakeside Renovation & Design, our goal is to connect with you, understand your dreams and desires, and offer multiple solutions within your budget. We know homeowners appreciate transparency, so we provide you with a portal to log in and see your project progress and pictures on a daily basis. 
Take a moment to learn more information about our bedroom services.