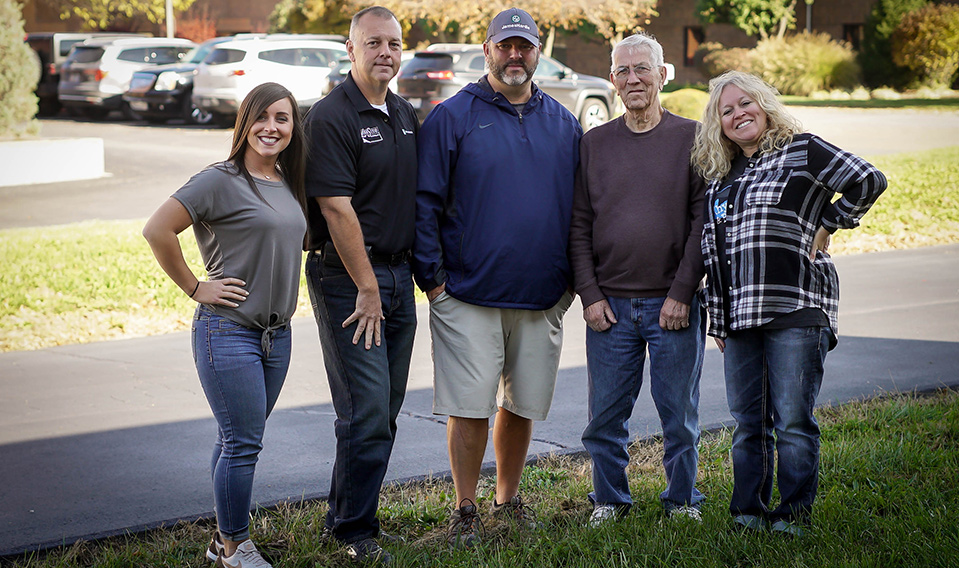 A letter from the founder, Matt Merrifield:
Lakeside Renovation & Design, Inc. was founded in 1997 when I returned from the United States Marine Corps. I already had years of experience in the home improvement industry before I went into the Marines and wanted to continue the trade.
Our business became so busy by 1999, my brother, Dan, joined our team as the Sales Director and Co-Owner.
In 2000, Lakeside Renovation & Design brought James Hardie fiber cement siding to the market in St. Louis. To date, we are the only James Hardie Elite Preferred Remodeler in the entire St. Louis region.
In 2006, we became the exclusive distributor of Infinity from Marvin Ultrex fiberglass windows.
In 2019, Lakeside Exteriors changed its name to Lakeside Renovation & Design. It was an obvious need to help us establish a name that truly reflects everything we do. We offer Kitchens, Bathrooms, Basement build-outs, Room Additions & basic Interior needs.
The Family Behind the Business
In the past 20 years we have made great strides to make Lakeside stand out from the rest. We accomplish this by:
Creating an atmosphere of opportunity for our employee's. We have instilled a culture here where character, work ethic, and results create that opportunity. Through hard work, continued growth and a constant need to improve, we feel Lakeside is a better company today than it has ever been.
Making sure our customer come first. Through our wonderful employee's, we emphasize customer satisfaction. It is what keeps us employed with a growth mentality because we know that without the Customer, we do not exist.
Being a Family. My brother is Co-Owner of Lakeside, my Daughter is our Marketing Manager, but on top of that, our employees have helped develop a family atmosphere here at Lakeside.
I am a firm believer in doing what is right and making sure our customers are always happy. If you'd like someone you can trust to help you with your home improvement project, please give us a call.
Thank you for your interest in Lakeside Renovation & Design!
Sincerely,
Matt Merrifield


What Makes Lakeside the St. Louis Home Improvement Leaders?
Lakeside Renovation & Design's focus remains making the home remodeling process convenient and enjoyable for every customer. Improving your home with new siding, windows, doors or decks is an exciting time that should be viewed with anticipation, not dread. We are committed to making the process as easy and stress-free as possible through open and honest communications and an up-front commitment to pricing and scheduling to help avoid surprises.
We are also committed to installing only quality products and materials in your home. That's why we work with top manufacturers like James Hardie Siding, Infinity from Marvin Windows, Provia Doors and Barrette Outdoor Living decks. This helps ensure that your siding, windows, doors and decks will deliver many years of enjoyment and performance.
Energy Efficiency is a Priority
Over the years we developed a growing awareness of the need to help reduce energy costs by making homes as energy-efficient as possible, and took definite steps to achieve that goal. Our James Hardie Siding, Infinity from Marvin Windows and Provia Doors are all rated at the highest levels of thermal efficiency, providing an effective barrier to keep your home and family warmer in the winter and cooler all summer.
Our People Put Our Customers First
None of this would be possible without a team of highly skilled and fully trained craftsmen who know that serving our customers comes first. Each member of the Lakeside Renovation & Design team is a local resident. We know that we are working on the homes of our neighbors and friends, and will be around for many years to come to witness the results of our work. That's why we put a little extra effort into every project, so we can look with pride on homes that we have helped make more beautiful, comfortable and valuable.
Our Customers Love Us
Our focus on putting the customer first is not just talk. We have hundreds of testimonials and references that support our commitment to our customer satisfaction. You can read what our customers have to say about Lakeside Renovation & Design in the Testimonials page.
Networked for Success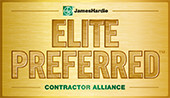 We are certified by the manufacturers we represent so that we may offer the full extent of their materials and product warranties. In fact, we are one of only six contractors nationwide to earn the coveted James Hardie Elite Preferred Remodeler status, a prestigious honor that means your St. Louis siding installation is being performed by one of the top siding contractors in the nation!
We Are Insured for Your Protection
Lakeside Renovation & Design is covered by a general liability insurance policy of up to $2 million, as well as full workers' compensation insurance. We go to this trouble and expense to protect our customers.
If you hire an uninsured or under-insured contractor to work on your home and an accident occurs on your property, you may be held liable for damages. In some cases a homeowners insurance policy will cover some of the costs. But other expenses may become your responsibility.
Insist on seeing written and official proof of insurance – both liability coverage and workers' compensation coverage – before hiring any contractor. A legitimate contractor will be able to produce a valid certificate of coverage.
Vision Statement
We know that to become the best siding, doors, decks and replacement windows company St. Louis has ever seen, Lakeside Renovation & Design must provide service to our customers that is "above and beyond" what is expected. We are guided by our principles and dedicated to serving you with integrity and honesty in all that we do.
Lakeside Renovation & Design WILL become a world class company by:
Consistently exceeding the expectations of our customers
Providing growth opportunities for our employees
Encouraging employee leadership
Rewarding employees for outstanding performance
Being a leader in our community and in our industry
Adhering to the principles of "CANI" (Constant And Never-ending Improvement)
Doing what is right
Mission Statement
Our Company is in business to improve the lives of our customers by providing the highest quality products and workmanship and creating the best possible home improvement experience for them. We will always strive to exceed our customer's expectations.
As a company, we are committed to improve the well being of our employees by providing personal and financial growth opportunities.
A key business goal for our Company is to create sustained long-term growth, profitability, and stability.
Employee Code of Honor
Be honest, loyal and have integrity
Maintain a positive attitude at all times
Commit to personal development
CANI (Constant and Never ending Improvement
Respect others
Keep a clear and responsible line of communication
Celebrate wins and learn from losses
Be knowledgeable about the products
Be precise in everything we do
Be accountable
Personal Pride, Prudence and Perseverance
Isn't this the kind of company you'd like working on your home?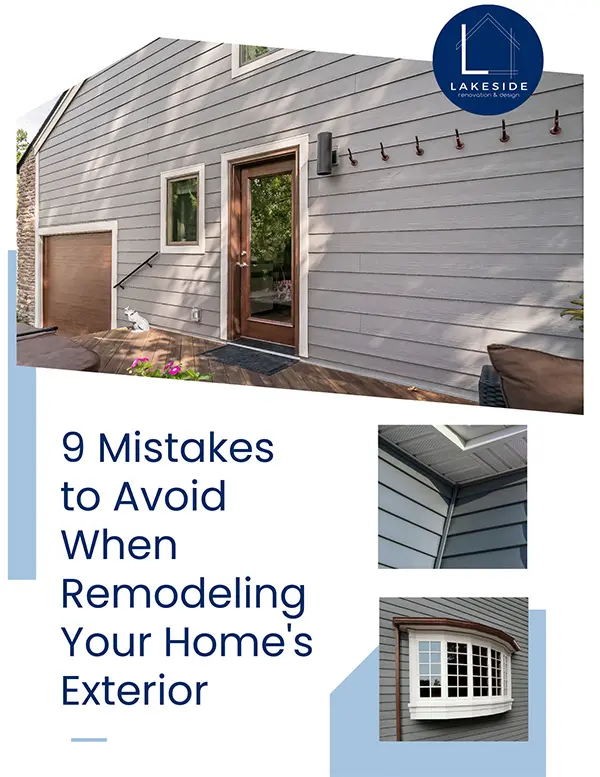 9 Mistakes to Avoid When Remodeling Your Home's Exterior
Free PDF Download
We understand how overwhelming remodeling your home can be. Get our free ebook to learn about 9 things that will help you start your project the right way.