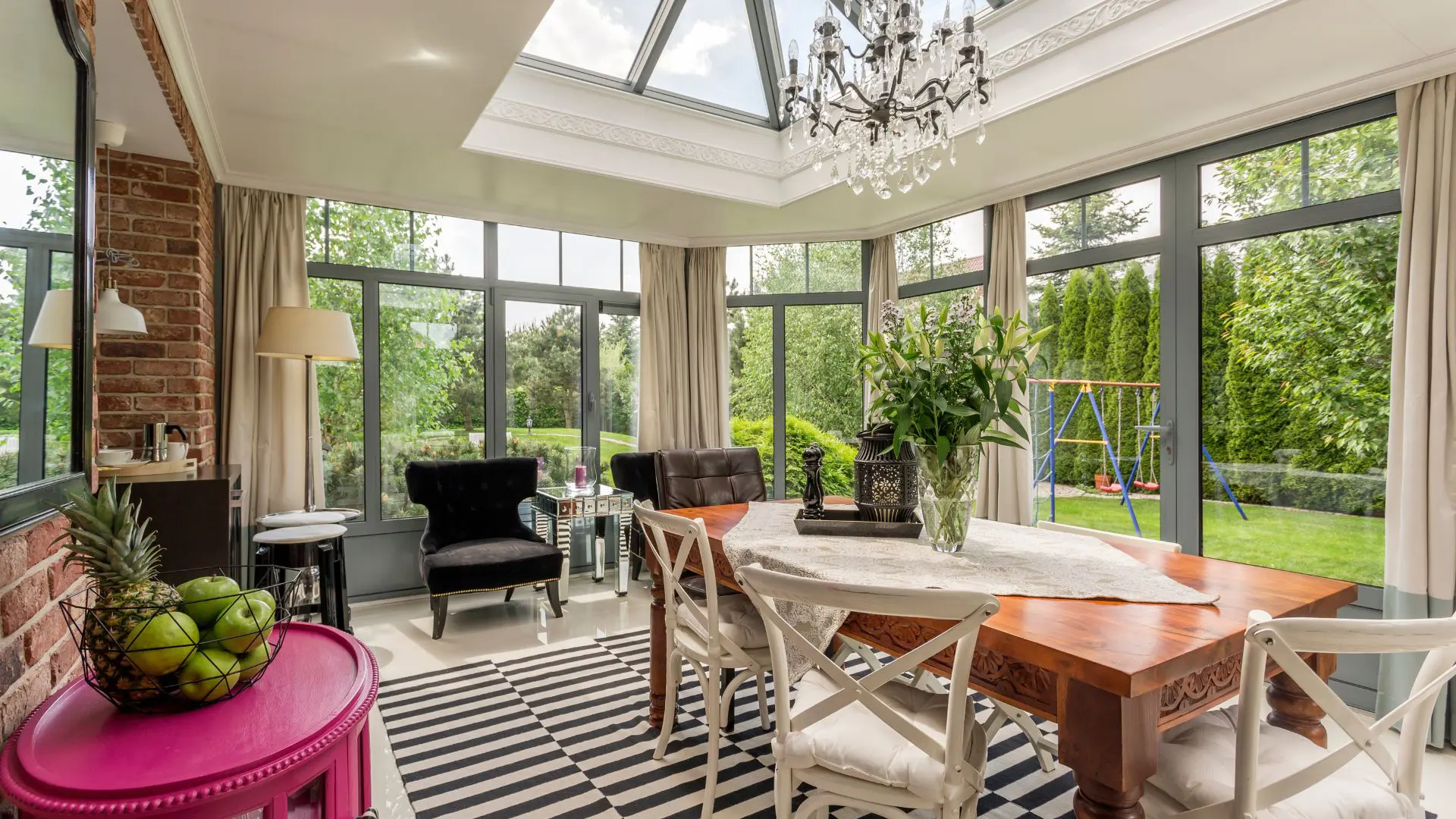 A 4-season room offers so many options to your home. Whether you use it as an extended living area, an additional dining spot, a home office, or a plant sanctuary, the sunlight and view of the outdoors spell retreat. How do you dapper it up for summer? Add more plants, and face your furniture toward the outdoor view to make the most of what your 4-season room offers: the sights and the sunshine!
Maximize your summer use of your 4-season room with these quick tips:
Transform Your 4-Season Room for Summer
1. Add natural elements
A pop of green heightens the welcoming vibe of your 4-season room. Live plants of all shapes and sizes soak up the light in your sunroom and bring the outdoors inside in a tangible way. Young plants will thrive in abundant sunshine and bring freshness to your space. An oversized potted tree will enhance the indoor-outdoor feel of your room, and wicker furniture or indoor-outdoor furniture will give it a year-round summer feel.
2. Include cozy features
When you add soothing features to your 4-season room, they will invite you and your family to take time to unwind. A hammock may not be something you've seen indoors, but it works perfectly in a sunroom.
Blending the outdoors with the indoors gives you a reason to take a deep breath and chill out. A porch swing is another cozy feature you can add to your sunroom. Using a porch swing has health benefits that will make you want to start your day on it. Did you know that the rocking motion reduces stress and lowers your cortisol (stress hormone) level? Rocking also improves blood circulation and can boost your immune system. It helps calm the mind and reduce anxiety, improving sleep and well-being.
3. Paint it
Changing your 4-season room's color can give it a new vibe, particularly if one of the walls is brick. Unifying the room with one wall color brings a calm feeling to the space.
Grayish (Sherwin Williams) walls paired with an ocean-like color, Azure Tide, give a coastal feel to your sunny room. White (like Natural White or White Sand) adds a bright, airy feel to the area, and black trim gives a clean contrast that pleases the eye.
4. Embrace casual design elements
If your 4-season room is an extension of your home interior, you may include more interior design elements than outdoor ones. Accent the room with thoughtful touches like sconces, colorful throw pillows, plush rugs, inspiring artwork, and light fixtures that add personality to the space. Use wicker baskets for storage, and add the magazines you love to end tables. Include a television, a comfy couch, and extra seating for relaxation on summer nights with friends.
5. Incorporate built-in seating and books
With all the sunshine a 4-season room includes, it's the perfect reading spot. Why not create a small library in your sunroom where you can grab a book and escape to where it takes you? Build a shelf into the wall to maximize your use of space, and add a cozy love seat or plush, welcoming oversized chair where you can read. Or, add bench seating to your sunroom to maximize its space, and tuck your favorite books under or near the seating. Include comfortable cushions and throw pillows on your bench seat to make it relaxing.
Repurpose Your 4-Season Room This Summer
Your sunroom gives you so many options! You can watch your kids play outside, sip tea with friends, or unwind while taking in a fabulous sunset. Here are some ways you can repurpose your space to maximize its use.
Relocate your home office
If you work remotely, why not relocate your office to your 4-season room? A change of scenery may boost your creativity to a new level as you work. Move your desk, office chair, storage, task lighting, and accessories to the sunroom, and you're ready! The bright sunlight will refresh you even amid a chaotic schedule. The fresh breeze will clear the air of toxins and invigorate you.
Give your children a new play area
Turning your sunroom into a playroom may perfectly fit your needs this summer. Grab a cozy, bright-colored area rug, a toy chest, and your child's favorite toys. Add a table and chairs they can use as a creative zone to make crafts and express their artistic skills. Include a spot where you can display your child's artwork.
Create a hideaway place for them, like a little pop-up tent or play house. Stow a bin of dress-up clothes they can enjoy. Top the room off with a bookcase full of fun books you can read together. Add a beanbag or a cozy chair in the reading corner where you can discover new things through books—together.
Share leisurely meals in your 4-season room
Add a table and chairs to your 4-season room to create a breakfast nook—the ideal spot for any meal. Unwind every evening while taking in your summer blooms through the vast windows.
Enjoy the Sunshine Year-Round with a 4-Season Room
The beauty of a 4-season room is its multipurpose use throughout the year. You can experience the outdoors from the comfort of your all-season room regardless of the weather. It increases your St. Louis area home's value by adding square footage and functionality. It can be used as an extended living area, additional dining space, office, craft room, greenhouse, and more.
At Lakeside Renovation & Design, we provide a high level of listening and care for every homeowner. We take time to understand your concerns and offer you multiple solutions so you can love your home again.
Learn more about our 4-season room services.