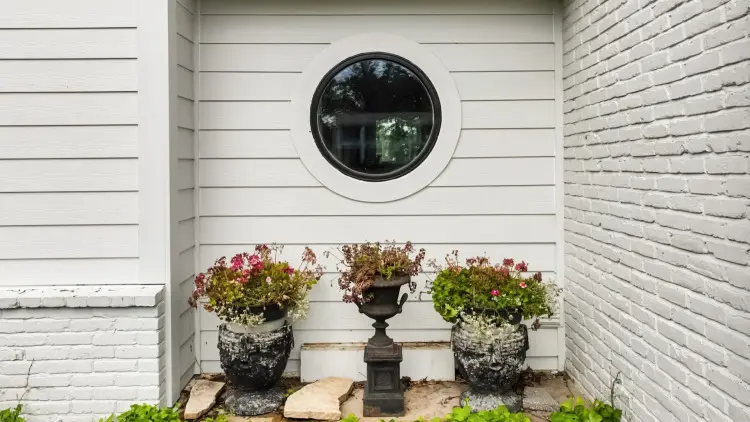 If your home was built in the 1980s-1990s, it may be covered in Masonite siding, a popular choice during that time period. The problem with Masonite is that its makeup is not stable when it becomes wet. It swells, causing siding panels to warp, buckle, and eventually rot.
In contrast, James Hardie fiber cement siding withstands the elements, shielding your home from problems—for decades.  
Why St. Louis Homeowners Upgrade Masonite with Durable Hardie Siding 
1. Siding Makeup
Masonite: The composition of Masonite includes wood fibers, glue, and resins. This low-cost siding is bound together by heat and pressure, forming it into a synthetic siding material.
James Hardie: Made of cement, sand, and cellulose fibers, Hardie Board siding is engineered to protect your home.
The verdict: While Masonite siding breaks down over time, leading to costly repairs, Hardie siding's composition ensures your home is fortified, bypassing the need for repairs. 
2. Water Resistance
Masonite: The reason Masonite siding is no longer being manufactured is that it proved to be susceptible to water penetration and caused significant damage to homes. If water infiltrates your house through your siding, it can ruin not only your dwelling's protective layer, but if left unaddressed, it can also damage your insulation, drywall, and infrastructure.
James Hardie: Fiber cement is engineered to be water resistant, giving you peace of mind that your home is safeguarded from moisture damage.
The verdict: Because you want your home's protective layer to stand up to rain, snow, and ice, fiber cement is a sound choice. 
3. Maintenance
Masonite: The tedious upkeep Masonite siding requires can be exhausting—and expensive! It must be painted every six to eight years (a huge endeavor!). It also needs to be caulked at least twice a year. When it becomes damaged, it must be repaired promptly to avoid bigger issues. 
James Hardie: One of the things homeowners love most about Hardie siding is the fact that it needs almost no maintenance. Simply wash it once or twice a year to keep any dust or dirt from accumulating, and keep an eye on the caulking around its joints (like window frames). If caulking deteriorates in spots, replace it promptly and your home will stay well sealed. 
The verdict: Choosing low-maintenance James Hardie siding allows you to bypass the time-consuming upkeep Masonite needs. With Hardie's simple maintenance, you will have more time to do the things you love most. 
4. Installation
Masonite: If the Masonite siding you have on your home was not installed properly, it is more likely to swell, warp, buckle, or blister. If water saturates your siding, it may soften, mold, and rot. Once your home's protective layer is compromised, it becomes more vulnerable to costly pest infestation.
James Hardie: The great thing about Hardie Board is that the manufacturer trains contractors who install it, ensuring you get optimal results for your siding's lifetime—which is up to 50 years when it is installed properly and maintained well over the years. 
The verdict: Replacing your Masonite siding with James Hardie ensures you get what you paid for—reliable protection for your home that looks fabulous years after it is correctly installed.
5. Durability
Masonite: Due to its makeup, Masonite siding is not durable. Homeowners with Masonite siding note that chipped paint or deteriorating caulking opens the door to damage and then causes them to need major repairs or early siding replacement.
James Hardie: Fiber cement is known to last up to 50 years when it is installed correctly and well maintained over its lifetime. James Hardie even offers an attractive 30-year transferable warranty to stand behind their product. 
The verdict: Siding is a significant investment, and choosing a material like fiber cement ensures you get the longevity you desire out of your home's protective layer. 
A Durable Solution for Your Home 
Exchanging the hassles of Masonite for the reliable durability of fiber cement siding will give you peace of mind knowing your home is shielded from the elements.
At Lakeside Renovation & Design, we are James Hardie Elite Preferred Contractors and one of the most experienced installers of Hardie products in the nation. When you choose our team, you can move forward with confidence knowing your siding will be installed with precision and according to the manufacturer's best practices.
Discover how our James Hardie siding services can deliver a low-maintenance solution to your siding dilemma.