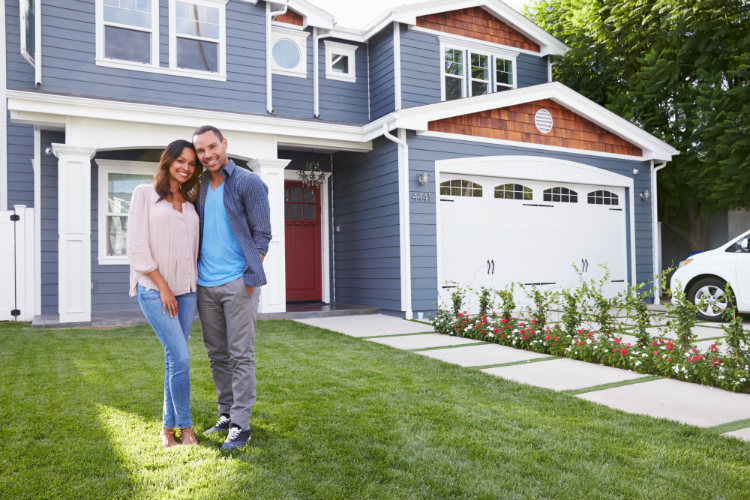 A siding replacement is a great time to give your exterior a facelift. It's an opportunity to change the current color scheme of your home and breathe fresh life into it. And it's also integral to proper home maintenance. When you have chosen James Hardie® fiber cement siding for your replacement siding project, you are already halfway to a great looking, long-lasting exterior. Just ensure you hire a James Hardie Elite Preferred siding contractor to ensure your replacement siding is properly installed.
Given how long James Hardie siding can last, it's important to choose exterior colors that you'll love. And James Hardie has a vast array of color options to match your taste. The boards come in two different forms: pre-primed and ColorPlus®. With pre-primed boards, you have the option to select your own paint color. But today, we will focus your color selection on the large selection of ColorPlus boards. Their baked-on technology is UV resistant and fade resistant, making it one of the longest lasting paints on the market.
A vibrant, lasting siding creates an inviting curb appeal while increasing a home's value. So, how do you create the perfect color combinations for siding, trim, and details utilizing the ColorPlus products? Here are 4 tips to help you curate the perfect color scheme for your replacement siding.
1. Choose a Cohesive Color Scheme
It's important to begin your perfect replacement siding color by selecting an overall color you like. What color would you like the main portion of the siding of your home to be? Then, build the rest of your selection off of that base color.
You'll want to select accenting colors that are cohesive with your main color selection. You can do this by utilizing similar colors or coordinating contrasting colors. When you look at a color wheel, the similar colors (also known as analogous colors) are the shades directly next to one another. They are just slightly varied and can create a calm and cohesive look to your home.
Contrasting shades will sit directly across your color selection on the color wheel. They still flow with your initial color choice but can add a greater dimension to the portions of your home you wish to accent. However, you can accentuate trim by utilizing either a contrasting color or analogous color. Which style you choose to go with will simply be up to your taste.
Be sure to hire a James Hardie siding contractor to install all ColorPlus products, including trim and soffits. Only James Hardie siding contractors are properly trained in the installation of these materials to keep all of Hardie Board's amazing benefits intact and keep home maintenance to a minimum.
2. Choose Between Cool or Warm Tones
Before you can decide on the exact shade of color you want, you need to know if your home will tend toward cool or warm tones. If you've ever looked at a pristine home and wondered how they managed to create such a luxurious and uniform design, it would revolve around the cohesion in undertones.
Often overlooked, undertones can play a large role in ensuring color combinations blend properly. Warm tones will tend to have a more yellow undertone, while cool tones take on a grey or blue hue. Having these tones match will keep your color selections from clashing.
3. Copy Home Colors You Like
You don't have to reinvent the color wheel when choosing a color scheme for your siding. A great way to achieve the exact color scheme you want is to copy it. Whether you've seen an image of the perfect exterior in a magazine or you've driven by a house with the exact exterior you've been dreaming about, imitate it.
If you have noticed a general color pattern you like, you can create a color board to help you find the perfect color scheme. Visit the James Hardie color visualizer page to view colors and create different combinations to see what flows. Then simply choose the color combination you like best.
4. Account for Your Region
You need to follow the flow of your surroundings. The area where you live can be a big determinant in the color scheme of your home. It can also help in the decision between cool and warm tones. For example, homeowners who live on the beach may want to match the cool tones of the sand and sea — while you as a homeowner in St. Louis may want to utilize a warmer palette to match the beautiful green foliage and Mississippi River.
This rule does not have to be hard and fast. Even regions of a city can differ in their look. Take a look at your surroundings and decide which colors will best complement the surroundings where you live. Let that inspire your color selection so you flow with your environment rather than clash.
Lakeside Renovation & Design Can Seamlessly Install Your Siding
At Lakeside Renovation & Design, our customers come first. This is why we install only the highest quality siding that helps to lessen home maintenance. Our goal is to see you completely satisfied with your siding choice, color selection, installation, and lifespan of your home. Your siding will be installed by a trained and certified team of James Hardie siding contractors, so you know you are getting a professional job.
We are ready to answer all of your siding questions, and our team can help you select the perfect siding color to complement your home. Or you can peruse our James Hardie siding guide for more information on the ColorPlus siding and its color selections.
Get answers to your color selection questions by scheduling a free consultation with our team.