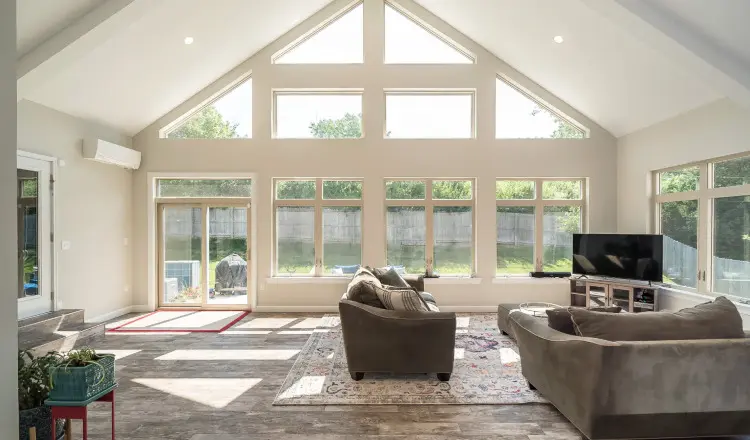 Feeling cramped in your current home, and ready to expand it? When memories abound within your current home and its location is ideal, creating more space to enjoy within it can make all the difference. Instead of going through the hassles involved in finding a new home and relocating, a home addition can be the perfect solution. 
Interested in adding square footage to your home, but not sure where to start? Here are some ideas that will add beauty, function and value to your home.
Popular Additions to Enhance Your Home 
When it comes to adding on, building up, or building out, the sky's the limit on what you can do. Take a moment to dream a little. 
Kitchen Addition
Expanding your kitchen helps convert it to a more functional space that welcomes family and friends and invites them to linger. With a kitchen addition, you'll enjoy more counter space, an attractive island with ample seating, task lighting, and gorgeous new cabinetry. You can even push a wall out to create a more open-concept kitchen that's perfect for entertaining. 
Bathroom Addition
Create more space in your home by adding a luxurious bathroom. Indulge in a master bath with all the perks like heated flooring, a soaking tub, and a luxury shower with built-in shelving in which to place all your shower essentials. Or, you could add a guest bath that will create a guest suite and make your home more functional. Why not create options in case you ever need to house your aging parents? 
Sunroom Addition
There's something about natural light that brings refreshment to the core of one's being. Natural light teeming into your home in a sunroom addition is the perfect solution for your St. Louis home. This all-weather room gives you space to enjoy leisurely dinners on a gorgeous fall evening, or fresh air on a crisp spring morning. Move your home office to this space, and you'll likely increase productivity from the inspiring surroundings. Or, create a family tradition of evening meals or after-dinner fun in the sunroom. 
Extra Bedroom Addition
Adding an extra bedroom can give you options whether you have a growing family, an aging parent, or frequent house guests. The extra space can also be used as a place to enjoy your favorite hobby in a private area with room to create! 
Home Office Addition
With the rising trend to work remotely, adding a home office can increase your home's resale value significantly. If you own a business, a home office can be a more cost-effective option than renting or buying a commercial property. 
Mudroom Addition
Keep your home clean, promote organization, and minimize messes by adding a mudroom to your current home. You can customize and personalize its design to meet your family's needs. You'll be amazed at how compartmentalizing everyone's personal items and creating a designated spot for them decreases clutter in the home and sets the stage for you to enjoy the things that matter most: time together. 
Living Room Expansion
Turn your small living room into a great room that gives your home a more open feel that's perfect for entertaining. Creating a great room adjacent to your kitchen or dining room helps bring your family closer together by giving you the opportunity to spend more time together. While you prepare dinner, your kids can be playing or doing their homework within proximity, giving you added time together. 
Small Additions to Enrich Your Home's Charm
Dormer Addition
Add eye-catching curb appeal to your home, bring in more natural light, and expand your usable space with an attractive dormer addition. 
Bump-Out Addition
Bump-out additions create a small space without the need to build a new foundation. It extends out over the edge of your home and can expand a current room. Popular bump-outs in kitchens add a bench and window for a dining room or create an expanded pantry. Bedroom bump-outs can be made into a walk-in closet, while living room bump-outs can be used to create an entertainment center. You'll be amazed at how they can enhance your current living space!
Substantial Additions to Add Noteworthy Value to Your Home
Second Floor Addition
If you live in a single-story home, a second-floor addition can double your square footage. Second-story additions create the opportunity for an added bathroom, bedroom, or even your dream master bedroom suite! Building up instead of out helps you make the most of your property and yields the biggest yard for your enjoyment. 
Garage Addition
If your home doesn't have a garage or needs added garage space, more workspace, or storage space, adding a garage can boost its value tremendously. The increased benefit of an attached garage is always appreciated during bad weather, yet a freestanding garage can offer an element of sophistication to your property. Some homeowners even create a studio apartment above freestanding garages to rent out. 
Make Your Dream Home a Reality
At Lakeside Renovation and Design, we help you through every step of the addition process so you can enjoy not only the end result but also the journey. Why not make your dreams a reality? For more detailed information on home additions, take a look at our Complete Guide to Home Additions.
Expand Your Home with Style
At Lakeside Renovation & Design, we offer full-service exterior and interior remodeling solutions as well as custom siding and windows for your St. Louis home. 
We are founded on the principle that if we invest and care for our team, they will invest and care for our customers. When your project is being installed, you won't get a third-party crew, but our in-house team.

Take a moment to learn more information about our home addition services.